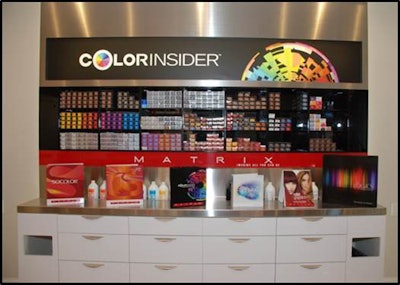 Haircare and color brand Matrix recently announced the launch of its new program, Salon Inspiration. Designed to help salons elevate the overall look and feel of their businesses, Salon Inspiration seeks to help shift clients' mindsets from "I have to do it," to "I love to do it," making each service a personal, fulfilling and memorable experience.
 
Matrix salon experts have broken down each client's salon journey into seven key steps:
the front window
reception
the consultation with the stylist
the shampoo experience
the cut, color and/or style service
the home care retail component
checkout  
The goal of the Salon Inspiration program is to ensure that the client has the best possible experience on every step of that journey. To accomplish this goal, the program has three pillars:
Design - Appearance is critical in the beauty profession, and the comprehensive Salon Inspiration merchandising program provides gorgeous visual tools that will delight and inspire clients. Salons will receive open and closed signs, shelf signage, posters and desk frames, as well as quarterly update kits. Upon entering the service area, clients will encounter the Color Bar — a bright and inviting center that spotlights and invigorates the color service.
Retail - Components of this program transform the waiting area into an interactive and informative experience for every guest. Salons receive modular retail displays to create a strong branding message and nesting tables for new products and promotions. Most exciting is the new Matrix Play Station — an interactive island that features product testers, iPads loaded with product information and modern chairs and stools. The Play Station transforms idle waiting time into a productive and engaging opportunity to research the products that will make each guest's hair the best it can be.
Business - Salon Inspiration supports owners' business efforts in two key ways: 1.) An alliance with Summit Salon Training, an organization for salon business education and coaching, makes all of the Summit programs readily accessible. From four-day leadership training to ongoing coaching, Summit's proven success rate provides Salon Inspiration members with essential core business programs for the health of their salons. 2.) A unique partnership between Matrix and a small business unit of Bank of America will fast-track financing for salon renovations, expansions, fixture and equipment purchases and/or business training. Dedicated B of A teams are standing by to make loan applications as quick and convenient as possible — sometimes as fast as three to five days for qualified applicants.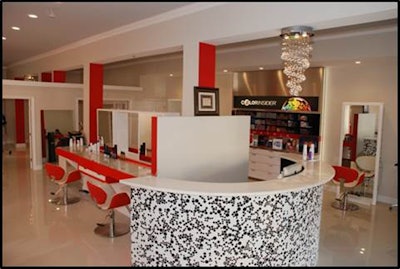 Salon Mayan in Huntington, NY was one of the first Matrix Inspiration Salons and the results are impressive. Owner Ben Aharon reports hair color purchases have increased 110% and hair care purchases have increased 29% since the inception of the program about six months ago.
 
"Today's client expectations are high," says Gail Cohen, Matrix Vice President of Business Development. "They expect advice, inspiration, appreciation, a unique and pleasurable experience and professional products to maintain their looks at home. The Salon Inspiration program will help beauty professionals meet those needs through every key touchpoint in the salon."
 
Salon Inspiration is open to salons that want to partner with Matrix to elevate the overall look and feel of their businesses. Each participant will work with a Salon Centric team to develop a customized plan. For more information, visit mymatrixfamily.com.