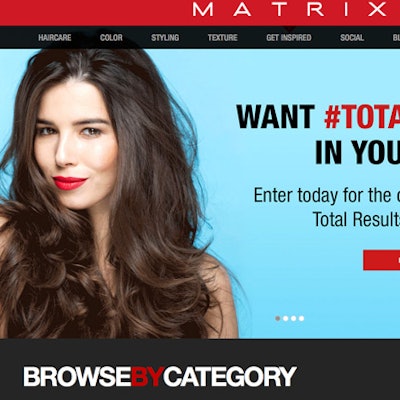 Hair care and color company Matrix has announced the launch of its new, re-imagined website, Matrix.com. A visually stunning destination, the new site was designed with hair professionals in mind, providing product information, styles and resources for hair stylists and hair lovers alike.
Designed with a fresh new, modern look and enhanced, user-friendly navigation, the new website includes:
Fully Responsive Design: Laptop, desktop, tablet, mobile device — no matter how you access matrix.com, the experience automatically adjusts to fit your preferred device.
Matrix Social Media Integration: Go no further than the Matrix homepage to see what's trending on Facebook, Instagram, Twitter and YouTube.
Updated Product Information: The new product sections make it easy to access everything you need to know about your favorites. You'll get great usage tips, learn what's new, see what other Matrix fans are crazy about and be able to write your own reviews.
Content Blog: Here's a place to get inspired! Read content from Matrix pros about the latest trends in hairstyles, hair color, hair care and more. Find tips for any hair type, along with professional recommendations from the hair experts at Matrix.
Enhanced Salon Locator: Now it's easier than ever to find Matrix salons in your area. You can search by zip code, or look for salons that specialize in certain services, as well as locate places that carry Matrix products.
News Page: Matrix is always making news — online and in print. Here you'll find a round-up of all the latest coverage. It's a great resource for catching up and for diving deeper into recent articles.
Trend Galleries: Matrix artists have their fingers on the pulse, and they regularly create gorgeous photographic collections that reflect the latest trends in cuts, colors and styles. This section showcases that trend imagery, and also tantalizes with behind the scenes insights into each shoot and the products used to create the looks.
Artist Pages: Get to know the Matrix Artistic Directors and Artists! There's an army of creative talent behind the Matrix brand, and this section brings you up close and personal with these amazing individuals. Discover who they are and how they got where they are today. Peruse their work. You can also link to their individual social media accounts to easily "friend" and "follow" your favorites!
Hair Gallery: This comprehensive gallery offers dozens of the latest looks for all hair types and colors. You'll find details on specific options for every length and texture, ideas for special occasion styles, men's looks and more. There are also "get-the-look" tutorials to help you recreate your favorite looks!
The Matrix Makeover Tool: Great for helping clients choose their ideal hair color, the new Matrix Makeover tool lets you try before you dye. Simply upload a photo from the desktop, or snap a selfie with your smartphone, and your client can try on every hue in the vast Matrix hair color portfolio, along with special effects like highlights, ombré and hair painting!
The Biolage Consultation Tool: Take this quiz to find out which Biolage products are the perfect fit for your client!
 
Check out the new Matrix.com!