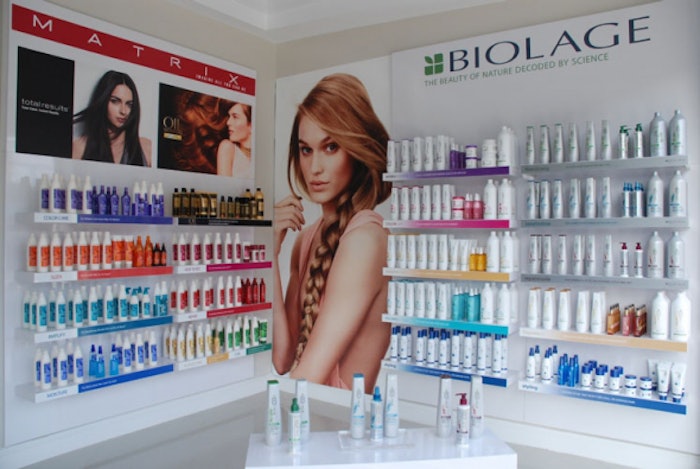 In order to help educate and inspire hairstylists everywhere, Matrix has begun the new Matrix Inspiration Salon program. The initiative will develop partnerships with promising salons and bring Matrix to local communities. Recently, the company announced its first ever Flagship Salon, Ben Aharon's Salon Mayan in Long Island, New York. Read more about this first Matrix Inspiration salon (with many more to come!), below.


When salon owner Ben Aharon was looking to open his second salon, he knew he wanted something special. He had a talented team, a fabulous location, and a passion and desire to "imagine all he could be." That mindset and dream brought him to Matrix, and within a year, Salon Mayan opened as the first Matrix Inspiration Salon in the country.
 
According to Vice President of Business Development, Gail Cohen, the Matrix Inspiration Salon program was created to develop partnerships with promising salons that wholeheartedly embody commitment to the Matrix brand. The partnerships are designed to bring a completely branded element to the salon along with professional and business support, thereby creating a compelling and profitable salon environment and showcase.
 
One of the most unique and exciting elements of the Matrix Inspiration Salon concept is the new Matrix Color Bar. According to Cohen, the Matrix Color Bar, situated in the center of each Inspiration Salon, is the focal point for color conversations and consultations between stylists and clients. Aharon calls it life changing! "For us, the Matrix Color Bar has taken color from something you rush around doing in the back room to an art form that you perform onstage," he says. "It's the centerpiece of the salon and has generated new levels of excitement plus increased our overall color service business. Clients see it through the window and are instantly intrigued! We're getting tons of walk-in and referral business as a result."

In addition to the Color Bar, Salon Mayan also exemplifies best-in-class retail. The salon layout has lent itself to an incredible retail opportunity with a 500-square-foot area and floor to ceiling windows. To maximize this space, Matrix worked with Salon Mayan to develop innovative merchandising including 8-foot branded imagery, feature/benefit shelf edge strips, and promotional displays. Stylists find it ideal for retail consultations and passersby are captivated and stop in to buy. Aharon is beyond thrilled with the overall look and, most importantly, the results; his retail sales are up 200%!
According to Cohen, Salon Mayan is the first of many Matrix Inspiration Salons to come throughout the country. "We're looking for salons that truly want to partner with Matrix," she explains, "and demonstrate their commitment by embracing our full product portfolio and Matrix culture." For Aharon, the benefits of being a Matrix Inspiration Salon have been numerous. "Matrix gives us everything we need to connect with existing and potential clients," he explains, "as well as overall support for our salon and staff. I'm really looking forward to continuing as part of the Matrix family, growing this salon and opening new locations in the future! As a Matrix Inspiration Salon, I truly am 'imagining all I can be!'"

[Images courtesy of 24 Seven Inc.]