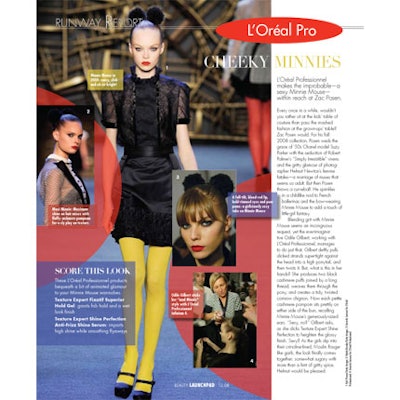 L'Oréal Professionnel makes the improbable—a sexy Minnie Mouse—within reach at Zac Posen.
Designer: Zac Posen
Products: L'Oréal Professionnel
Every once in a while, wouldn't you rather sit at the kids' table of couture than pass the mashed fashion at the grown-ups' table? Zac Posen would.
For his fall 2008 collection, Posen weds the grace of '50s Chanel model Suzy Parker with the seduction of Robert Palmer's "Simply Irresistible" vixens and the gritty glamour of photographer Helmut Newton's femme fatales—a marriage of muses that seems so adult. But then Posen throws a curveball: He sprinkles in a childlike nod to French ballerinas and the bow-wearing Minnie Mouse to add a touch of little-girl fantasy.
Blending grit with Minnie Mouse seems an incongruous request, yet the ever-imaginative Odile Gilbert, working with L'Oréal Professionnel, manages to do just that. Gilbert deftly pulls slicked strands super-tight against the head into a high ponytail, and then twists it. But, what is this in her hands? She produces two black cashmere puffs joined by a long thread, weaves them through the pony, and creates a tidy, twisted cornrow chignon. Now each petite cashmere pompom sits prettily on either side of the bun, recalling Minnie Mouse's generously-sized ears. "Sexy, no?" Gilbert asks, as she slicks Texture Expert Shine Perfection to heighten the glossy finish. Sexy? As the girls slip into their crinoline-lined, Moulin Rouge-like garb, the look finally comes together: somewhat sugary with more than a hint of gritty spice. Helmut would be pleased.
Score This Look
These L'Oréal Professionnel products bequeath a bit of animated glamour to your Minnie Mouse wannabes.
Texture Expert Fixatif Superior Hold Gel: grants fab hold and a wet-look finish
Texture Expert Shine Perfection Anti-Frizz Shine Serum: imparts high shine while smoothing flyaways