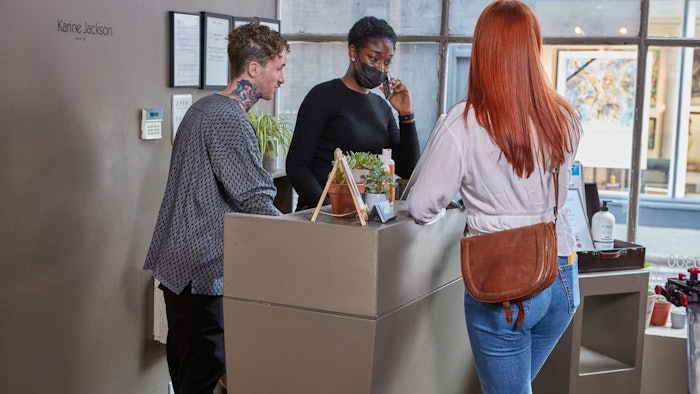 courtesy of Vish
Recent research reveals that salons are increasingly abandoning traditional color charging in favor of new pricing structures made possible by technology.
The most popular, according to the study collated by Vish, are versions of parts and labor, time-based, and built-in product allowances that promise to remove profit variance in color.
Here, three Vish-backed salon owners share how they charge to help boost their bottom line. 
Time-Based: Laura Watkins – Pure Salon Spa, Louisville, Kentucky
One decision Laura Watkins regretted from almost day one of opening her Pure Salon Spa in Louisville, Kentucky, in 2008 was how she charged. Opting for the traditional all-inclusive model, she quickly realized her salon was not achieving the profitability levels possible in the industry.
"There are too many variables that make it difficult to forecast what your costs will be and how much profit you'll be left with," says Watkins. "I was pretty naïve and didn't really have an idea there was an alternative approach."
In 2018, Watkins brought in Vish Color Management technology, and suddenly, she was able to see exactly how much it cost to deliver each service to guests. She had also heard about time-based charging through the consultancy organization Strategies and decided to act. The salon was reorganized around one-hour appointments, with stylists given the freedom to book shorter or longer appointments based on their guest's hair needs. 
"It's a pretty simple formula for how we decided what to charge," Watkins explains. "We took six months of history and all the hours available for sale in our business, and then we looked at what our expenses were to get a per-hour cost. This included a charge to cover operational expenses and to give a level of profitability—and that's what we are charging."
There are product allowances included for color appointments, which are charged at a different rate to haircut appointments, and if the stylist needs to mix additional color it's added to the bill via Vish. It has reduced anxiety levels in the salon and increased productivity, but the greatest impact has been on profitability. Now every service is profitable, the color budget is a consistent 5.5 percent of service sales, and total revenue is up.
Parts & Labor: Jessica and Liz Arrindell - Luscious & Co, Shelton, Connecticut 
From the day Luscious & Co opened in 2014, owners Jessica and Liz Arrindell have operated with a parts and labor pricing structure. Guests see two charges on their ticket; what they were charged based on the amount of time required by a Luscious stylist to deliver their service and another for the actual cost of the color formula. It's transparent and fair to the client, while freeing the sisters to pay commission on the stylist's time, but not the color charge.
"Before introducing color technology, we charged guests a flat rate of around $8.50 for each bowl of color used. As you can imagine, this left significant room for error as the weight of a color bowl is not a one size fits all, not to mention various costs between manufacturers and product types," says Jessica.
"Once we started using tech, the charges were customized based on weight. This meant some guests paid less than $8.50, and some paid more. It reflected our commitment to transparency, which guests appreciated." 
The switch significantly impacted profitability, as the average cost of bowl color rose to $14. 
Jess adds, "If we made the switch to Vish one year prior, we would have seen a difference of $25k in color/product revenue. But we made up for it in the first full year of using Vish!" 
À La Carte with additional allowances - Luke Huffstutter - Annastasia Salons, Portland, Oregon 
For Luke Huffstutter, owner of Annastasia Salons, providing clients with all-inclusive options spoke to the experience that he wanted to give his clients. "Our guests are offered an à la carte service menu, which was in place before we brought in color management, with levels for stylists grouped into four core color services: partial, full, luxury and celebrity. It's simple, but it gives the colorist complete control over the cost of service during consultation. They know how long it will take them to achieve what the guest wants, and allocate the service accordingly. Each service has a base amount of color included," says Huffstutter.
"Before implementing this technology, that color would have been measured on a scale, and we hoped any additional color would be added to the ticket. But that didn't always happen. Now, we have a base amount of color included that the system provides, which Vish has set for us on the backend, and if that is exceeded, it's charged to the client automatically," Huffstutter continues. 
"Vish has saved our butt, with those additional costs reflected in our sales. In 2021, our average ticket sales went up by $12, and in 2022, it's up an additional $8, totaling $20 in two years. The team is better off, with the ticket increase having a direct correlation to their income. Looking beyond 2020, when COVID shut us down for four months, our service providers saw an income increase of 30 percent between 2019 and 2021. Twenty percent of our team are making more than $100k, while 25 percent make more than $50 an hour," Huffstutter adds. "Meanwhile, our back bar supply costs, which is our second-biggest cost, have gone down by 2 percent. That is a huge amount, considering our sales are $4.8m across the two salons."
The Vish White Paper, Why It's Important to Have the Right Pricing Structure, is available to download.