It's hard to believe it's been two decades of Sexy Hair. Where would we be without our favorite red can of Spray & Play? To celebrate twenty years of keeping clients sexy, the brand rented out the Red Room Theatre at the AMC Lowes in New York City where partygoers were treated to makeovers before watching 50 Shades Freed, the third and final installment of E.L. James' cult franchise.  
In addition to choosing from a "tie-me-up" knotted style of their choice, eyelashes and of course, makeup (hello, red lips), Sexy Hair provided the best concessions imaginable—think: a table full of flavored popcorn (truffle, caramel, oh my) and enough candy to rival Halloween. The film inspired the cocktail menu and, naturally, drinks were poured by models with Christian Grey-esque physiques.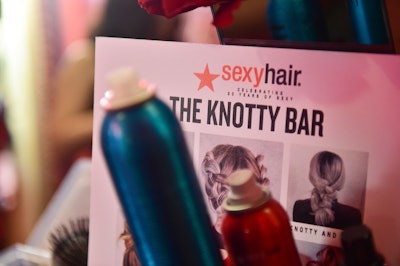 Before kicking off 50 Shades, Sexy Hair played a video to celebrate their birthday and all that they've achieved as a brand. "I hold this can and I'm so proud of it," said Michael O'Rourke Sexy Hair Founder. And for good reason; Sexy Hair is the number one hairspray brand—one can is sold every 5 seconds. "Can you imagine where its come from? From zero to the number one can in America," emphasized O'Rourke.
"We've come a long way at Sexy Hair," agreed Sloane LaMartina, Director of Communications. "When we first launched 20 years ago, all the cans were black, white and grey. Our founder said, 'I'm going to make the can bright red and I'm going to have the word sexy written right on it,'" she described of the brand's bold entry to the market. The idea more than paid off. There's no denying it—people love sexy.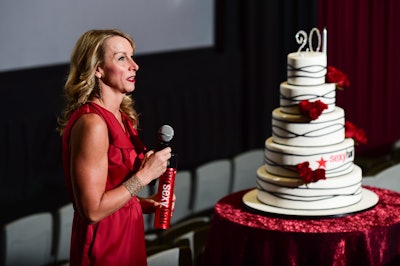 "What's amazing is the whole Bible Belt in the Midwest carried Sexy Hair but they weren't allowed to put it in the window," LaMartina explained. "It was kind of like the crack of the industry—everyone had to have it but no one was allowed to advertise it." The brand has definitely grown with the times. "We went from not being allowed to be advertised in the window to celebrating 50 Shades of Grey twenty years later. Talk about an extreme difference!" And with that, we raised our Champagne glasses and toasted to the (still not legal) Sexy Hair brand.