With Alopecia Areata Awareness Month quickly approaching, you may want to bone up on your knowledge of this autoimmune disease. Typically affecting people younger than 20 (though it does affect all ages), alopecia areata causes the immune system to attack hair follicles, leading to hair loss—which can include brows and lashes. The good news: In 90 percent of sufferers, the damage alopecia inflicts on hair follicles isn't permanent.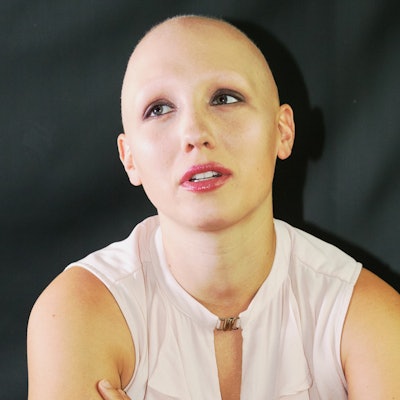 So, how do you, lash and brow pros, deal with clients who suffer from this illness? Lynn La Palermo, co-owner of Occhi' Institute For Lash and Brow Training in Oakbrook Terrace, Illinois, says, "There are options when it comes to brows, but lash extensions are rarely, if ever, successful. With lashes and alopecia, normally there are very few—if any—natural lashes, so there is nothing to attach the extension to. And if there are a few lashes, the application looks spotty at best."
RELATED: RevitaLash Cosmetics Boosts Confidence and Lashes
When addressing brows, La Palermo considers the brow shape, whether the client has any brow hair at all and whether the condition is permanent. If it's temporary, La Palermo recommends drawing or powdering in brows, and teaching clients how to recreate the shape at home; "this is the best solution until regrowth occurs," she says. More permanent alternatives, like microblading or microshading, are "most beneficial for patients over the age of 21," La Palermo asserts. But, in the end, consulting with clients with alopecia and offering your skills is only one part of the process; as La Palermo, who has beautified several alopecia sufferers over the last three decades, shares, "In the many years I've been doing permanent makeup, I've found that addressing clients' mental state and feelings can be as important as providing the service. Not being a therapist, I do try to encourage them and tell them they're not alone in this journey." To help with this, La Palermo recommends baldgirlsdolunch.org or, if clients are younger, childrenwithhairloss.us, (which Occhi' proudly sponsors) as alopecia support organizations to share with your clients.
—by Tommy La Palermo, co-owner, Occhi' Institute For Lash and Brow Training
[Image: Getty Images]