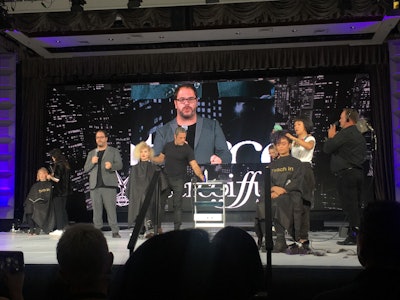 It was a celebration of all things beauty at the second day of Intercoiffure's 2017 Fall Atelier held at the Hilton Hotel in NYC, with industry pros showcasing their innovative collections, doling out business tips, and demoing some of their genius techniques.
To kick off Day 2, the ICA Nouveau Creative Team led by Perry Monge presented "Wabi-sabi," a collection that took inspiration from travels to Osaka, Japan, where the Intercoiffure World Congress was held this year. "We saw the graciousness of the people and hospitality so we wanted to give something back and pay it forward," says Monge. "It's our interpretation of what we saw and learned [on that trip]."
Next up Nina Kovner (@passionsquared) stressed the importance of creating an amazing client journey and sharing experiences on social media and online to help build relationships and connect with current and future clients. The four steps consumers take online: Intent (something they want to purchase or book), Search (their process to find it), Discovery (when they do find it) and Action (when they book, click, buy, subscribe). "When something speaks to their hearts, they'll want to reserve an experience with you … and if [you deliver on that] experience they'll share it [with their friends]," says Kovner. "What a missed opportunity and shame if they don't discover you."
Hairbrained brought the education typically found in classrooms to the stage and left any competitiveness at the door with Mona Baltazar, Tatum Neill, DJ Muldoon, Frank Rizzieri and Chelsea James, stylists from various brands and companies, coming together to showcase a range of techniques from dry, precision, ethnic and razor cuts to editorial styling. "We wanted to get everyone together and show the diversity of the craft," explains Hairbrained co-founder Gerard Scarpaci. "[Every so often] we need to come together as hairdressers, leave our jerseys at the door and put the craft first."
In his "The Retail Revolution: Making the Web Work for You" presentation, Hairstory CEO Eli Halliwell spoke about how technology has disrupted the retail hair business with sites like Amazon swooping up sales. "Feeling like you're being left behind can be outright terrifying," says Halliwell, who enlightened guests by relaying the success of his company's business model which pushes massive e-tailers and retailers out of the equation and also helps salon owners to free up in-store retail space so it can be used in other ways to create additional revenue. "You don't have to be scared or get left behind. You can jump straight to the head of the line; change can be hard but it can create new opportunities."
WSL CEO and Chief Shopper Wendy Liebmann echoed Halliwell's sentiments on the fact that retail is in turmoil and in her speech encouraged guests to roll with the punches and make a shift to give their clients/shoppers what they desire: happiness. "Beauty makes [your client] happy if it's delivered in a holistic way," she says. "She has the power to insist and expects you to deliver it in any way she wants it. It's about her, not you."
In ICA Color Council Creative Director Sonya Dove's presentation "Empowering the Future through Mentorship," she spoke about the importance of pros taking on aspiring stylists under their wings. Not only did she bring out her own mentee on the platform but Diane Cole Stevens and Candy Shaw also took to the stage with their mentees, and each of them showcased a technique. Think: coloring on textured hair, balayage with faux hawks and convertible color. The trio also presented ICA President Frank Gambuzza with the Sprit Award Scholarship, a scholarship in honor of Fabio Sementilli "Big Daddy" that Gambuzza can bestow on an in-need member or partner, which will bring them to Intercoiffure in 2018. "We want Fabio to live in our hearts and Intercoiffure hopefully forevermore," says Shaw.
To wrap up the two-day event, ICA Artistic Director Van Council and the Van Michael Artistic Team presented their show-stopping "Spellbound" collection during the Aveda press luncheon where Council jumped out of a locked cage filled with fire and a magician magically made doves appear. The idea for the collection came from a bob cut he saw a young girl rocking while out shopping with his daughter one day; he literally couldn't take his eyes off her locks and was mesmerized, spellbound. The looks du jour: bewitching bob cuts and bobs with fringe; color using a meld of balayage, classic foils, melting and tipping techniques; and voodoo wefts. "[The collection is] like witchcraft, feels otherworldly and leaves you forever changed," says Council.
[Image by Molly Church]