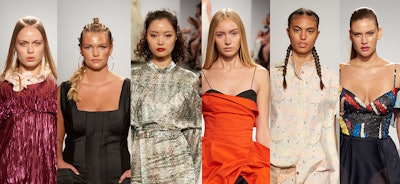 It's always a challenge to come up with a singular hair vision for a fashion designer's runway show. But having to do it for six designers? That's monumentally difficult. And yet hair lead Jennifer MacDougall takes it all in stride, crafting more than 10 unique hairstyles for the Season 16 Project Runway finale runway show, held during Spring/Summer 2018 New York Fashion Week.
MacDougall shared with us how to get the looks for two of the designers' collections, noting that she always has the L'Oréal Professionnel Tecni.Art product line close by during NYFW. "I'm especially loving the new Hollywood Waves Siren Waves Defining Elasto-Cream because it's really perfect for both braiding and creating beach waves," she says. And, because the finale has yet to air, we can't reveal the identities of the designers—you'll just have to tune in to the Lifetime channel, Thursday nights at 9 p.m., to see if one of these hairstyles is part of the winning collection!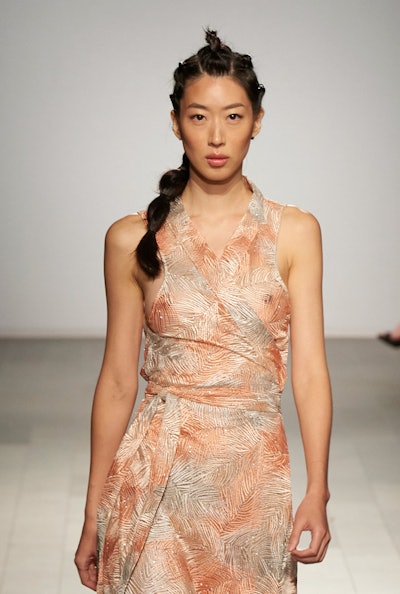 THE LOOK: Tribal Mermaid
Step 1: Create a two-inch section, front to back (it will run down the middle of the head), and wet the hair with water. Then, create a sub-section, two-inch square parting and secure the new sections with mini elastic. Continue and repeat this on this section to the nape.
Step 2: After the entire section is in elastics, gently pull the hair between the elastics to achieve soft volume. 
Step 3: Repeat an additional two sections on each side of the middle section and secure small sub-sections with baby elastics. Do not pull these sections for volume. 
Step 4: At the bottom of the front section, create a twist wrap: Take two small sections of hair, twisting one twice to the right, then right over left, then adding more hair. Repeat and continue until you reach the ends. Repeat this on the other side.
Step 5: Braid all bottom sections to the side and secure with a mini elastic.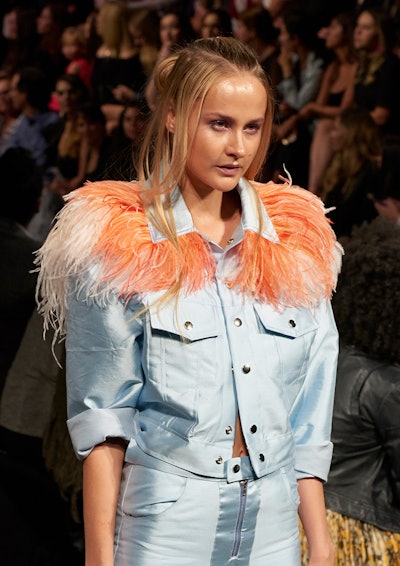 THE LOOK: Messed-up Geisha Girl
Step 1: Flatiron the hair straight.
Step 2: Using a tail comb, create a diamond section on top of the head and secure it with a mini elastic.
Step 3: Take a one-inch thick "veil" of hair on each side and clip them out of the way for now.
Step 4: Gather the remainder of hair in the back and secure it in a black leather elastic, being sure not to pull the ends all the way through so that they splay openly.
Step 5: Release the two clipped sections so that the hair feels wispy around the face.
[Images: Pawel Kaminski for Lifetime]