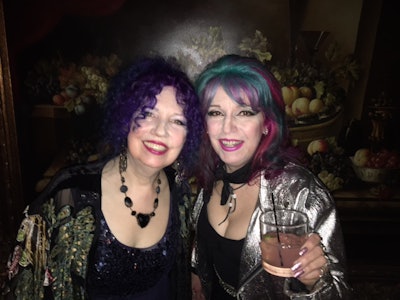 Though rainbow hair is having the ultimate moment right now, seeing a corporate woman with hot pink tresses would have been a sight to behold just 20 years ago, let alone 40. That being said, there's always been Manic Panic. The brand, which was created with downtown punks in mind, celebrated its 40th anniversary this July—truly proving that originality will always stand the test of time.
"It went by like minutes," says Snooky Bellomo, who founded the brand along with her sister, Tish. "We're proud that we've come this far and that we've paved the way—and that people don't get beat up anymore for having colored hair!" she adds with a grain of salt. "We started out with a few hundred dollars and a dream to open this punk boutique," they say looking back. Although the ladies have loved every era they've help define the trends for, the 70's and 80's do (understandably) hold a special place in their hearts. As photos of the original Manic Panic shop flip by on a slideshow projector (featuring Basquiat cameos), it's hard not to feel nostalgic for this ultra-cool time.
Though this anniversary (or #manniversary, as the event has been dubbed) is an amazing time to reflect, it is in no way an indication that Tish and Snooky are even remotely standing still. "Its onward and upward always with Manic Panic," says Snooky who says the power duo plans to devote extra attention to their cosmetics line.
"The future is more color—we just launched our first professional line of color for stylists only," she explains. The stylist-exclusive collection features a different formula, which can be applied directly on damp hair. Obviously, we can't wait to try it. This will not only save us precious time, but it will also allow us to see more clients. "It comes in 11 colors plus a pastel-izer, so you can be creative and make your own colors," she adds.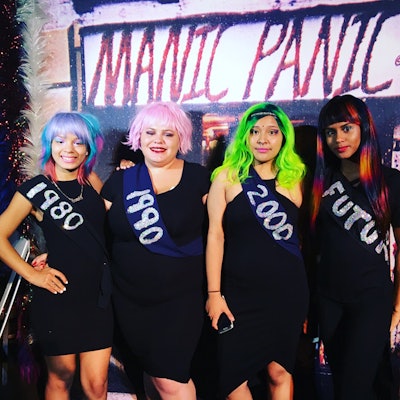 Tish and Snooky both firmly assert that if you set your mind to it, you too can succeed. Listening to them talk about how they got here, it's easy to see why they've been a force for 40 years. With that, the two have advice for all the budding entrepreneurs out there. "Don't say no," says Tish, and Snooky agrees, adding, "Don't take no for an answer."
Ultimately, it's being able to persevere and bounce back that leads to longevity—Manic Panic is a testament to sustained success. "You've got to keep on keeping on," says Tish. "So many times it looked like things were really bad and they couldn't get worse, but we kept believing we could still do it. Now 40 years later, we're still doing it." Snooky finishes this train of thought. "We started out with $250 each; we didn't have business training but we figured it out as we went along and we're still doing that, we're still figuring it out."
In spite of humble beginnings and bumps along the road, Manic Panic continues to not only be relevant, but also ahead of its time—and Tish and Snooki's philosophy has a lot to do with it. "Individuality is timeless," says Tish. "As far as our imaginations can go that's as far as hair color can go," she asserts.  
[Images by Emilie Branch]