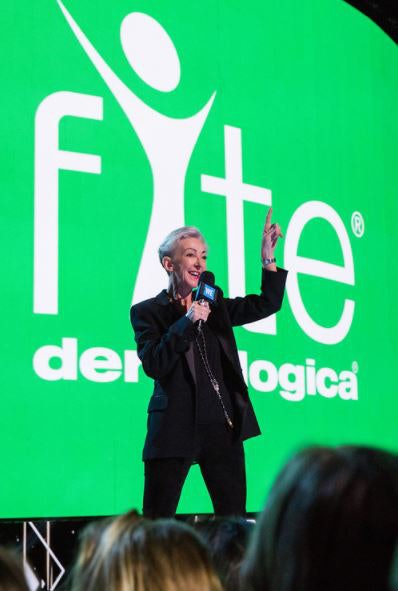 Dermalogica has been committed to helping entrepreneurs for years. Through their initiative FITE (Financial Independence Through Entrepreneurship), Dermalogica has helped fund more than 75 thousand microfinance loans for women in more than 68 countries. FITE also provides vocational training and scholarship programs for woman and girls across the world.
"It doesn't matter where you came from. It only matters where you're going." Dermalogica co-founder and Chief Visionary Jane Wurwand shared an inspirational message to a crowd of over 16,000 students attending WE Day California, a youth empowerment event that celebrates people changing the world. Held at The "Fabulous" Forum in Inglewood, CA on April 27, 2017, WE Day California paired a star-studded lineup with international activists to energize and inspire youth to continue taking action on issues such as bullying, clean water, and poverty.
The day-long event, made possible, in part, by Unilever, welcomed world-renowned speakers, A-list performers, and middle school and high school students from across California.. Students cannot purchase a ticket to attend; instead, they earn their way through the educational WE Schools program, which provides schools and community groups with resources to enhance or inspire social impact initiatives and help young people become change-makers on a local and global scale.
Wurwand welcomed the crowd and shared her personal story as an immigrant and entrepreneur raised by a widowed mum whose advice changed the course of Jane's future: Learn how to do something. Those five words inspired Wurwand to enter the salon industry, arming her with the skills to start and scale a business. Wurwand advised students, "Don't ever shrink yourself. Never diminish what you can do. I didn't go to college, didn't get a business degree. I got a skillset. I had a dream and set out to achieve it." She explained that economic empowerment is a key mission of FITE as, "When we earn our own money it is the game changer to the problems in the world." She encouraged, "Go out there. YOU are the generation that we have been waiting for!"
[Images courtesy of Dermalogica]