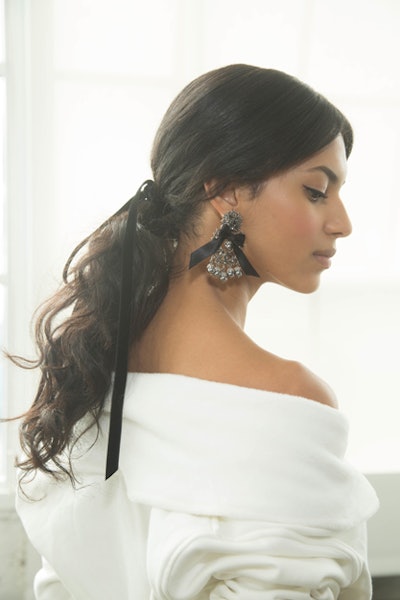 Deciding on your bridal theme is half the battle of wedding planning—the same is true for a bridal fashion show, the dress and the styling have to reflect the inspiration. Cue the walled gardens at Howard Castle in England. The castle is a palatial centerpiece that could be placed in any fairytale, perfect for a princess. The inspiration for the Marchesa show at Bridal Fashion Week stems from these mystical hedged pathways, which wind through the grounds—the intricacies of a floral vineyard are reflected in the delicate details of each dress.
Kevin Hughes, Artistic Director for Moroccanoil and Key Hair for the show, explains the styling for each of the two looks going down the fashion aisle. The Marchesa Couture girl's ethereal romanticism is captured via loose waves, swept back into a ribbon-accented low pony. Kevin applies Moroccanoil Dry Texture Spray throughout to give the hair a "rougher feel," so it is "not too perfectly curled." Hughes creates a center part, bringing select pieces of the hair forward. He replicates this "imperfection" in the front, however gently, purposely tousling the hair.
"It's "almost as if she pulled it back herself," he explains of the Marchesa muse. Next, black ribbon, which matches the accents on the dresses, is tied around the hair in a "purposely uneven or haphazard way." Hughes completes the look using Moroccanoil Luminous Hairspray Strong.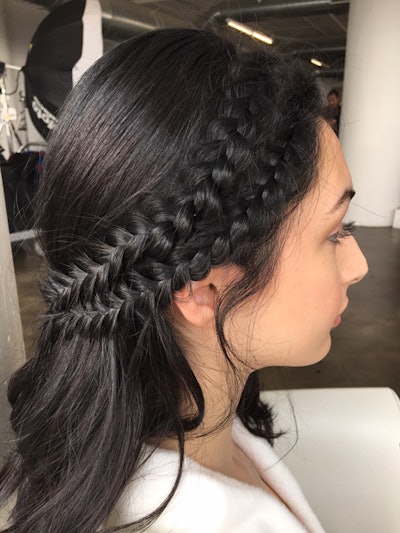 For the Marchesa Notte look, Hughes hones in on the flowers that one would see entwined around a wooden post, a detail that is conjured in the lace of the gowns. To manifest this enchanted garden on the bride's tresses, Hughes begins by crafting two Dutch braids on either side of the head. He keeps the center part, also spraying with the Moroccanoil Dry Texture Spray throughout, and using Moroccanoil Texture Clay or Moroccanoil Moulding Cream to add body to the hair pre-braid. He then "blouses" the braid, making it thicker and wider by mechanically pulling out each coil. The braids are brought back over the waves in the hair through the back, to give her a half-up, half-down look. The braids also give the bride/princess her very own crown. Three of the models sport actual flower crowns to bring the garden-effect out even further, and to prove once and for all that the statement style has graduated from festival-staple to standalone chic.
[Images courtesy of Moroccanoil and Emilie Branch]