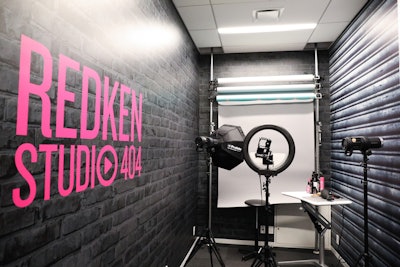 Keeping technology and brand awareness at its forefront, Redken announced its recent addition to their already-renowned educational facility, The Redken Exchange. Redken Studio 404 is a social-content studio where visiting stylists will have the ability to create high-grade content to share immediately across their social networks.
Redken Studio 404 contains all the resources needed to create content. Guests who enter the space have the opportunity to utilize all of the essentials needed to capture original video and photography content, including the latest Canon EOS 5D Mark IV DSLR Camera with Macro Lens, special Profoto lighting equipment, stands, light shed, soft box and Manfrotto tripods. Also featured inside the space is an Impact Fluorescent 19" Ring Light with dimmer, Rode VideoMuc Camera Mounted shotgun Mic & Dead Cat Wind Muff Kit, Beastgrip Pro Smartphone lens adapter and camera rig system with wide-angle and fisheye lenses. Redken Studio 404 also features different backdrops, including multiple colors, a New York Cityscape, and a branded area for artists to take selfies.
 
"With the launch of Redken Studio 404, we're giving Redken Stylists access and the tools to create content is a simple, turnkey way," says Aditi Sharma, Social Media Director, Integrated Marketing Communications. "We've made the experience interactive, fun and very easy. It will be a place for stylists, brand ambassadors and Redken Artists to share their ideas, thoughts, tips and overall Redken brand love."
 
Redken Studio 404 is currently open at the Redken Exchange from Monday through Thursday, 9am to 5pm.
[Image courtesy of Redken]