The organization inspired by professional beauty's diverse voices is still changing lives in 2017. —LINDA KOSSOFF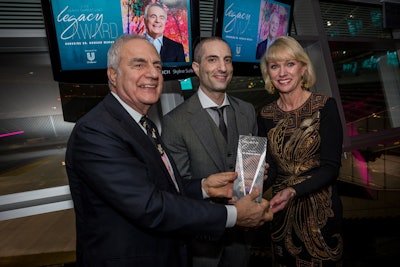 Beauty Changes Lives 2016 Legacy honoree Howard Murad, MD, with son Jeff and Beauty Changes Lives Foundation president Lynelle Lynch 
  Like so many other life-changing philanthropic efforts, Beauty Changes Lives (BCL) can trace its growth to the impact of a particular moment. It was the BCL Foundation's inaugural fundraising event in November 2009, featuring a bevy of professional beauty celebs and a diverse group of industry educators and students. Among the many stories about changed lives shared that evening was that of a brave student who, through attending beauty school, had summoned the confidence to leave an abusive relationship and create a better life for her family.
Not only did the event raise funds to benefit domestic violence prevention and education programs, but it served as an epiphany for Lynelle Lynch, owner of Bellus Academy and a director on the board of the American Association of Cosmetology Schools (AACS). Buoyed by that story and the many others she'd heard in her own school every day, Lynch began to organize, rallying voices from throughout the industry to support the next generation of beauty and wellness professionals. In 2013, the Beauty Changes Lives Foundation (BCLF), a 501c(3), was formed under the auspices of the AACS to provide professional beauty education scholarships.
Today, the BCLF is a fully independent foundation led by Lynch and some of the most influential names in beauty, such as Pivot Point International CEO Robert Passage, CND cofounder and style director Jan Arnold and executives from top beauty manufacturers such as L'Oreal USA, Wella North America and TIGI. The foundation currently offers a variety of targeted scholarships (see below).
            On March 26, during America's Beauty Show in Chicago, BCL will present the Beauty Changes Lives Experience at the nearby, famed Art Institute of Chicago. The elegant fundraising dinner will support Next Generation (thenextgeneration.org), an organization dedicated to promoting solutions to next-gen threats such as climate change and economic challenges. "The Beauty Changes Lives Experience is truly a 'party with a purpose,'" says Lynch. "It provides an opportunity for industry professionals to support the next generation of beauty pros with the gift of education. From product royalty promotions to mentorships to branded scholarships, there are many diverse ways for brands and individuals to lend their support." Highlights of the event will include presentation of the Legacy Award to 2017 honorees—Matrix founders Sydell Miller and the late Arnold (Arnie) Miller—and a "street smarts savvy" runway presentation by Leo Passage Scholarship recipients.
Meanwhile, the BCLF will continue its good work throughout the year, creating more opportunities for the industry to unite in sharing its time and talent. "We are humbled and honored to have the support of many of the world's most prestigious and successful brands," says Lynch. "This collaboration speaks to the humanitarian essence that is the lifeblood of our industry."