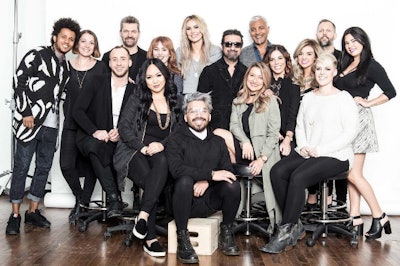 TIGI Inspirational Youth is a program close to TIGI International Artistic Director & Founder Anthony Mascolo's heart. He started the program to foster the growth of young hairdressers and to provide them with mentors to share their knowledge and techniques with them the way his older brothers did for him. This year, ten participants were chosen from hundreds of applicants to attend an intensive 5-day workshop at the TIGI New York Academy to develop and advance as hairdressers, individuals and as a team. Take a look at their five day journey:
Day 1
The week kicked off with a TIGI International Creative Team introduction from Renee Valerie (TIGI US Technical Education Director of the TIGI Academy), Adriana Papaleo (TIGI US Session Director), Akos Bodi (TIGI European Creative Director), Thomas Osborn (TIGI US Creative Director),  Christel Lundqvist (TIGI Global Creative Technical Director), Mike Esa (TIGI Executive Creative Session Director) and Richy Kandasamy (TIGI US Creative Technical Director and Creative Colorist) followed by an introduction from each participant (see attached to learn more about each of them) followed by a fashion trends presentation from Adriana. Next, Adriana and Akos did a Catwalk session styling hair demo and the participants did a workshop creating looks they learned about on mannequins.
Day 2
Mike gave a "Perfect Presentation Skills" session to help the participants learn how to improve their speaking and explanation techniques when presenting to an audience. The 2014 Inspirational Youth Winner, Carly Rae Coady also spoke about her experience after going through the program. The students paired off and gave presentations about each other's hair and were given critique and feedback from Mike and Thomas on their delivery.
Day 3
The third day was all about cut and color. The TIGI International Creative Team gave a presentation and demonstrated different techniques on models and the students then practiced their learnings on mannequins. Students were also using the TIGI 24/7 app- an interactive app that includes: access to a complete library of color and cutting techniques with videos and step-by-steps, an advanced interactive drawing board, inspirational color mood boards and the ability for users to make in-app bookings for Academy courses. (Can be downloaded on iTunes).
Day 4
The team gave a presentation to the students on how to properly cast models for shoots including what characteristics to look for and how to properly assess models to ensure they could be the right fit. Then, models were brought in and casted for the shoot that the students would be executing the next day.
Day 5
Shoot day! The students conducted a full shoot themselves from start to finish by prepping the models and directing the photography.
[Image courtesy of TIGI]