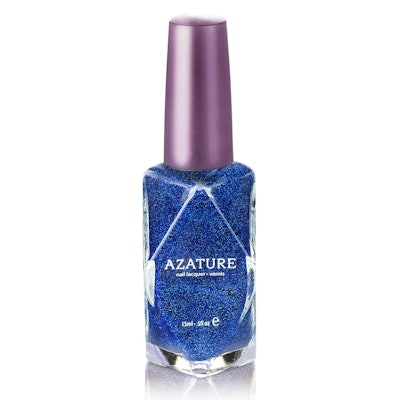 Six months after Alanna Wall wore the AZATURE $17 million dollar black diamond crown at her first annual Polished Girlz Ball, the 15-year-old entrepreneur has learned that the Black Diamond King is re-releasing his signature shade of blue in her honor. The color, a deep blue loaded with glitter and one real black diamond, will be available online at shop.azature.com for the retail price of $16. A portion of the proceeds from every bottle sold will go directly to Wall's Polished Girlz organization.
"I am so excited that Azature Pogosian is re-releasing this color. It's one of my favorites," Wall explained. "I knew from the day we first met that there was a real connection, and it's an honor to have him advocate not only for me but for all the people this collaboration will benefit. On behalf of my family and this organization, I can't thank him enough."
This won't be the last time Wall and Azature join forces. Wall has confirmed that he is one of the sponsors of the second annual Polished Girlz Ball and will be providing her manicure as well as her jewelry styling. Being held Nov. 19 in Orange County, CA, the ball will be in partnership with His House Women and Children Homeless Shelter.
According to Azature, "Alanna has been such an inspiration to me for some time now and I just can't wait to launch this color with her. Seeing the amazing work the organization did last year at the first ball was unforgettable. It made a huge impact on me and I was moved to help."
For more information, please log on to polishedgirlz.org.