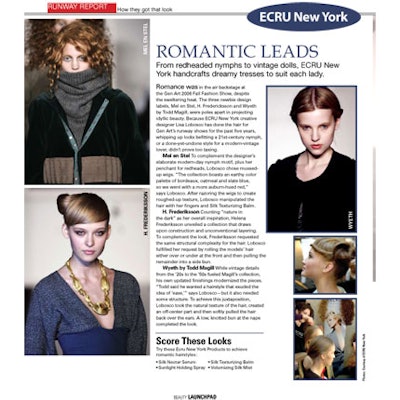 From redheaded nymphs to vintage dolls, ECRU New York handcrafts dreamy tresses to suit each lady. 
Designers: Mel en Stel, H. Fredericksson, Wyeth by Todd Magill
Products: ECRU New York
Romance was in the air backstage at the Gen Art 2006 Fall Fashion Show, despite the sweltering heat. The three newbie design labels, Mel en Stel, H. Fredericksson and Wyeth by Todd Magill, were poles apart in projecting idyllic beauty. Because ECRU New York creative designer Lisa Lobosco has done the hair for Gen Art's runway shows for the past five years, whipping up locks befitting a 21st-century nymph, or a done-yet-undone style for a modern-vintage lover, didn't prove too taxing.
Mel en Stel To complement the designer's elaborate modern-day nymph motif, plus her penchant for redheads, Lobosco chose mussed-up wigs. "The collection boasts an earthy color palette of bordeaux, oatmeal and slate blue, so we went with a more auburn-hued red," says Lobosco. After razoring the wigs to create roughed-up texture, Lobosco manipulated the hair with her fingers and Silk Texturizing Balm. 
H. Frederiksson Counting "nature in the dark" as her overall inspiration, Helena Frederiksson unveiled a collection that draws upon construction and unconventional layering. To complement the look, Frederiksson requested the same structural complexity for the hair. Lobosco fulfilled her request by rolling the models' hair either over or under at the front and then pulling the remainder into a side bun.
Wyeth by Todd Magill While vintage details from the '20s to the '50s fueled Magill's collection, his own updated finishings modernized the pieces. "Todd said he wanted a hairstyle that exuded the idea of 'ease,'" says Lobosco—but it also needed some structure. To achieve this juxtaposition, Lobosco took the natural texture of the hair, created an off-center part and then softly pulled the hair back over the ears. A low, knotted bun at the nape completed the look. 
Score These Looks
Try these ECRU New York Products to achieve romantic hairstyles:
Silk Nectar Serum
Silk Texturizing Balm
Sunlight Holding Spray
Volumizing Silk Mist