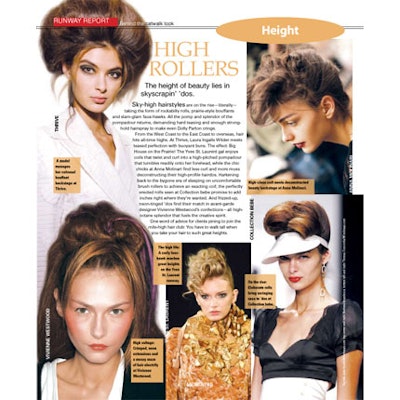 The height of beauty lies in skyscrapin' 'dos.
Sky-high hairstyles are on the rise—literally—taking the form of rockabilly rolls, prairie-style bouffants and slam-glam faux-hawks. All the pomp and splendor of the pompadour returns, demanding hard teasing and enough strong-hold hairspray to make even Dolly Parton cringe.
From the West Coast to the East Coast to overseas, hair hits all-time highs. At Thrive, Laura Ingalls Wilder meets teased perfection with buoyant buns. The effect: Big House on the Prairie! The Yves St. Laurent gal enjoys coils that twist and curl into a high-pitched pompadour that tumbles readily onto her forehead, while the chic chicks at Anna Molinari find less curl and more muss deconstructing their high-profile hairdos.
Harkening back to the bygone era of sleeping on uncomfortable brush rollers to achieve an exacting coif, the perfectly erected rolls seen at Collection bebe promise to add inches right where they're wanted. And frizzed-up, neon-tinged 'dos find their match in avant-garde designer Vivienne Westwood's confections—all high-octane splendor that fuels the creative spirit.
One word of advice for clients pining to join the mile-high hair club: You have to walk tall when you take your hair to such great heights.