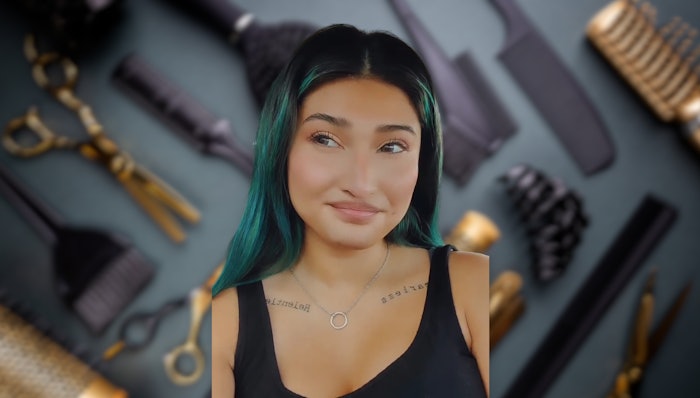 Courtesy of Michelle Maldonado
Today, you will get to know Michelle Maldonado (@behindthebeautymask). She is a master stylist at Behind the Beauty Mask in Austin, TX.
Q&A: 
Beauty Launchpad (BLP): What is a fun fact about you?
Michelle Maldonado (MM):  I am a left-handed stylist!
BLP: How did you get your start in the industry? 
MM: At first it started as a hobby, doing makeup for my friends. Then, I started falling in love with the beauty industry and decided to do something about it. Come to find out I loved doing hair as well.
BLP: What is your proudest accomplishment? 
MM: Graduating cosmetology school and becoming a master stylist. 
BLP: What is your current favorite hairstyle trend? 
MM: Curtain Bangs! I think they are so cute. 
BLP: What is a tip you have for your fellow stylists who are looking to grow their following on socials? 
MM: Find your niche, and stick to it! Have an aesthetic, and be consistent on socials.
BLP: What is a piece of advice about styling/working with hair that you have for your fellow stylists? 
MM: Please continue your education, and go to in-person classes to keep getting better!
BLP: What do you love about your work? 
MM: I love that it's never the same. Every single day is something new and full of opportunities.
BLP: What inspires your work? 
MM: Hands down, my clients inspire all that I do. As cliche as it may sound, it's true. 
BLP: What motivates you about the industry? 
MM: The beauty industry is constantly changing. There is always something new to learn, and I love that. It never gets old.
BLP: What is a career goal you have for yourself? 
MM: To finally open up my salon/women's gym, take it one step at a time and make every person that's in my chair feel beautiful.
You can learn more about each of our winners in our September/October 2023 digital magazine.