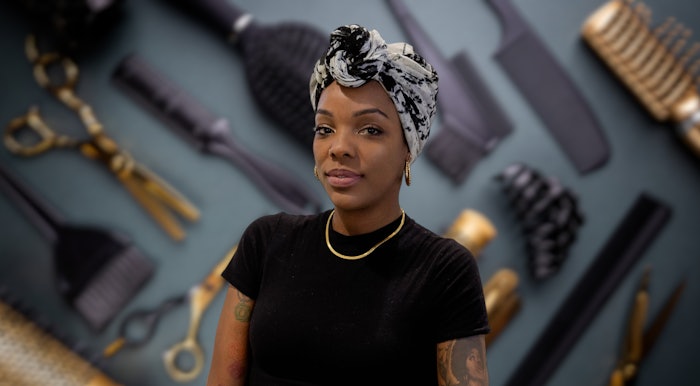 Courtesy of Martina Nicholas
Today, you will get to know Martina Nicholas (@4allcurlkind). She is a natural texture expert, educator and studio owner at Sunflower Curls Studio in Phoenix, AZ.
Q&A: 
Beauty Launchpad (BLP): What is a fun fact about you?
Martina Nicholas (MN): I am a certified yoga instructor! Yoga has been a tool to help balance and strengthen my body and mind, and I love being able to share that with others.
BLP: How did you get your start in the industry? 
MN: On a whim! I ended up in beauty school as a placeholder while I was trying to figure out what I would study in college. I assumed I would at least learn how to do more with my own hair – which was not the case. Now, it's become my mission to rectify that by teaching stylists how to cut, color and style tight curls and coils. 
BLP: What is your proudest accomplishment?
MN: I have honestly been blessed throughout my career to be recognized by beauty platforms as an artist and influencer and to do things like work with athletes and most recently on the Fenty Bowl. As much as I love those moments, my most proud accomplishment is stepping into the educator space independently. My passion lies with helping elevate my community and a major way for me to do that is by giving stylists the tools we never learned in school to provide an equitable experience for guests with natural texture. Check out www.sunflowercurlseducation.com for more info. 
BLP: What is your current favorite hairstyle trend? 
MN: Warm highlight tones! I specialize in curly brondes and loooveee a warm caramel or honey finish. *Chef's Kiss*
BLP: What is a tip you have for your fellow stylists who are looking to grow their following on socials? 
MN: Give yourself grace! For me, social media ebbs and flows, and I find it super easy to burn out if you're not checking in with yourself. It's not all about likes and followers, which I have to remind myself of often. It's about connection and business. Focus on what you want to attract with your social media and the rest starts to fall into place. Also, in most cases, it's a jog not a sprint. Stay consistent and build momentum.
BLP: What is a piece of advice about styling/working with hair that you have for your fellow stylists? 
MN: This advice is for all stylists about working with textured hair. If you would call yourself or your salon an inclusive space that serves all hair types; that does not stop at wavy or curly. You should be doing the work to learn all curls, even tight curls and coils. THAT is inclusive. Let's stop acting like people with tighter textures don't deserve the same hair experience. Lean into the fact that you're intimidated or that you don't know what you're doing and find a class where you can learn. Then, put in the same energy into it as you would any other class you've taken. Be willing to spend the money, book some models and put yourself out there. The rest will align for you, if you're putting in some of the real work on your end. 
BLP: What do you love about your work?
MN: I love how creative I can be with curly hair. I feel as though I'm sculpting a shape or enhancing that shape and curl with color. I also love that I am now the stylist that I never had the opportunity to have for so many people, and I take so much pride in that. I'm changing the perception of natural hair and of the salon experience every day. I believe in being the change, not just talking about it. 
BLP: What inspires your work? 
MN: My Community. Making it easier for people with tight curls and coils to receive services that are of quality and have a range of stylists offering them, so affordability and availability isn't as much of an issue. Helping heal hair trauma and lift the self esteem of a collected people who have always been told their hair was not good enough in its natural state, which I know to be so untrue. My hair is BETTER in its natural state!
BLP: What motivates you about the industry? 
MN: That it is ever changing, and not just in techniques for our guests. I am really loving the mindset shift the industry has been going through over the last few years – more balance, charging what your value is and community over competition. I love being in an industry where I am inspired by everyone else in it and that energy is like a pulse. It keeps me motivated, creative and inspired.
BLP: What is a career goal you have for yourself? 
MN: I have a couple big goals in mind. I am working on establishing a curl curriculum for beauty schools so that our upcoming stylists can truly receive inclusive hair education in beauty school. I don't think it should be such a ridiculous ask, like it has been for far too long. I would also love to open a space, not necessarily a traditional hair salon but a hair concept for curly people – that's all I can say about it for now. 
You can learn more about each of our winners in our September/October 2023 digital magazine.