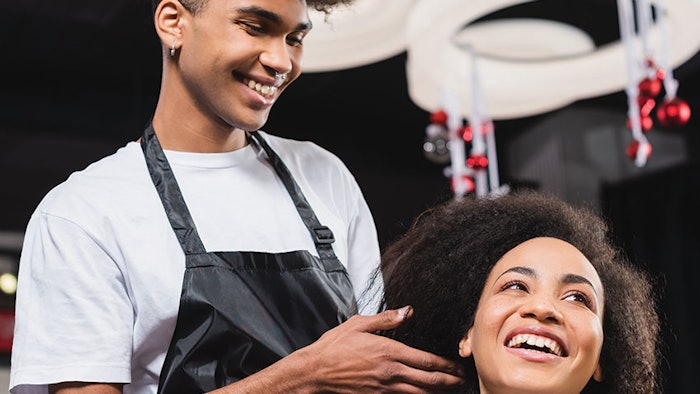 How to create a more inclusive salon has been the number one question this past year. To truly diversify a salon requires more than a diverse clientele and diverse stylists; you also need educationally diverse team members. Creating an inclusive salon is also more than just hiring diverse races of people to service people you currently don't or suddenly offering services to fabrics (people) of which you are not familiar. True diversity starts with a personal journey to educate yourself while doing anti-racism work, studying the history of hair, seeking education on all hair textures, and gaining the understanding of cultural variances. The personal investment to a mindset shift will inspire you to revisit and reevaluate the core values of your salon. Your salon's core values should represent your commitment to change and curate the environment that is necessary for true inclusiveness. It should represent what is truly important in not only your brand messaging but the salon energy.
The salon owner should not only hire a diverse staff—these team members must also play a part in shaping the overall culture of the salon. Hiring team members who do not feel culturally akin is perpetually problematic. It's much like inviting someone to dinner without asking about dietary preferences. Take the time to understand what each person brings culturally to the salon and create a new culture that reflects everyone.
Your environment not only has to be inviting to everyone, but it must bear the consideration and representation of inclusiveness in every aspect of the working systems of the salon—the front desk, the service menu, the retail and the imagery. Everyone on your team has to be on the same page. And remember the adage "the fish rots from the head" (translation: The team takes cues from the owners.). That's why it is imperative that the owners and leaders lead from the front. Inclusivity is not about checking boxes; it's about destroying the box. Inclusiveness is the actionable component to diversity.
Texture Vs Race founder Keya Neal shines the light on making inclusion part of your salon culture.
Neal recommends these resources if you're looking to broaden your education on textured hair:
• Texture vs Race | www.kolourkulture.com/texturevsrace
• Cut it Kinky | www.cutitkinky.com
• Rëzo Academy | www.rezoacademy.com
• The Texpert Collective | www.thetexpertcollective.com
• Leysa Carrillo/Forever Curls | www.forevercurlsbyleysa.com
Seeking ways to implement more inclusion strategies in your salon and day-to-day life? Try Catrice Jackson | www.catriceology.com