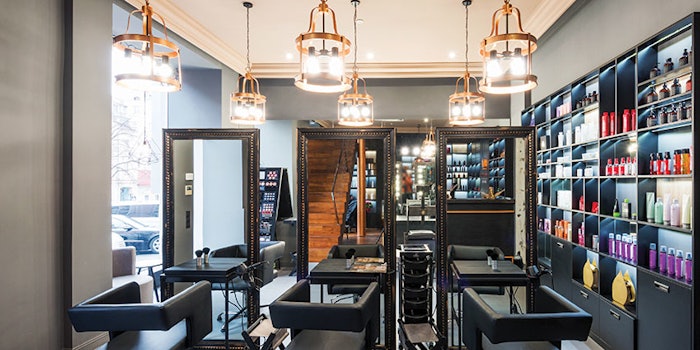 Retail sale success requires both focus and follow-through at all "touchpoints" of the salon experience—front desk to retail area, consultation to checkout. Follow these expert tips to build sales from start to finish.
1. Get a Head Start.
For Daisy "Daze" Henson, curl expert (@curlyhairdaze) and owner of The Daze Studio, retail begins before clients step into the salon. During online consultations, she addresses concerns and may instruct clients to start a new product routine pre-appointment. "I initially offered a $10 discount on purchases made from my online store," Henson details. "When booking appointments online, clients fill out a questionnaire about hair issues, products they're using and what product categories they need suggestions for."
2. Embrace Authenticity.
Allyson King (@allysonhking), cofounder and CEO of Beauty360, believes that stylists must recommend only what the client needs to create and maintain her desired look. "It's a journey, not a sprint," King notes. "Whether that result will take three visits or can be done in one day, provide a clear vision and the steps to get there."
3. Think Long-Term.
Wayne Grund (@waynegrund), founder and president of Surface Hair, eschews the phrase "closing the sale." Instead, open a lifelong commitment to best serving clients, believing in the products you recommend, which in turn creates lifelong sales. "Think of seven potential items for retail, and plan on selling them over five visits," Grund suggests.
4. Seeing is Believing
Lucas Pontes, sales director for Truss Professional, advocates showing before-and-afters via short videos or pics on social media. In-service, have the client physically hold the product bottle while explaining its uses and benefits. If she's not ready to buy, gift a product sample. "The more you educate, the more trust builds," Pontes relates. "Explain that using improper products will require more frequent or time-consuming retouches, which cost more money." To remove pressure, Pontes suggests developing packages that include in-salon and at-home treatments.
5. Sharpen Strategies.
Salon owners should consistently coach team members. King asks: Does the selling sound like a question vs. a confident recommendation? Does the stylist unwittingly talk the client out of the sale? Is she afraid to bring multiple items to reception? "The clients decide, not you, so give them the opportunity," King says. "Closing is easy—be confident in your recommendation, and your clients will be confident in their purchase."
Deep Dive with Daisy
Daisy "Daze" Henson, owner of The Daze Studio in San Diego, shares the following best retail practices for boosting your bottom line.
I've found that sales automatically happen when you show that you truly care about your client and her hair. I never want a guest to feel pressured and I want to respect their budget. However, I do want my client to have quality products for her hair and be a great representation of my work, outside of the salon.
At the salon, while the client is in the chair, I ask several more questions based on the information she provided in the online questionnaire. From there, I can began to determine which professional products I will recommend. It's also important to educate your client on the benefits of using professional products versus lesser-quality brands.
How to address products during the appointment
Throughout the appointment, I find it important to let the client know what I'm using on her hair. The client builds a mental shopping cart, and she won't feel like a bunch of products are being pushed on her at the end of the appointment. I have my assistant set aside products for my client as they're suggested, and have the products ready for her at checkout.
When suggesting new products to a client, I typically don't try to replace every product she's currently using (especially if she is already using some professional products). I don't want the client to feel like she's being pressured for sales.
How to create a strong retail display area
As a suite owner, I have less space than a large salon, but I make sure to have two to three product lines to choose from. The product lines may differ by price point, specialties or focus (organic; at-home treatments; etc.).
In addition to my regular product lineup, I also have a few products that are "available for a limited time" to try out and see how new products will sell. Clients love new and trending products. I constantly change what is in my clients' view when they are in the chair. Have a new product sitting at your station. This is important—especially for regular clients. It leads them to asking the question, "Is that new?"
How to close the deal at the end of each appointment
In addition to paying for the services at the end of their appointment, some clients may feel that purchasing the recommended products is a financial burden. This is also a great time to offer travel sizes or samples. These will most likely turn into full-size product sales during the next visit. If you have an online store, clients can purchase product when their budget allows.
The best way I have found to close the sale is by saying, "If you would like the same results at home, here are the products we used in your hair today." If clients love their hair, they will buy the products.
Clients would often ask if I had an online store so that they could purchase recommended products at a later time. I missed out on a lot of sales because of not having an online retail presence. When COVID-19 shut down the country in March, I had time to plan and have an online store built. It's robust and contains more than 150 products. More people are shopping online because of the pandemic, so sales have been great. I'm getting a lot of repeat sales.