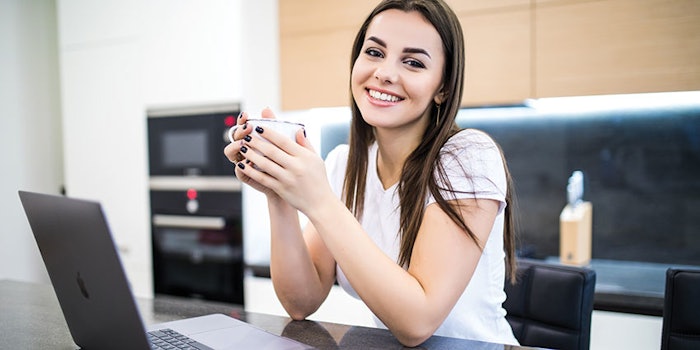 After the profound effect of COVID-19 on the beauty industry, savvy salon owners and stylists are finding fresh ways to reintroduce their services. Email marketing is a time-saving and cost-effective way to encourage guests to easily book appointments, engage in seasonal promotions and browse services online. It's no surprise that email marketing is emerging as a leading marketing tool for salons to connect with past, current and potential guests. As we head into the last (and potentially busiest) part of the year, I'm sharing my top 10 tips to help you develop a successful and simple email marketing program.
[1] Grow Your List with a Sign-Up Page. By adding a sign-up page to your salon's website, you will be able to funnel an interested audience and build your email list. Make sure your form includes a box for visitors to add their first name, last name and email address. For additional information, you may want to add a module to select the specific service they are interested in. Including a CAPTCHA verification will ensure spam bots won't bombard your inbox with automated sign-ups.
[2] Consider a Landing Page. A landing page is a quick way to direct online attention. Different from an actual website, a landing page will refocus your potential guests onto a page specifically designed for first-time visitors and shares a special warm welcome. This can include an introduction to your salon, your team, services and a call to action to experience more—and don't forget to include a sign-up form to receive more information from the salon now and in the future.
[3] Organize Your Email Contacts. Once you've begun to establish your list, organization is everything. The tidier the email list, the more opportunities you'll have to make the list work for you. By compiling your contacts into different groups, you'll be able to send more targeted email campaigns and better connect with your community on a personal level. Organize your list into current guests and prospective clients. You may want to send more personal, conversational emails to check in on your current guests, and messaging targeted toward first-time visits to people who aren't so familiar with your salon.
[4] Customize the Right Campaign for You. There is no one size fits all for a successful email marketing campaign—trying different approaches to connect can be fun and profitable. Get creative with sites like Canva and PicMonkey to make bold graphics that reflect your salon and get attention. You can even create and embed video with low-cost resources like Vimeo Create and Projector. Play with headlines and campaign ideas: Is your salon offering a new service for the holidays? New products? How about a team member spotlight or a cross-promotion with another business in your community? All of these are a reason to reach out and communicate.
[5] Make Sure Your Email Has a Purpose. You shouldn't send an email campaign "just because." A strong purpose will connect your community to a promotion, an addition to your service list or something special. Avoid getting relegated to someone's junk folder by sending marketing that is relevant, timely and purpose-driven.
[6] Find the Right Email Frequency. Bombarding clients with messaging isn't productive for you or for them. You're going to want to find a consistent and breathable pace to send your emails. I recommend starting with two emails monthly and building in additional communications only after reviewing and understanding what type of content your community positively responds to. The pace is totally up to you; adjust the timing of your salon's campaigns to figure out whether more or less emails work for your salon. Create a monthly calendar and adjust as needed.
[7] Make It Mobile-Friendly. Don't forget that most people access email through their smartphones. Edit your email using the mobile viewing option via your favorite email service provider and adjust the layout as needed. Getting this step down is an important one to establish technical credibility and encourage easy reading.
[8] The More Clicks the Better! Always add links back to your website or specific landing pages in your emails via linked images or hyperlinked buttons. The traffic is great for SEO and it gives your guests (or potential guests) an action to take. Once they're on your website, you'll have yet another opportunity to direct their attention and get them to book services with your team.
[9] Include an Online Booking System. An easy-to-use online booking system included in your campaign is a great call to action and an "instant gratification" way for guests to connect. Especially now, any opportunities that save people time are very much appreciated, and online booking can do that. Consider an email funnel that encourages rebooking for guests you haven't seen for some time or to incentivize additional services.
[10] Don't Forget Holidays. Celebrate the holidays with clever ways to connect creatively and inspire some serious shopping. Consider hosting a Zoom happy hour or creating a promotion to remind people of your gift sets and gift certificates. Guests know that the holidays are ripe with buying opportunities, but keeping your salon on the top of their holiday hit list will be up to you. Start your holiday e-marketing in November and continue through December.