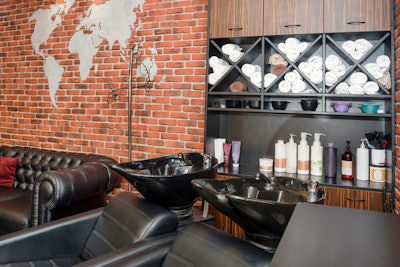 Change up you salon decor with these thoughtfully curated makeover tips.
Just like hardworking stylists, salon decor can grow tired over time. Paint may start to flake and furniture begins showing signs of wear and tear. When entropy takes over, follow this advice to infuse new life into worn-out spaces that need sprucing.
1. Furniture First: Tired and damaged furniture diminishes the overall guest experience, conveys the wrong message about the quality of services you offer and can be costly to maintain. "Items that can't hold integrity after multiple uses will cause repair and replacement costs to add up," says Justin Joyner, regional sales manager at Takara Belmont. If you haven't already, now's the time to invest in top-quality equipment that makes a statement, stimulates creative energy and enhances general workflow. "The right seating solutions can serve more than a single purpose," says Joyner. "Fashion a menu that features add-ons, such as a scalp massage, to build customer satisfaction."
RELATED: Tips for Maintaining Motivation to Flourish on a Personal and Professional Level
2. Paint, Please: After going big on equipment and other investment items, save pennies when it comes to smaller decor pieces. Renew the look and feel of salon interior with a fresh coat of paint, or focus attention on a single vibrant accent wall. "Trendy or seasonal colors invigorate, but it's equally important to consider incorporating neutral hues into your palette for long- term visibility," advises Joyner.
3. Rethink Station Organization: If stylists are struggling to reach clippers or tripping over curling iron cords, it's time to reorganize your floor plan design. "Ease of access to products and tools is essential when it comes to providing quality service," notes Joyner. Aim to craft customized nooks that allow for ultimate efficiency, speed and reliability during every cut and color service. Styling stations should boast plenty of storage, plus easy-to- reach drawers for blowdryers, brushes and balms. Make sure stylists have everything they need at their fingertips.
RELATED: How to Raise Your Prices and Reward Your True Worth
4. See the Light: It's also crucial to update your salon's lighting to facilitate stylists' work—guests should never be surprised by their haircolor results when they step outside. Likewise, retail space lighting should be enhanced to include well- illuminated display units or lighting strips. "It's amazing how many people walk past product areas that are dim or hard to see," says Joyner.
5. Details, Details: Remember to consider every inch of your salon when creating a complete design look—even the bathroom. "Small touches like nice-smelling soap, hand lotion or complimentary mints aesthetically set the right tone for an enticing space," says Joyner. "Business doesn't just start and end in a chair—it's a complete experience. No detail is too small."
[Images: Bigstock]
This story first appeared in the January issue of Beauty Launchpad. To receive the magazine, click here to subscribe.