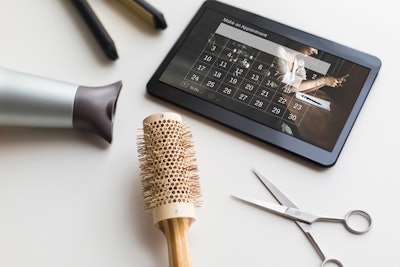 Follow this primer to find the right software solution for you–and learn how to tap its full potential via effective in-salon implementation. 
Most modern-day salon owners and stylists don't need to be schooled on the many benefits salon software provides—but, put simply, this must-have technology can prove a critical factor in making your business a success. "The key to running and managing any business, especially a salon, is organization of daily business data," asserts Daniel Mason- Jones, owner and stylist at Muse Salon and Spa in Johns Creek, Georgia. "An effective salon software program shows daily, monthly and annual sales numbers with the click of a mouse, and helps properly manage payroll and inventory— invaluable tools to help run any small business efficiently."
Meanwhile, Bridget House, co-owner of EmBee Hairspace in Dayton, Washington, notes that because many salon owners are also working stylists, effective salon software reduces headaches related to scheduling and other tedious to-dos, therefore freeing up time to get back to what they love: hair. "Software increases revenue (we've seen up to 32 percent), makes clients happier and saves time," says Danielle Cohen-Shohet, cofounder and CEO of New York-based GlossGenius. "If you love what you do, don't waste time on the administrative tasks that keep you away from it!"
The Right Stuff
Though the benefits of salon software may be a no-brainer, choosing the right system requires some careful evaluation ​Cohen-Shohet encourages asking, "What are my business goals right now?" or "What problems do I need to solve?" Is your biggest challenge attracting new clients, keeping existing ones, saving time, understanding business metrics or something else?
"Choosing the right system depends on your goals and needs," agrees Matt Danna, cofounder and CEO of Boulevard in Los Angeles. "Ask yourself: Is this going to save my team a lot of time? Will it help strengthen client relationships? Will it provide the reporting I need? Can the company help migrate my current data into its system?"
At minimum, check out the software's basic functions, advises Jo Burgess, cofounder and vice president of evolution at Shortcuts in South Brisbane, Australia: Is the system fast and flexible, and will current and new team members be able to quickly learn how to use it effectively? "Point-of-sale efficiency and performing multiple tasks are paramount— for example, being able to move between making an appointment and completing a retail sale without closing either function," Burgess details. She also recommends looking for remote access and safe storage of client data to prevent security breaches. Additionally, Danna stresses, think beyond the features of the software and choose a company you trust, considering the client experience it offers as well as how stylists can take advantage of the platform (for example, managing their own schedules or getting a real-time look at their performance). And seek out top-notch tech support—if you need help anytime, how easy is it to get in touch with the software provider?
RELATED: The Best Video Editing Apps for Creating Engaging Content
Jeff Dickerson, president and CEO of DaySmart Software (maker of Salon Iris) in Ann Arbor, Michigan, highlights additional important factors to consider when choosing the right salon software: Is it designed especially for the salon industry? Does it assist with client management, such as keeping track of preferences, history of services and purchases, and contact information—ultimately to improve relationships, help forecast inventory, and target clients for future sales and promotions? Does it offer online booking and automated appointment reminders via email and/or text?
If you don't know where to start, Mason-Jones suggests asking other salon owners you trust for recommendations—keeping in mind what's most important to you. "One software's strength may be another's weakness; there is no perfect salon software platform," he notes. "Pick the one that has the best reputation and gives you the tools and reports that make sense for you and your salon." In addition, House points out, many software companies offer free trials; she recommends sampling at least three (offline, of course) before deciding which one is right for you.
Training Day
Once you have software in place, you'll need to train staff—and clients— on how to use it for maximum efficiency. Experts agree: though the right system should be easy to grasp and intuitive, preplanning is key. Cohen-Shohet even believes it's best to kick-start training at the earliest opportunity, allowing salon members to be involved in the software selection process itself. After all, soliciting their honest opinions engages them right off the bat—and, after implementation, they'll feel more personal responsibility over learning and carrying out the correct use of that software.
"Implementing or changing over to a new software system can be a daunting task, so preplanning is everything," says Mason-Jones. "Try to do it over a weekend and test it all out before the start of the workweek; there could be a few hiccups, but proper training from the software company directly to staff is most important to avoid major issues."
House recommends allowing staff members to try out key functions, such as creating mock appointments or inventory counts. "Play around on the software for a week or two to get a feel for it, and to discover and overcome any bugs," she advises. "Some software companies offer in-salon training or have YouTube tutorials and help forums available online."
Cohen-Shohet similarly encourages owners to identify which staff members will use certain features, and then implement role-based training. "Come up with a few quick ways to assess employees' learning of the new system, and incentivize them," she says. "For example, give them a pop quiz about certain features, and offer a $5 gift card to the employee who answers a question first." en, to keep up with inevitable software updates, appoint one employee to be the "point person" for understanding how to use new features, as well as training new staff members on the system.
When it comes to teaching clients, however, try working on a case- by-case basis: While younger, computer-savvy clients easily adopted her software, House sat down with her older regulars individually and walked them through the online booking process. "I do still have two stubborn gals who insist on calling me for appointments each time," House laughs. Luckily, thanks to streamlining the bulk of her business with software, making time for those last tech-averse stragglers is eminently more doable!
RELATED: 5 Ways Hairstylists Can Make Their Clients Truly Feel Heard
Soft Sell
Compare the latest salon software designed to help a salon business thrive at every level, from recruiting to retailing.
Booksy offers mobile-first software as a service (SaaS) solution that helps providers attract, connect with and retain clients. The system combines online booking, payments, point-of-sale, client database and marketing automation tools, plus partnerships with Facebook, Google, Instagram and Yelp to create a seamless booking experience directly on their platforms.
Boulevard, a cloud-based business management platform designed for salons and spas, helps orchestrate seamless service with self-booking, automated business operations and actionable performance data. Features like AI-powered scheduling, customizable appointment reminders and wallet-free checkout help create improved, more personalized client experiences.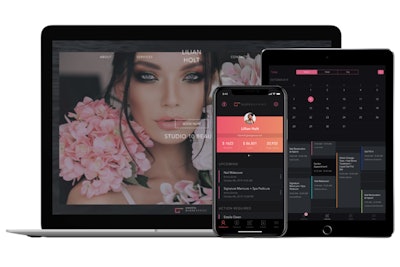 GlossGenius is an all-in-one salon software solution that boasts easy-to-use customized controls to handle online booking, last-minute or advance-notice cancellations and specific processing time controls. Owners and stylists can also tap into time savers like social media integration, client tracking, automated reminders and follow-ups, reporting and analytics.
Mikal Seven features online booking, an employee mobile booking app, and a complete management and marketing system for salons and spas that runs either on-site or on the cloud. The system can be scaled for one to 9,999 employees and/or locations, with on-site or online training and personalized phone support.
Phorest Salon Software helps manage, market and grow salons and spas with a cloud- based management system. A retention-driven marketing suite helps generate more frequent client visits and increase ticket prices, while the system also offers integrated point-of-sale, Phorestpay, and manages business details like appointments, online bookings, reporting and inventory.
Rosy Salon Software is a cloud-based salon and spa management system boasting a comprehensive suite of scheduling and business tools. Owners can take advantage of a 30-day free trial, and standard features include online client scheduling, text and email communications, mobile access, Facebook integration, inventory management and more.
SalonInteractive provides online retail solutions designed to help salons compete with large online retailers. Via targeted marketing, guided learning experiences and customized e-commerce, salons can set up a branded online store to complement existing retail efforts—or relieve the burden of inventory management, carrying costs or shipping hassles.
DaySmart Software, creator of Salon Iris, offers business management tools in five different packages designed to fit every salon size and budget. Features include integrated credit card processing, automated marketing, online booking and more, plus a United States-based support team dedicated to client success.
Square encompasses Square Appointments, which offers an online customer booking website, integrated payments, automated text and email reminders, no-show protection, integration with Instagram and Google, and even e-commerce functionality. Bonus: New Square Assistant, an AI-enabled automated messaging tool, interacts with customers quickly and professionally.
Vish provides a complete color-management system to help salons eliminate up to 40 percent of waste, ensure consistent color and pricing and track inventory. With a scale and the Bluetooth- connected Vish Color Bar app, the system measures product used, automatically updates client profiles and ensures colorist payment.
[Images: Courtesy of Bigstock; GlossGenius] 
This story first appeared in the January issue of Beauty Launchpad. To receive the magazine, click here to subscribe.