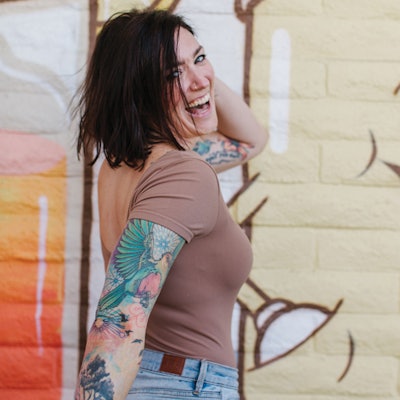 Dawn Bradley knows firsthand how difficult it can be to balance one's salon and personal life; it took a debilitating panic attack to convince her things needed to change. now she coaches overwhelmed, overworked and underpaid hairstylists on how to become balanced and profitable.
What are you most passionate about in our industry? —@theconfidentcolorist
Communication and boundaries. I see many talented and skilled stylists question their abilities because of a miscommunication with a client. It's the nasty villain in our industry that no one knows is there. Also, so many stylists bend over backward in the name of excellent customer service, when really they operate without any boundaries and end up burning out.
RELATED: Beauty Launchpad Editors Share Their Favorite Products for 2020
I would love to learn color melting; do you offer any classes? —@marthagarciahairstylist
Yes! I actually offer an online balayage class: Hair Painting Outside the Lines. You can find it at dawnbradley.com/hpol.
How can I get clients to understand necessary price increases? —@erin.mane.maven
This goes back to communication, communication, communication! We must communicate with kindness, compassion and empathy. Check out some of my most recent IGTVs to learn more.
What's your best advice for a new salon owner looking to grow a clientele? —@thehairpurrfector
Grab my free ebook, The Client Attraction Play Book (dawnbradley.com/playbook)! It's a total game changer and explains exactly what I did to grow my clientele five years ago when I relocated and knew no one. Within 12 weeks I was fully booked months in advance. If you commit to doing the work, these steps will get you there.
RELATED: Hollywood's Risk-Takers Reveal This Year's Holiday Party Hairstyles
How did you become involved in education? —@adina_pignatare
I always wanted to educate but thought I had to wait until I hit a particular place in my career—like some magic wand would float by and grant me permission. But luckily for me, people started asking me to teach, and I said yes. There have been bumps along the way, but the more education I offered, the more people kept asking and coming back for it.
What would you say to a stylist who's convinced her clients won't pre-book? —@mysaloninsider
Learn how to communicate for success. Maybe it isn't that they aren't willing to pre-book, but it's how the stylist is approaching the topic. It's tough to look inward and see what we could be doing differently. But when we do, and have softness with ourselves to know that we're human and not perfect, we can show up differently as well as better for our clients and ourselves.
Want your burning question answered? Follow @beautylaunchpad on IG for the next opportunity!
[Image: Courtesy of Dawn Bradley]
This story first appeared in the December issue of Beauty Launchpad. To receive the magazine, click here to subscribe.