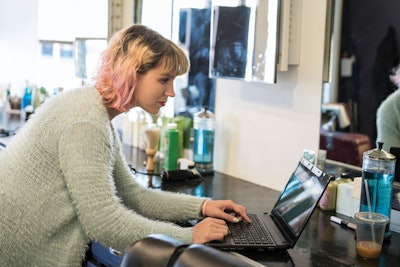 Now that your business and financial plans are in place and you've selected a salon space, you'll need to focus your energy on a marketing plan. "Every salon has a unique story, which is told through a clear branding strategy that distinguishes it from competitors," says Chris Sulimay, Georgia-based Salon 124 studios creative director of education development. Executed correctly, branding boosts loyalty while attracting new clients. As a rule, brands should portray themselves consistently across all marketing channels—from online advertising to in-house promotions. That's why it's important to have a plan in place before you open shop.
Budgeting for public relations can feel challenging after investing on rent and renovations, but pros warn that nascent salons often fail by not funneling adequate funds into comprehensive marketing. "Ask yourself how much you have to spend—then understand that's not enough," laughs men's hair educator Ivan Zoot, aka ClipperGuy. Aim for a budget between three to seven percent of total salon sales, which can be tweaked as growth occurs. Shops that make a lasting impression understand marketing isn't a luxury but a necessity, comprised of several components.
Website
"At minimum, if you own a salon you must have a website," says Sulimay. Scrutinize your top three competitors' sites: What are they doing masterfully that makes you feel inspired? Make sure your website includes carefully crafted Search Engine Optimization (SEO), the crucial process of increasing online visibility. Studies show that 33 percent of Google users visit the top-listed result—and SEO makes this possible. An SEO specialist who knows the ropes can help boost rankings for increased traffic. Websites today must likewise be mobile responsive, meaning the layout adapts according to screen size, because smartphones and tablets now account for nearly 60 percent of all internet searches.
Social Media
Facebook, Instagram, YouTube, and Pinterest remain key communication tools for telling a salon story in a visually engaging way. "But remember that social media is just one prong on a marketing pitchfork, and it's a mistake to believe all advertising can be done for free via these platforms," Zoot explains. Feeling overwhelmed? Think quality over quantity by posting like a pro on only two top sites, and writing captivating messages in lieu of spamming your own feed.
Email Database
Newsletters are back in vogue! Budget time and possibly money for thoughtful salon communications sent to a current database of clients; they can spike interest thanks to their inherently personal nature, resulting in improved retention and boosted profitability. Go one step further with handwritten letters or cards sent for holidays and client birthdays.
Loyalty Program and Events
Work in the cost of discounts or complimentary products to incentivize guests to visit more often—and then encourage they spread the word to friends. "We're often quick to reward the referral that comes in, but I like to compensate both parties by also giving a perk to the hero sender who introduced a new client," says Sulimay. Launch events are a sure way to generate interest—and potentially forge mutually beneficial partnerships with like-minded businesses and neighbors.
[Image: Getty Images]