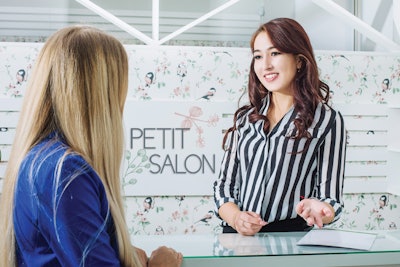 Learn the why, what, when, and how behind a touchy stylist topic: raising your prices.
When the boss, of you is, well, you, no one's going to fork over a salary boost to reflect your stellar performance or ensure your pay keeps up with costs of living (and of doing business). Instead, stylists and salons alike must determine their own worth, doing the math—and some honest soul-searching—to price services, and thereby reward themselves, fairly.
As in any industry, pricing is inevitably susceptible to increases. Yet unfortunately, many stylists shy away from the topic. "Raising prices—and therefore potentially alienating clients—is something that concerns every service provider, including stylists," admits Daniel Mason-Jones, educator and owner of Muse Salon and Spa in Johns Creek, Georgia. "But don't worry—there are proper ways to do it!"
Why are raises so important—and why do I deserve it?
It's simple mathematics: Raising prices is a must in any environment where costs rise across the board— everything from products used to the day-to-day expenses of running a salon. "It's so important that we service providers raise our prices, for many reasons," Mason-Jones asserts. "If you look around at our industry, we never seem to retire—and, just like in any other business, we deserve raises as well." Gina Bianca, salon owner and educator for e Network Salon in Plantsville, Connecticut, cuts to the negotiation nitty-gritty via five factors that should influence salon or stylist pricing:
• Reputation: What results do you offer clients?
• Experience: What is the guest receiving? is can include services (and ancillary areas, like the shampoo experience), salon environment/ambience, client perks, etc.—because those upgrades cost more. Also evaluate your own experience; what's your level of expertise?
• Demand: You should be about 80-percent booked, six weeks ahead and six weeks prior, before you raise prices.
• Education: Bianca recommends taking eight classes per year—but don't beat yourself up if you can only commit to a fraction of that, so long as you actively attend continuing education annually. "If you're not keeping up with the times," she warns, "clients won't recognize your value."
• Costs: is is a business, not a hobby—so be sure to evaluate what it actually costs to provide these services, as well as what you want to get paid.
RELATED: 27 Fierce Females Shaking Up the Beauty Industry
What factors should be considered when I'm thinking about a price increase?
Price boosts are often spurred by necessity: In 2018, when the majority of the products stocked at Muse increased in price by at least 3 percent, Mason- Jones knew the salon needed to adjust prices—stat. "We had to soften that price increase to allow us to continue being profitable as a company," Mason- Jones explains.
But there's another great reason to increase your prices: to determine who's really serious about being your guest. " ere are two types of stylists: great ones, and those who are seen as a bargain," Mason-Jones says. "Nothing frustrates me more than when a guest posts about how cheaply she gets her hair done." Echoing Bianca, Mason-Jones believes that any raises should factor in cost of goods, current (or target) demographic, quality of salon environment, and level of professionalism and education of the stylist.
Bianca adds that the biggest factors in raising prices come down to productivity and cost of doing business—but with the right standards of performance in place, raises make more sense to the client. "If you're 80- to 85-percent booked, you have to move up your prices—but do so gracefully and fairly," she advises. "Guests will understand if we're performing to the level of expectations to suit that price. If the toner's too dark, you skip steps or triple-book, or your assistant doesn't know how to blow-dry, you give them a reason to question the price—and that's when they'll look elsewhere."
How can I raise prices without scaring clients away?
One helpful strategy salons can employ to soften the blow of price increases? Systematize your structure. At Muse, Mason-Jones offers six levels of pricing clients can choose from; when a stylist moves up a level, clients know that the salon's culture dictates a price increase. "We honor the existing price once more for the guest, and then increase by $5 on the next visit," Mason-Jones details. "Levels are celebrated through social media and email, so everyone is informed."
Still, for loyal clients who balk at the increase, you can find creative ways to compromise. "Offer clients a way to keep their prices the same—like an amazing referral program," Bianca suggests. "You can say, 'I know you love coming here, so I want to share my referral program with you, which will put you right back to your normal pricing—if you send me a friend.'"
Though some salons offer short-term discounts to longtime clients, Mason-Jones disagrees with this approach, instead choosing a strong referral program, which gives an existing guest $20 off the next service with a referral. "So if price is really an issue, this is an opportunity for the guest to save $20—and the stylist to gain a new guest," he notes. "Everyone wins!"
RELATED: 3 Simple Tactics for Selling Your Clients on Prebooking
When (and how often, and by how much) should I raise my prices?
At Muse, prices are raised across the menu by $3 per service every other year. Stylists, on the other hand, can examine demand. "If a stylist is solidly booked or even double-booked, it's time for a price increase; if a stylist is not busy, she should not expect a price increase, which is earned," Mason-Jones explains. "If you're booked 80-percent of the time, raise your price by 20-percent—but expect to lose 10-percent of your clientele."
Bianca advises analyzing your own consumer and in-salon habits. Do you have a system for evaluating services, expectations and product costs? "If not, there's a big question mark around the right price, because there's no system in place for what's included—people are left guessing," Bianca explains. Beyond those basics, "there's a fine line between greed and charging your worth," she adds. "One of the biggest ways you can raise prices is simply by adding new services."
However, Bianca recommends raising one category at a time—for example, first haircuts, then color services—and she prefers to increase prices on October 1, while beginning to alert clients in August via a one-on-one conversation. And, though Bianca agrees that stylists should expect to lose 10- to 20-percent of their clientele with a price increase, that's not a bad thing. "If you're performing an amazing service, it shouldn't be a surprise when you let clients know, and there shouldn't be a big pushback," she asserts. " e people who do resist are usually no-shows, or give us anxiety, or are never happy. It's a great thing they don't come back, because they're usually the source of our stress and resentment; we're pretty much the only industry that has to explain, day by day and client by client, that we're worth it!"
[Image: Getty Images]
This story first appeared in the July issue of Beauty Launchpad magazine. To receive the magazine, click here to subscribe.