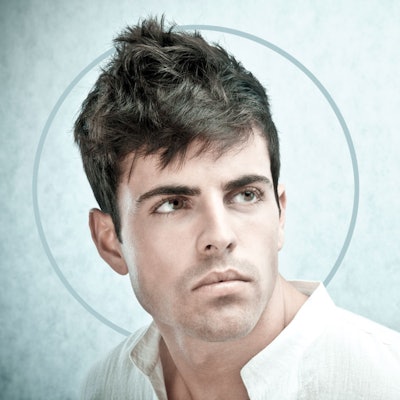 Hair texture can be defined in two ways: thickness of the shaft itself (think fine, medium or thick) and the pattern of the wave (such as curly, wavy or straight). "Texture generally refers to the amount of curl or wave a person's hair has naturally," says Paul Wilson, global artistic director for American Crew. A barber or hairstylist can create the ideal texture by staggering hair lengths in a cut or with the right products.
"I don't think men have an interest in knowing their specific hair texture," says Angel del Solar, cofounder of 18.21 Man Made. "However, they are interested in how to look great based on their hair type and style, and which tools and products will help them achieve that." To give your clients exactly what they want, it's important to use key descriptors about texture to steer the conversation. Wilson suggests inquiring about definition, silhouette and volume to determine what's best for their needs. "I also use the term 'lived-in' as a quality in textured hair that can be controlled by the frequency of shampooing and conditioning," he says. Del Solar adds that using words like "active" or "messy" as well as "smooth" and "relaxed" will give a better sense of the desired look—and don't forget to factor in shine and hold, too.
RELATED: Whitney VerMeer Shares the How-to for Our MAN Spring Cover Look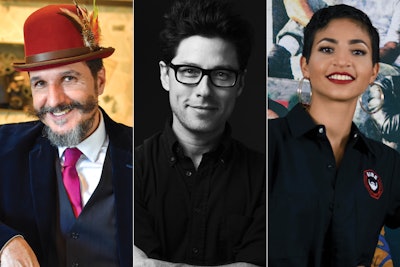 A Cut Above the Rest
When it comes to creating texture with a cut, the sky's the limit. "Texture helps strands defy gravity and creates movement," Wilson explains. You can texturize longer hair or short locks for added height and volume.
RELATED: Jason Hall's Away Days Collection Mixes Color and Youthful Energy
"Layered haircuts will activate the most texture on any hair type," del Solar explains. "The length depends on the wave pattern: Medium length will give you the best control and will help define texture with volume. The longer the length, the more relaxed the hair will get. The shorter the length, the more erratic the pattern will be."
For clients who want to tame their natural texture, more polished, shorter shapes work best. "A simple crop top is a very popular men's hairstyle right now that can have a lot of texture and is very versatile," says Gabrielle Davis, artistic team captain at Gibs Grooming. The less layers, the easier the hair will be to control.
Education is Key
"Products are important, but it's what happens after the product is applied that is key when styling textured hair," Wilson says. For del Solar, it's all about working the products in a circular motion with his fingers to add texture.
To ensure your clients can recreate the look at home, show gents how much product to use, when to use it and how to apply it, employing phrases like "comb-through" and "buffer." "Get the product on their hands and help them do it; show them how to use tools like brushes, blowdryers and combs," del Solar advises.
Davis also stresses the importance of showing clients how to distribute product evenly. "I preach that they start at the base and bring the product through the ends," she says. "Then I suggest a wide-tooth comb or fingers to lay the hair in place. If they follow these directions, they will have a nice, raised, textured look."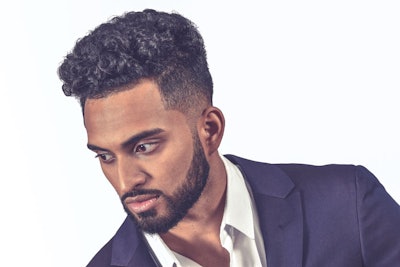 Proper Products
To control and define curls, look to pomades and matte creams. For sleek styles, creams and hair oils with a medium hold that repel moisture can be applied to damp strands and blown-out for a lasting finish. For max control, hard-hold gels reign supreme.
Or, clients may want to enhance their natural texture—if that's the case, utilize texturizing foams and sprays to define shapes; pastes for flexible hold; dry shampoos or clays for a beachy, shine-free finish; or oil-based waxes or hairsprays that don't break down moisture.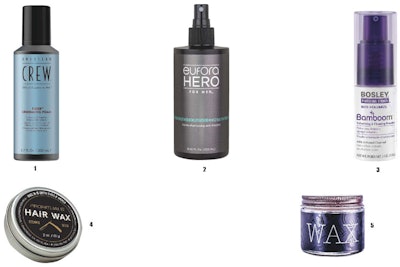 Offer these solutions to clients looking to ramp up or control their texture.
1) American Crew Fiber Grooming Foam, formulated for medium to long mops, provides manageable volume and lived-in texture.
2) ​Eufora Hero for Men Conditioning Control can be sprayed onto wet or dry hair for lightweight grip with leave-in protection benefits.
3) Bosley Professional Strength Bos•Volumize BamBoom Volumizing & Cleansing Powder is a multipurpose solution that absorbs oil, refreshes locks, and boosts volume and texture.
4) ​ProRituals Hair Wax firmly holds hair in place with a matte finish. Made with nourishing argan, Abyssinian, chia, soybean, and jojoba oils, it helps protect both the hair and scalp.
5) 18.21 Man Made Wax proffers high hold and low shine, and is ideal for defining frizz-free, texturized hairstyles.
–by Karen Wilhelmsen
This story first appeared in the Spring issue of MAN magazine. To receive the magazine, click here to subscribe.
[Image: Courtesy of manufacturers; 18.21 Man Made; Getty Images]