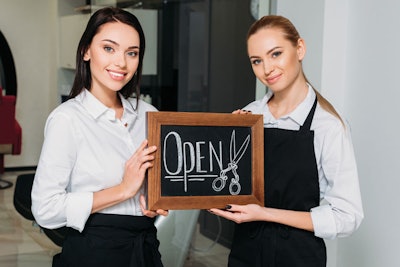 A business plan is like a map: Stylists shouldn't embark on the road to successful salon ownership without first grasping what lies ahead. "Your plan will reveal weak spots in ideas," explains Jon Reyman, founder of Spoke & Weal salons, with seven nationwide locations. "Vetting our wild dreams ensures they're viable." While a well-executed proposal highlights opportunities and defines potential risks, it needn't be complicated—so fear not. "Keep it simple but real," advises Amanda George, owner of Roil Salon in Beverly Hills, California. Follow this format to help you get organized.
Executive Summary
Define your company and outline why you expect to be successful. Consider these subtopics: 
Mission Statement: One succinct line explaining your intended business goal.
Product: A summary of services offered.
Principal Members: The names of stylists, employees and members of your leadership team.
Location: Why this is the right spot for your shop and the projected client demographic.
RELATED: How to Write a Winning Instagram Bio
Company Description
Here's your chance to brag! Detail competitive advantages you've identified, plus precise factors that make your salon shine. "When investing money and energy into a project, it's essential to know what outcomes are expected—even those that aren't profit-driven," stresses Reyman.
Include a description of your legal structure that states whether you'll serve as sole proprietor or form a partnership. You may also choose to incorporate as a C corporation—the most common type—in which the corporation pays income taxes. Or, you can choose to incorporate as an S corporation, which holds a special tax status with the IRS, enabling the business itself to avoid taxation. In this case, income is reported on the owners' personal tax returns, which may be advantageous to small-business owners. While it's not mandatory to hire outside help, a legal professional can clarify what may otherwise be confusing rhetoric. Says Reyman, "It's worthwhile to pay a pro."
Market Analysis
RELATED: Facebook Marketing Tips from Social Media Strategist Kelly Ehlers
Solid understanding of the general beauty industry along with specific target markets is essential. Pinpoint the strengths of like-minded competitors in your area, and then spell out what you will do to be even better. Marketing and sales graphs break down the basics of how to engage customers and turn an actual profit. Of course this is an evolving strategy, given shifting social media trends and advertising patterns. "Business fluctuates, so bear that in mind when making projections," says George.
Financial Evaluation
"You need someone who understands numbers," says George. "My husband is great at spreadsheets and cash flow, which has proven instrumental." If soliciting funding, specify the exact amount needed (start-up costs can range from $50,000 to upwards of $200,000, according to Startup Jungle, a national entrepreneurship group), where the money will be allocated and how you intend to pay off any loans within five years. Your goal: Convince lenders that you're a solid investment.
"Get with a bookkeeper or accountant and run through finances," urges Reyman. "Consider building estimates from contractors, rent expenses, prices of goods sold, and reasonable estimates of employment costs." Revenue growth plus projected downtime before turning a profit are likewise key factors, which we'll examine in Part Two of our series.
This story first appeared in the May issue of Beauty Launchpad magazine. To receive the magazine, click here to subscribe.
[Images: Getty Images]