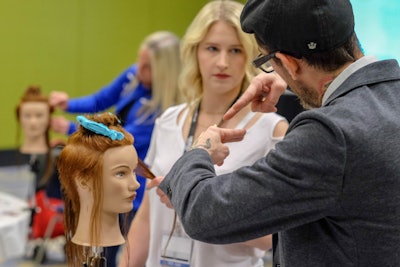 With so much great hair education available online, it feels redundant to appear in-person for class. Hands-on education can be inconvenient and expensive, and you're never totally sure what you're going to get. I can sit on the couch with my phone and get everything I need – all without my shoes on.
These are things hairdressers have said to me. And I get it!
As a Sam Villa ArTeam Member, I support and engage in online education often. It's no longer the future. And it's amazing stuff! Until recently, live education was the only way to stay relevant to trends, learn about new tools and techniques and refine our practices at-the-chair. Now, social networking and e-commerce have taken us down new digital pathways to education, communication and retail. In the world of hair, there are no longer any secret techniques, no unattainable results and no limits to opportunity.
However, during this great change and eventual balancing of the industry, it is important not to neglect in-person education and hands-on classes.
As hairdressers, we all eventually learn that many techniques and trends are similar, and appointment time is short. As years in the salon pass by, it's easy to become complacent in our work. Once this happens, our work can become more communal and relationship-weighted, and our attention to learning new skills seems less important.
In such a case, the abundance of business removes the sense of urgency for learning. Ironically, the overabundance of online education can also create a form of complacency. The sheer amount and immediacy of resources can numb our need to learn. I often catch myself thinking as I scroll through my social feed, "I don't need to stress about learning that technique I saw; that post ain't going anywhere. I'll look at it tomorrow." The abundance of available education removes the sense of urgency for learning.
If we have these feelings, attending education in-person, especially participating in a hands-on class, is one of the best ways to reset the router, so to speak. Being in the presence of an instructor who is prepared to personally help can activate our inner learner!
I ask a lot of "what if?" questions. If there are areas in which I need to improve, a teacher can offer me strategies for refinement and achieving my goals. At advanced levels of learning, the coaching points can become more minute and esoteric, and the assistance of a qualified instructor is often necessary.
We often forget in that moment, when a senior hairdresser is helping us, they are passing down their knowledge person to person. The way they communicate it to us is based on our individual needs. It now becomes our knowledge, and if we choose, our gift to pass to someone else. If we have these learning experiences regularly, our confidence in our abilities and ourselves will improve, and we'll become more receptive to coaching and refinement from others. We'll be more likely to practice on our own, and we'll be more committed to applying it in our world of hair. Whatever cost or inconvenience live education creates in our worlds is worth the exchange that occurs when we come together as a group to learn and share.
At Sam Villa, our online platforms are designed to inspire, motivate, and educate. However, every educator on our team means to stand before you live, and in-person, to share what we've learned. Whenever you can, seek out live education to take your online training to the next level.
See you in the classroom!
Jesse
 -Jesse Linares, Sam Villa ArTeam Member