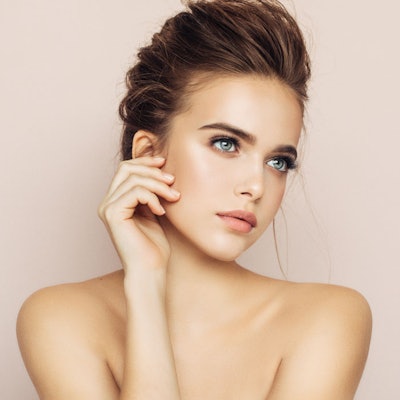 Fuller brows have been en vogue for the past few years, and they're not going anywhere in 2019. However, instead of the overly defined cookie-cutter-like brow that's been popular, a more natural look is taking the lead. "It's all about adding texture and detail to the brow, [focusing on adding] definition to the arch and tail," says Narcissa Daytz, national director of education for Billion Dollar Brows.
"It's about creating a softer, more natural brow that mimics the looks of real hairs." Here, we take a cue from the Billion Dollar Brows three Cs technique—create, color and control—to achieve a full and feathery brow. 
Create: For most women, a little eyebrow architecture is required to create a uniform look, particularly for thicker arches. That being said, brows are not one-size-fits-all, notes Daytz. "[Copying] trends can create an unflattering shape to the brow or throw off the natural symmetry of the face," she says. Instead, analyze your client's face shape and see where her brows should begin and end, and where the arch should lie.
RELATED: ​Sugarlash PRO Founder Courtney Buhler on Providing Personalized Lashes
Color: To achieve a look that's both defined and feathered, opt for both a pomade and pencil to fi ll the brows and create hairlike brush strokes. The idea is to recreate the brows your client was born with. Start building the shape about 1/4 inch from the front of the brows, building the definition as you move from the arch to the tail. Then, add a few hairlike strokes to the front corners for a feathery effect.
Control: Holding brows in place is essential to this style. Lock in the look with a brow gel to set and give hold to a finished look. Add brightness and definition to the enhanced brow by applying highlighter just under the brow line and blending it out toward the tail. Then, swipe a small amount of concealer above the arch, and blend.
RELATED: How Lash Lifting and Tinting Help Your Clients and Boost Your Bottom Line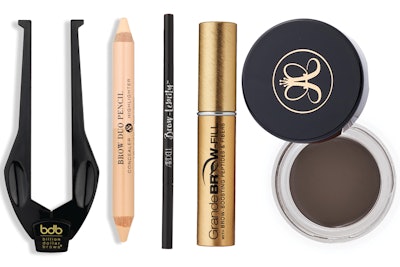 Billion Dollar Brows Brow Buddy
Billion Dollar Brows Brow Duo Pencil
Anastasia Beverly Hills Dipbrow Pomade
This story first appeared in the January/February issue of Eyelash magazine. To receive the magazine, click here to subscribe.
[Images: Courtesy of Armando Sanchez; Getty Images]