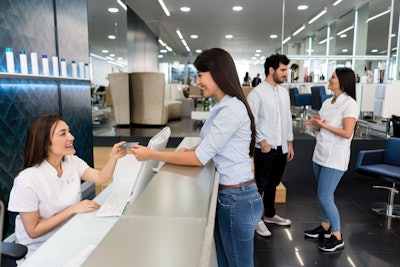 Oscar Wilde wrote, "Success is a science; if you have the conditions, you get the result." But what exactly are those vital ingredients that comprise the winning beauty business formula? We spoke with leading industry icons to glean the secrets of what it takes to triumph in this ever-shifting trade.
Start with Staff
"A strong foundation is the magic behind any successful business," says Liz Rosenzweig, senior director creative, content and communication at JD Beauty Group. For a salon owner or entrepreneur, employing top stylists is part one of the challenge. "Our economy is experiencing a current boom, which is both a blessing and a curse," laughs Leon Tringali, Celeb Luxury artistic director. More job options mean a smaller talent pool from which to hire. Be persistent—then get real. Interviews are the time to talk candidly about desires and expectations. "Effective leaders have their visions clearly mapped," continues Tringali. "They're able to ask pointed questions of prospective employees to ensure that goals and values match." That's not to suggest that stylists—you—operate without agency. Your task, though flipped, is ultimately the same: Actively research salons or brands to find a home where you feel personal growth is possible. "Successful operations function as a family because at heart they share a common interest," clarifies Missy Peterson, Malibu C global education and artistic director.
Work in Harmony
Once the company culture has been defined, a successful commander consistently strives to keep every member operating in harmonious unison. "Hire right, train right, retrain constantly, and provide servant leadership," directs Surface founder Wayne Grund. "If a leader ever points a finger, he must realize the other three fingers and thumb are pointing back at him." Take time to coach, but then step back and listen. "A good leader hears other thoughts and ideas, which not only allows for creative cooperation, but also makes members feel valued," notes Rosenzweig. At Oribe, general manager Sid Katari operates under an adage both tried and true: A team is the sum of its parts. "The ultimate goal is getting incredible hairdressers to cultivate a collaborative environment," he says. Moroccanoil cofounder Carmen Tal has been able to enjoy the hard-earned fruits of that type of collaborative labor. "Because I built a group I trust, I'm able to delegate work and allow my talented team to do its magic," she shares.
RELATED: How to Effectively Boost Business by Selling Aftercare Products
The Right Communication is Key
Tringali believes in communication, though of a specific kind. "The most effective meetings are short and frequent," he asserts. Check in daily with key players, but don't call a powwow when a text or email will suffice. Moreover, allow space for mistakes. "Embrace people for the talents they have," urges Peterson. Be flexible when plans inevitably go awry. Ultimately, muses Katari, it comes down to this important question: Do you see yourself as a leader worth following?
Marketing Matters
In fact, it has perhaps never mattered more. "Marketing is essential because the world of beauty is ever- changing," says Rosenzweig. Steady evolution of techniques and trends means you're continuously presented with groundbreaking snips or colors new and thrilling to behold. "The fact that beauty morphs is what makes it so exciting!" she enthuses, adding, "There will always be room for the creative ideas and innovative concepts that continue to arise." The problem: figuring out how to stay ahead by using today's tools.
Use Social Smartly
Start with social media. Securing precious moments to scroll through pages of photos might feel challenging after hours spent behind the chair, but self-marketing deserves to be prioritized. "Time doesn't just happen—it's planned," points out Grund. "Allocate twenty minutes of each day to edit and post." Or infuse value into downtime by putting these precious minutes to work. "If you spend spare intervals—even a few minutes—thinking of the future, you'd be surprised at what can be accomplished," Rosenzweig promises. Katari favors a deliberate approach when it comes to posting strategies. New blogs and influencers pop up daily on the beauty scene; chasing each one is a sure path to burnout. "Be thoughtful, focused and concise in how you present yourself," he says, and zero in on today's top sites: Facebook, Instagram, YouTube, and Pinterest. (See "The Big Four" for best-use tips.) After where, consider how. "The edit of a photo can make or break a post, because with incorrect cropping or a misused filter, the intended message might be missed," warns Peterson. To gain experience, she follows artists she finds inspiring and visits the sites, feeds and images they like, then examines content from multiple angles, reflecting on the qualities that make it shine.
Because our world is so connected, it can be easy to blur the lines between work and play—but forgetting audience is a rookie mistake. "The viewers for whom I post as a professional do not see me the same way my family does," says Peterson. Keep your work feeds and pages professional, but don't lose your personal brand's voice; it's what makes you stand apart from the pack.
Value In-Person Connections
Of course, virtual relationships are only half of the equation. Nothing can replace the power of face-to- face connection. "People are more accessible than ever, so it's important to use both digital and in- person marketing networks," Katari explains, adding, "Cross-promotion is how you build the bridges." Look locally: Various businesses around your salon could make the perfect partner for mutual benefit. The key is choosing one whose style, vibe and demographics match your own. "If your space and guests skew young and hip, you might consider an organic bakery or trendy pop-up boutique," Grund suggests. (See "Pretty Pairing" for partnership examples.) Approach local networking opportunities with that same authenticity, but don't just chase every invite without thought. Rather, look to groups whose models align with your brand principles. Uniting with a charity is universally recommended as a smart way to boost exposure and attract new clientele while benefiting a philanthropic organization. "Cross-promotion generates value for a salon by creating community visibility and enhancing the overall client experience at no extra expense," concludes Katari.
RELATED: 5 Books to Help Motivate You and Your Salon Team
Honor Downtime
"Our industry is founded on caring for others, yet we do a horrible job at self-care," laments Peterson. "But you can't fill anyone else's cup if yours is empty." True disengagement means different things to different people; do whatever makes you happiest. "For me, time off is watching a football game—no phones, no email," reports Tringali. For Grund, respite has a different look: "Plan time to walk and meditate."
Regardless of the hiatus form, highly effective individuals understand that they're happier and more productive when scheduling mental pauses into the fabric of a bustling routine. Therefore, a smart leader bakes downtime into her company culture. Stylists who see themselves as lifelong learners find ways to recharge while still remaining engaged. Step away from the chair but never the craft by pursuing ongoing education or enrolling in a course on advanced marketing techniques. "Between social media, peers and clients, creativity is all around us," says Rosenzweig. "It's almost impossible to ignore."
Top Traits: These leaders share essential qualities needed to succeed.
"The products we develop are those that have arisen from need," says Celeb Luxury artistic director Leon Tringali. "Stay relevant by seeing how needs change."
"The only person you're competing with is who you were yesterday," says Missy Peterson, Malibu C global education and artistic director. "Do one thing outside your comfort zone every day."
"Be ready for change," says Moroccanoil cofounder Carmen Tal. "In business today, it's essential to have eyes and ears open at all times so you can ascertain what consumers desire."
"Succeeding isn't about compromising to go with the current fad, but about connecting to customers in a modern and relevant way," says Sid Katari, Oribe general manager.
"Hire people who are hungry, humble and nice," says Surface founder Wayne Grund.
"Of course they must be qualified for the job at hand, but what sets leaders apart is their drive and work ethic," says Liz Rosenzweig, JD Beauty Group senior director creative, content and communication.
Pretty Pairings: Like peas in a pod, these salon cross-promotion partnerships help to achieve success.
Local food trucks; start-up juice bars: Who doesn't love complimentary drinks and treats? Offer a green smoothie or tasty bite during services, with larger menu options available to buy.
Florists; neighborhood nurseries; plant shops: Fresh stems brighten any reception desk, while mini cacti make for cute station accessories.
Annual cut-a-thon for cancer; animal shelter fundraisers: Using skills to drum up philanthropic funds is elixir for the stylist's soul.
The Big Four
Understanding audience is crucial to cracking the success codes for top social media sites.
Facebook: Best platform to build community and promote events.
Pinterest: Acts as a springboard for brand-building; allows individuals to collect and organize visual references as a means of discovering brand style identity.
Instagram: Increases visibility through smartly planned visuals. "IG is my go-to outlet for attracting younger, trendy clientele," shares Missy Peterson.
YouTube: Spot for long-form hair demos or short tip snippets. "There's been a huge surge in the desire for video content," Sid Katari reveals.
This story first appeared in the January issue of Beauty Launchpad magazine. To receive the magazine, click here to subscribe.
[Images: Getty Images]