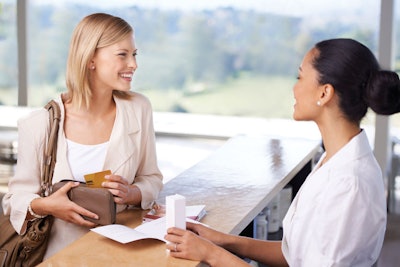 You've likely heard the saying, "Happy wife, happy life." When you work in the lash and brow business, this same motto applies to your customers. After all, there's no question that when your clients are happy with their lashes and brows, so is your bottom line. Sure, the road toward client satisfaction starts with the service you provide in your chair, but where it ends—and ultimately where it continues— is with the products you send them home with. Here, we quizzed industry pros on the ins and outs of aftercare retail sales and promotions so you can drive your profits to their ultimate potential.
The Value in Aftercare
If you scoot clients out the door in a hurry without retailing them lash aftercare, you're leaving money on the table. Not to mention, when clients skimp on proper lash cleansing, they risk infection, damage to their natural lashes and premature shedding. The first person they'll blame? You. Instead of gaining what could have been a loyal client by making a simple sale, you'll likely lose the repeat business, warns Occhi Lash & Brow Studio owner Lynn La Palermo in Oakbrook Terrace, Illinois. Longer-holding lashes also means more time between fills. Not only will customers appreciate the time savings, so too will your wallet. "You'll be able to take on new clients since you won't have to spend as much time refilling your existing customer base," explains NovaLash master trainer and Glimt Lashes owner Tonje Fjeldberg Elshaug.
Referrals are arguable the most important way to build your client base, and your clients' appearance can make or break this source of income. The only way to ensure that your clients' lashes remain in tip-top shape is through aftercare. "[The right product will] hydrate and condition lashes so they look more attractive," explains Houston-based molecular biologist, cosmetic chemist and NovaLash CEO Sophy Merszei. "When your clients look better, the amount of referrals per year increases." The same theory goes for brow clients. Arm them with the techniques and products they'll need to keep their brows looking beautiful between appointments, and they'll be exemplary models for your walking billboard, says Los Angeles-based celebrity makeup artist and eyebrow specialist Robyn Cosio.
RELATED: 8 Must-Try Marketing Tips From Vogue Brow Academy
Need another reason to make the sale? "A client is 85 percent more likely to use your services again if she's using your products," says La Palermo. "When they see [the products] on their vanity, it provides name recognition and keeps those products tied to you." To boot, if they're not purchasing your products, they're likely buying them somewhere else. "You're not going to make a dime off that!" warns Cosio.
Winning at Sales
It goes without saying that if you can't close the sale, your clients will leave empty handed. The No. 1 sales tactic: education. Simply explain why aftercare is critical for a good outcome and how it will protect their investment. They'll listen because "extensions aren't cheap!" emphasizes Merszei. Sometimes, it's beneficial to break it down in layman's terms. If you compare eyelash hair to how the hair on your head needs to be cleansed and conditioned, clients will likely better understand the importance of using the right products to care for their new extensions without interfering with the adhesive, says Merszei. Remember, clients already expect you to be the expert, so sharing your knowledge can go a long way. "It gives you more credibility and shows that you care about the longevity of the service," explains La Palermo. Inevitably, clients will dig, so be prepared to answer any and all questions. "It's essential to know everything about what you're selling, otherwise you'll look like an idiot," says Cosio, who advises that you also love what you sell. "If you believe in it, they will, too."
Strapped for time? That's no excuse. You only need to build in a measly 10 minutes to your appointment time to discuss aftercare and lash health. When you're finished lashing, walk your client through the steps and demo the products while she's still on your bed. "You have her captive then," says La Palermo. "She'll have time to digest and understand aftercare's importance, which will make the purchase process easier." Or, nip it in the bud at the consultation before you put lash to lid. "Cover the application, time involved and steps that need to be followed for a consistent result," says Glad Lash training and education coordinator Maryann Matykowski, in Bridgeport, Michigan. "You're teaching them what your professional expectations are of them to remain your client." When crafting arches, grab your client's attention once she's gained her newfound confidence at the end of the service. She'll be game to buy anything that will help her recreate the look, says Cosio.
Navigating Nerves
Most lash professionals consider themselves artists, not savvy salespeople—and that's OK! If you're struggling or feel pushy, keep this in mind: "You're doing your clients an injustice by not recommending products that benefit them," says La Palermo. Sometimes, you just need to get out of your own head. "Stop thinking about it as a sale, and start thinking about it as sharing your passion and helping your client have a carefree lash experience," says Elshaug. If it still feels like too much pressure, reverse the roles and ask them questions about their allergies, past lash or brow experiences, and desires. "Once they share their personal beauty care problems and challenges, it opens the door and allows you to offer your product solutions," says Marketing Solutions and Art Beautique president Larry Oskin, in Clermont, Florida. "Instead of selling, you'll be 'selping' products they want, need and were afraid to ask for."
When nerves kick in and you worry about what you're going to say, try pulling together a product benefit cheat sheet. "You can casually glance over at it so you know exactly what to say," says La Palermo. Clients will want the same, if not better, results as their peers. An easy spiel that will get their wheels turning: "Most of my clients like this aftercare kit or use [this lash shampoo]," says Matykowski. "They'll think if everyone else is using these products, then maybe I should too." When all is said and done, be yourself! "Clients are drawn to their artists for certain things about their personalities," says La Palermo. "Your way of recommending should reflect that."
RELATED: How Lash Lifting and Tinting Help Your Clients and Boost Your Bottom Line
Aftercare Analysis
You've done your job and sent your client home with aftercare knowledge, products and instructions (see "Aftercare Card Essentials"), so you assume she'll care for her lashes at home. "Honestly, we can never ensure anything with our clients," says Matykowski. If, upon examination, you notice that she didn't hold up her end of the deal, gently remind her about the risks, raise awareness about the helpfulness of products and snap a photo to show her proof. "She'll be able to see how the debris has built up at the base of the lash line," says La Palermo. "Let her know that's why you gave her cleanser to begin with and that she should start using it if she doesn't want to come in as frequently."
If she kept her lashes tidy, be sure to compliment her efforts. "You always want to praise clients who are diligent in aftercare," says Matykowski. "Cleaning up lashes is time consuming and can result in the client getting less lashes applied due to time constraints." It's a no-brainer that won't make for a happy client, so offering your applause will encourage her to keep up the good work and drive her to repurchase products.
Clever Deals
Get clients in on the aftercare game from the get-go by bundling a kit into the initial full-set appointment. "It guarantees they'll have the tools at the start to keep their lashes looking great and clean, which [ensures] they'll return for products that were in the kit," says Matykowski. Put the products in a cute organza bag so it feels like a gift and sends a good message in lieu of a pushy sell they may not have budgeted for. "If you spend a lot of money for a service and then get up to the counter and they want to sell you four other things, it can seem aggressive," says La Palermo, who advises filling kits with trial-size products so you don't break the bank and clients will have to buy more. This strategy also helps to gain their trust, giving you more of an edge to suggest additional products at their next appointment.
RELATED: Our 4th Annual Tool Guide Featuring the Latest and Greatest Innovations
Make it a game and set up challenging, yet realistic goals for yourself. "It could be one product sale per client, per day," says Oskin. "That alone will substantially increase your annual revenue by thousands of dollars."
Clients love freebies and bargains. Plan ahead and reach out to your distributers and suppliers so you can roll out seasonal specials or bimonthly discounts, suggests Oskin. "The daily results may not seem huge, but the monthly and annual profitability will astound you." BOGOs (buy one, get one free) and 50-percent off the purchase of a second item deals give clients a chance to test out products they may have otherwise passed up. "Once they try it and see results, you become an authority and they'll take your recommendations for future purchases," says Matykowski.
Finally, you always want to show your appreciation for referrals. "By rewarding your best customers with retail product incentives, they'll happily bring you more friends, family and coworkers," says Oskin. The holidays present the perfect opportunity to give your loyal clients a gratis product. "It takes two seconds to put a product in a bag with a bow," says Cosio. "They'll be thrilled, and they could come back and want another. It's a win-win."
Aftercare Card Essentials
No matter how much you educate your clients, things tend to go in one ear and out the other. Send them on their way with an aftercare card so they'll have an at-home reference guide. Be sure to list your product suggestions along with any directives. "You take away potential issues when you include product names, as your client may think she has products at home that will work," says Matykowksi. Pen the manufacturer's specific guidelines, detailed cleansing instructions and add a personalized-care note for your client, advises Merszei. You want to make sure that they remember you! "Including your logo is a great way to advertise your brand and message consistently," says Elshaug.
While you can certainly buy your lash supplier's cards or hire a designer to craft your own, you can also try programs like Vista Print, which come with user-friendly, ready-made templates. "You just fill in your data and hit the order key," says Matykowski.
Retail Details
We've rounded up some of the aftercare products that our pros—and their clients— can't live without. Here, a few of their favorites.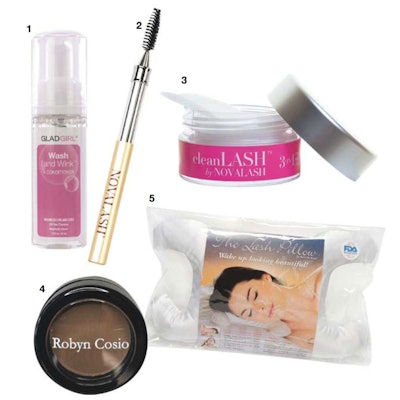 1) GladGirl Wash and Wink + Conditioner: "Once clients get this in their hands, they'll see how long their lashes last and will be purchasing it on a regular basis!" says Matykowski.
2) NovaLash Retractable LASHwand: "My clients and I love this brush because it has a cap on the top that makes it more hygienic than individual brushes which can often catch dirt and debris," says Elshaug.
3) CleanLash by NovaLash: "All clients need a product to cleanse the eye area," says Merszei. "These 100-percent cotton aftercare wipes cleanse, condition and remove stubborn makeup."
4) Robyn Cosio Brow Powder: "Clients can use this to create their ideal shape so they don't make mistakes and ruin their brows by taking out too much hair when [doing upkeep plucking]," says Cosio.
5) Save My Face The Lash Pillow: "This protects your clients' lashes while they're sleeping!" says La Palermo.
This story first appeared in the November/December issue of Eyelash magazine. To receive the magazine, click here to subscribe.
[Images: Getty Images; Manufacturers]