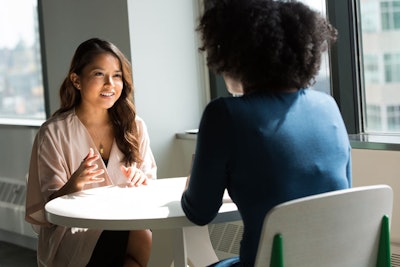 You've just completed your training for lash extensions or microblading, and you're ready to start building your business. Use these handy tips to grow your client base and get your name out there, courtesy of Vogue Brow Academy in Cape Town, South Africa.
1. Get Good at What You Do First: You only get one first chance, and people will shy away from using your services if your work is of poor quality. Get the training and the practice in first, and when your work is of the highest quality, then you can start spreading the word.
2. Exchange With Others: Exchange services with other professionals, think: hairdressers, personal trainers, teeth whitening clinics, etc. They have an established customer base already, and once they see your amazing service, they can help spread the word about you.
RELATED: 6 Ways to Create Better Communication in the Salon
3. Send Birthday Cards: Nothing will make your client feel more important than a personal touch on her birthday. When taking client information, ask for her birthdate and send a birthday card that is hand-written or even an e-card to let her know you're thinking of her.
4. Create an Interesting Window Display: Do you have a window display that you can decorate? If you make it stand out from the crowd, you could attract a lot of attention from onlookers. Some might even take photos and share it on social media.
5. Create a Social Media Deal: Daily deal websites can be hit or miss for salons. Experiment with your own version of a daily deal on your social media accounts. It can be as simple as a few dollars off a service or promotions for people whose names start with a certain letter. Get creative!
6. Team Up With Photographers: Photographers need salon professionals to style their models, and depending on who you team up with, you could end up getting featured in a high-profile magazine. Even if you don't get paid for the test shoots, typically you will get copies of the photos afterward for your own use— and good photos are the backbone of your business. If your photos are dark and badly taken, they won't attract new customers.
RELATED: How Lash Lifting and Tinting Help Your Clients and Boost Your Bottom Line
7. Send a Six-Week Follow-Up Message: Don't just let your email list sit unused; send a six-week follow-up message to your clients to see if they need touch-ups or to book another appointment. Don't know where to start with email marketing? Check out mailchimp.com for some valuable advice.
8. Stay Professional: Remain professional at all times; it's vital to your succeess. Don't speak poorly of other salons or brands. Focus on staying positive and pouring all of your energy into your own business. The pie is big enough for us all to have a piece.
This story first appeared in the November/December issue of Eyelash magazine. To receive the magazine, click here to subscribe.
[Image: Courtesy of Pexel]