They're the faces behind the faces we all know. They're the artists who work tirelessly to make stars sparkle. For every celebrity with hair that's intricately coiffed, lopped off in a funky chop, or dyed today's hottest hue, there's a stylist to thank for making the magic happen. We shine the spotlight on these stylists to the stars.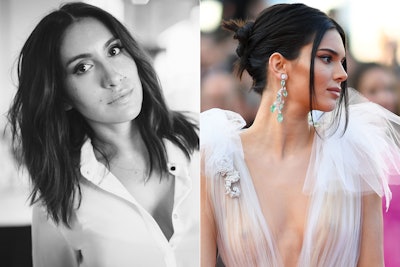 Career Start: I was obsessed with Natalie Imbruglia's short hair in her "Torn" music video when I was a teenager. No one could give me the cut I wanted, so I bought a pack of razors and shaved my own hair. Soon I was doing all of my friends' hair, too.
Success Secret: Be humble, work hard and don't compete with others— collaborate instead. Respect the non- disclosure agreements you sign.
Celeb Clients: Bella Hadid, Kendall Jenner, Kim Kardashian
Typical Day: It never looks the same, but usually I start at the office, followed by meetings with my OUAI team, then running to a client's house and ending the day with my husband.
Look I Love: Kendall Jenner's look at this year's Cannes Film Festival was especially memorable.
Tip for Newbies: Don't expect success overnight. I started as a receptionist and assisted for years. There will always be struggles along the way.
Career Start: I used to draw all the time thinking I'd become a designer, but when I learned I'd have to take classes that didn't interest me—like textiles—I switched to beauty school and loved it.
Success Secret: Be trustworthy, on time and have fun.
Celeb Clients: Kristin Cavallari, Lucy Hale, Ashley Tisdale
Typical Day: I can't start any day without Starbucks. I know which Starbucks opens the earliest in so many cities!
Look I Love: When Kristin Cavallari hosted the red carpet pre-show for E!, we got to do the Emmys, Grammys and Oscars. It was so fun because each look was glam and different.
Tip for Newbies: Don't talk sh*t.
Career Start: I'm a third- generation stylist; my mother and grandmother were hairdressers before me. I originally wanted to work my way through fashion school by doing hair, but once I started improving and going to trade shows, I realized this was my true calling.
Success Secret: Take classes and practice skills continuously so that you're ready when the opportunities arise.
Celeb Clients: Beyoncé, Mary J. Blige, Zendaya
Typical Day: I might be in the salon, doing a photo shoot, shooting a film or a commercial. It always starts with a client consultation, photographer
or director.
Look I Love: Beyoncé's "Lemonade" album. It brought textured hair back into play in a fresh way.
Tip for Newbies: Don't think you know it all. Find a mentor, learn from everyone and pursue ongoing education. After 30 years in the business, I still pick up tips from my assistants.
Career Start: I didn't want to be a stylist; I was supposed to become a cosmetic surgeon. But after graduating valedictorian at my high school and receiving a full college scholarship, my life took a downward spiral. With help from friends, I was guided to beauty school. Today I'm incredibly grateful for this rewarding career, though I do at times still struggle with the identity of being a hairdresser.
Success Secret: Arrival doesn't exist. The more I learn, the more I understand how little I know. Make every day a new beginning.
Celeb Clients: Rashida Jones, Sienna Miller, Winona Ryder, Marisa Tomei
Typical Day: It almost always starts with a flight, whether shooting a magazine cover, TV commercial, editorial or celebrity. Sometimes I play bodyguard—I'm not a small guy, so I make a good protector. If lucky, my day will end with me next to my wife.
Look I Love: Jenna Dewan's glass hair. It became the cover image for many articles about that look, which has now gone viral. I always lock it in with Seven Gazar Polish Balm on the first inch of roots to tame the flyaways that inevitably stand straight up to the part. 
Tip for Newbies: Master the art of self-forgetfulness. When others come first, success ill follow. 
RELATED: Top Beauty Educators on Inspiration and Ongoing Education
Career Start: I was a nanny before going to beauty school, but by my late twenties I'd pretty much decided what I wanted to do.
Success Secret: Education. I never stop learning, experimenting or teaching others.
Celeb Clients: Drew Barrymore, Jennifer Lopez, Gwyneth Paltrow, Emma Stone.
Typical Day: Some days I'll work on 35 clients, which sounds crazy, but that's when I'm in my zone, collaborating with the finely tuned machine that is my team. My clients are like family. There's always a lot to laugh and talk about. I travel so much that being in my salon feels like coming home.
Look I Love: I have so many clients that I change up for movie roles, which is always fun, but I think the most thrilling for me was when I took Khloé Kardashian platinum blonde. It wasn't for a movie role or magazine editorial—it was just for her.
Tip for Newbies: Don't think you have a magic wand that can make great color appear. It takes practice and ongoing education.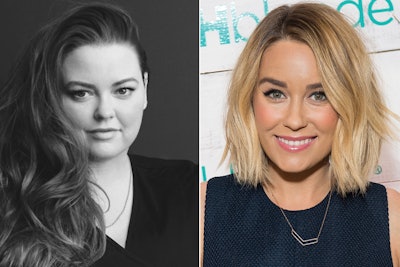 Career Start: Being a stylist is the only job I've ever had. I started cutting hair at home when I was nine, and apprenticed for a salon at age 15 while finishing high school.
Success Secret: Research every look and trend and understand each reference. Shadow people you respect; soak it all up. Then create your own style by combining pieces of what you love most.
Celeb Clients: Lauren Conrad, Lucy Hale, Lili Reinhart.
Typical Day: At 8:30 a.m. I meet with my team in the LA office, and we make calls to our counterparts in New York. Then I pack my suitcase and go to a job. In the evening, I see clients in my private salon or shoot content and tutorials until the sun goes down.
Look I Love: The first time I chopped off Lauren Conrad's hair in 2014. It was exciting and felt like such a new look.
Tip for Newbies: Don't badmouth other stylists. This industry is very small. Be genuine and kind.
Career Start: My parents used to host big dinner parties when I was young, and I always insisted on doing guests' hair at the table. I didn't have many tools back then, so I'd brush hair with a fork and tie ribbons as accessories. I knew at an early age that I wanted to be a stylist.
Success Secret: Work hard and pay your dues. I studied for four years at a salon to master the basics before assisting Sam McKnight, then worked for free on photo shoots and editorial I could book to hone my skills.
Celeb Clients: Adele, Jessica Chastain, Jennifer Lawrence, Katy Perry, Margot Robbie, Sophie Turner, Rosie Huntington- Whiteley. 
Typical Day: The Oscars two years ago sticks out: I did seven girls starting at 8:00 a.m. and finished at 11:00 p.m. without a single break.
Look I Love: Rosie Huntington-Whiteley at the 2015 Met Gala. She wanted her hair loose and down, but I convinced her to go tight and sleek with a sharp side part and lots of shine-inducing gel. It was simple yet modern.
Tip for Newbies: Never copy another stylist's work. Taking inspiration is flattering, but stand out in your own right.
Career Start: I was assisting at a Florida salon after graduating from cosmetology school when a friend invited me to join her on a trip to New York. I walked into Oribe's salon on the 10th floor of the Elizabeth Arden building and it was like entering heaven. The manager said there was a spot opening on their team. Within two weeks I moved to Manhattan, New York, where I crashed on friends' couches and swept salon floors.
Success Secret: Hustle. Pound the pavement—both literally and on social media.
Celeb Clients: Elizabeth Banks, Gal Gadot, Dakota Johnson, Rachel McAdams. 
Typical Day: Some days I'm trapped in a dark windowless studio for 14 hours. Other days I get to work on celebs at the Academy Awards.
Look I Love: I did countless versions of a ponytail for Dakota Johnson at the 2015 Oscars, before settling on the perfect style that wasn't too sporty or stuffy. I love how her bangs frame her long neck.
Tip for Newbies: Master the skill you dislike most. I left beauty school thinking I'd never do a roller set, and that's all I did at Oribe for years!
RELATED: Just in Time For the Holidays, Stylists Reveal How They Achieved Their Celebrity 'Dos
Career Start: My bibles were Vogue and Harper's Bazaar. At age 13, I would study the Vidal Sassoon photos, then blow out hair for all my mother's friends and neighbors. I started in the '60s, working in my brother's small Niagara Falls salon before moving to Manhattan, New York, in 1975. That's when I got thrown into the world of fashion and celebrities.
Success Secret: Stay humble. Early on I realized that I'm in a service business. Even though our world has changed, I'm still doing magazine covers 40 years later because I maintain the same respect for clients.
Celeb Clients: Everyone from Audrey Hepburn to Lady Gaga. Linda Evangelista was my muse.
Typical Day: Each is different, but most involve developing the vision of the R+Co brand that I cofounded and working on photo shoots. I'm in the salon 10 days a month.
Look I Love: Linda Evangelista's famous chop. I shaved off the back and left the front long, and love how it looked sexy no matter how it was groomed.
Tip for Newbies: Learn about the history of our great industry. Social media is an invaluable tool, but there's so much more to know than what shows up on your feed.
Career Start: I used to turn my closet into a salon so I could style my younger sister's hair. After high school, I unearthed an old VHS tape of me demonstrating intricate tress work. When my parents saw it, they agreed to let me go to beauty school.
Success Secret: Never say no to any job, whether it's a 15-hour day, a non-paying gig, or styling hair on the set of a music video for an unknown band. The top people I know today are those I met when I was starting out.
Celeb Clients: Kate Hudson, Paris Jackson, Jennifer Lawrence, Ruby Rose 
Typical Day: I start by meeting with my managers to reconnect all the moving parts, from Beauty Coach TV to Nine Zero One Salon matters. Then I usually rush to a house call, maybe for Britney Spears or Jessica Simpson, before fighting traffic to get back to the salon to see a client who's just flown in for an audition the next morning. Sometimes I'm not home until 10:00 p.m., but it's worth it when you love your clients.
Look I Love: Nina Dobrev starred on "The Vampire Diaries" for seven years, so she couldn't change her look for a long time. When we were finally able to cut off her hair, the wait was so worth it.
Tip for Newbies: Assisting is crucial. Those extra years are like a post-beauty school master's degree. Put in the hours and you'll emerge with a solid book and client roster.
Career Start: At age five, it was clear to me that I would be a stylist. I love hair and treat it with respect.
Success Secret: Work hard and trust in your abilities.
Celeb Clients: Cate Blanchett, Marion Cotillard, Heidi Klum, Dita Von Teese.
Typical Day: My work requires a lot of travel. When I'm not flying, I always have an early start time at the studio. If I'm working on a celebrity, I'll remain on-call for touch-ups. Fashion shoots require multiple hair changes, which are fun to conceive and execute.
Look I Love: I'm a big fan of sumptuous, luscious hair. It's the reason my haircare line, Iles Formula, was born. I love when Heidi Klum's wavy hair looks like it appears effortless.
Tip for Newbies: Don't use too much hairspray. It will hold your look frigidly in place until the moment you try to brush through and reshape it.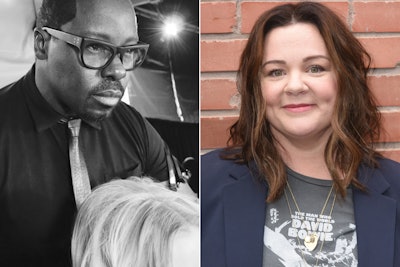 Career Start: I didn't set out to be a stylist—I wanted to play football for the Dallas Cowboys. Only after realizing that my heart wasn't in the sport did I discover my true calling.
Success Secret: Look for every opportunity, then charge toward it.
Celeb Clients: Elizabeth Banks, Rachel Brosnahan, Melissa McCarthy, Tessa Thompson.
Typical Day: One morning I can be shooting a cover, then cutting a client's hair that night. I might work on a formula for my new line, Starring by Ted Gibson, or do a makeover for a magazine editorial or TV show.
Look I Love: It's always fun to see Melissa McCarthy look effortlessly cool.
Tip for Newbies: Don't tell your clients' secrets.
RELATED: Celebrity Colorists Share their Most In-Demand Formulas
Career Start: I hadn't considered doing hair for a living until the age of 13 when my mom got me a summer job working in a salon–then I fell in love. The people, the artistry–it was a perfect fit.
Success Secret: Set achievable goals and check in for frequent reevaluations. After working in a salon, I knew I needed an agent. The next step was to move to Paris to immense myself in the world of fashion and editorial. Then I set my sights on New York for celebrity and campaign work. Focus on the next right move to make everything feel less overwhelming.
Celeb Clients: Kendall, Kylie and Kris Jenner; Khloe, Kim and Kourtney Kardashian; Susan Sarandon.
Typical Day: I meditate after waking up, drink coffee, then head to see clients. My job requires great stamina, so often I'll meet with my trainer to keep me in the best possible shape. Other days I'll go to therapy. We're used to helping others in this service industry, so practicing self-care is essential.
Look I Love: Kylie Jenner's slightly messy bun for the 2018 Met Gala. The look was simple yet chic. I love the sophistication of hair that isn't overdone.
Tip for Newbies: Don't compare yourself to others. We're all on our own personal journeys, so turn that energy inward.
Career Start: I idolized my older sister, Rosemary, as a child. She had a choppy '80s Madonna haircut, drove a white Mustang, and worked as a hairdresser. When I was 10 years old, I got a salon job over spring break. I made $100 and bought my first pair of Doc Martens–I was hooked.
Success Secret: Set out to prove yourself every time you start a project. I have more hunger, thirst and energy for this business than I did at the beginning, and I give my soul to every client.
Celeb Clients: Miley Cyrus, Fergie, Megan Fox, Salma Hayek, Madonna, Demi Moore.
Typical Day: Today I'm prepping to fly to London for Madonna. We've worked together for 15 years.
Look I Love: I turned Madonna into a super vixen for her "Girl Gone Wild" video; it's still one of my proudest creations.
Tip for Newbies: There's no fast track to success. Take the stairs, never the e​levator, or you run the risk of getting stuck.
Career Start: I played a lot of sports growing up, and braided everyone's hair on game days. When my parents wanted me to get my first job, I looked up every local hair salon to get my foot in the door.
Success Secret: It can be challenging working as a freelance stylist since you don't get many days off. But the more you say "yes," the more opportunities arise.
Celeb Clients: Emily Blunt, Camila Cabello, Lea Michele, Reese Witherspoon
Typical Day: I take my kids to school, then head straight to the office to develop new product formulas with my Beachwaver Co. team. Sometimes I fly to New York to style a client. I stay at The Williamsburg Hotel and create content while there.
Look I Love: The Dutch fishtail I did for Reese Witherspoon. It can be worn on any occasion, then taken down the next day for gorgeous waves.
Tip for Newbies: Keep a positive outlook and never take "no" for an answer.
Career Start: My father worked in the film industry, so growing up I was surrounded by artists who made movie stars look glamorous. I trained in London, then moved to Los Angeles in the early '90s. I got my first break in color—and all my other breaks—because I worked hard and others took a chance on me, so now I do the same for young stylists.
Success Secret: Have an unwavering belief in your ability and a genuine love of beauty.
Celeb Clients: Emily Arlook, Tracee Ellis Ross, Mena Suvari.
Typical Day: Always a whirlwind that involves meeting with my office team, answering requests, working on my Roil beauty line, and taking care of a VIP client at my Beverly Hills, California, salon.
Look I Love: I used gold and honey brown for Emily Arlook's color on her TV show, "Grown-ish." I love how it plays up her gorgeous eyes and warm skin tone.
Tip for Newbies: Don't think you know it all.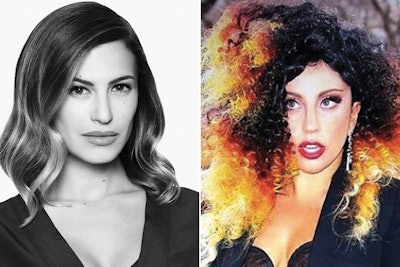 Career Start: I fell into hair by accident. When I was 15, I moved to northern Virginia in the middle of summer and applied for a job at almost every business in the strip mall across the street from my apartment. The hair salon hired me and the rest is history!
Success Secret: Be active in your search for opportunity. Coming to New York put me in the right place for what I do.
Celeb Clients: Lady Gaga, Kyra Sedgwick, Allison Williams. 
Typical Day: When fully booked, I might see eight to 15 clients per day. I attract a lot of people who want fun, creative colors, so I'm able to use my imagination to conceptualize unique looks that best suit a client's skin tone and personality.
Look I Love: Lady Gaga requested this wig and it was a challenge to create. I love how it looks like deconstructed fire. The texture and curls enhance the illusion of flames. We call it "The Phoenix."
Career Start: From the age of eight, I knew I would do hair.
Success Secret: There's no single secret. You have to really like what you do and learn how to be the best at it.
Celeb Clients: Lupita Nyong'o, Amandla Stenberg, Serena Williams. 
Typical Day: Most days I wake up thinking about ideas for my haircare line, the Vernon François collection. I'm always prepping hair for shoots with clients and spending time with my four-month old daughter.
Look I Love: The colorful updo I created for Amandla Stenberg. It only took 20 minutes to execute, and I made it up as I went along.
Tip for Newbies: Never be late to a client meeting.
Career Start: As a kid, I was infatuated with hair types and textures. I started playing with my mom's wigs when I was in the eighth grade, and she liked my styling so much she stopped sending them out to salons.
Success Secret: I never thought of being a celebrity stylist—I just had a tremendous appetite for hair. Be passionate and people will take notice.
Celeb Clients: Oprah Winfrey, Halle Berry.
Typical Day: I start my morning doing chores on my Wisconsin farm, then check email and handle [Andre Walker Gold System haircare] product line issues. When working with Oprah, I'll often land in one city and wake up in another.
Look I Love: Halle Berry's signature pixie. She had a shoulder-length bob when we first met, and I thought her face was too beautiful for that much hair.
Tip for Newbies: Enter this business for the right reasons; it shouldn't be to get famous or work with celebrities.
[Images: Courtesy of stylists and Getty Images]