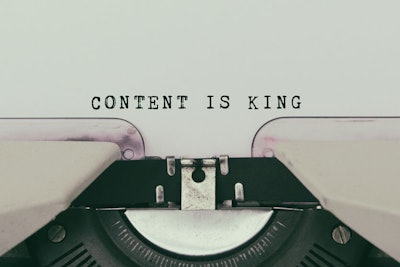 In a perfect world, your books would be full starting Day One. The reality: It takes hard work to land a slew of new clients. Luckily, it's not rocket science. By simply implementing an engaging and creative content marketing strategy, you can capture clients and, in exchange, they'll share their coveted contact data with you. "Your content acts as a lead magnet, which draws potential customers into your sales funnel," explains Miami-based digital marketing strategist Nicole Soltau. Here, she shares her content marketing tips so you can score new leads.
Create a Customer Profile: Not every Tom, Dick and Harry will be your ideal customer. Think about who you want to attract and create a description, list of characteristics and a social summary of that target customer, suggests Soltau. "This is your customer avatar, and the more you know about her fears, beliefs, interests and behaviors, the easier it will be to create content that appeals to her to motivate purchases." Some additional factors to consider: the desired geographic proximity to your business, optimal age bracket and preferred income. "Creating precise audiences to target on platforms like Facebook, Instagram, Pinterest and Google Adwords will help drive traffic to your content and generate more leads for your business," she says.
Choose Content Wisely: When scrolling through Instagram, lash and brow customers tend to be drawn to before-and-after videos and photos that show a physical transformation. "Be sure to highlight the benefit of the end result, as clients spend money on solutions," says Soltau. For meatier topics, whether a blog, article or infographic, think about what potential clients truly want, from boosting self-confidence to reading FAQs about what to expect at their first appointment. "Your content should address your target market's pain points and offer information or solutions," says Soltau. Not only does this spark interest and answer questions, it also builds trust in your brand, she adds. Whatever content you offer, it should be impossible to pass up. "A good lead magnet should be like a favorite dessert—irresistible," she says.
RELATED: How to Measure Your Salon's Productivity to Make Smart Business Decisions
Plan Ahead: It's not only a good idea to optimize your content with keywords for search engine optimization purposes, it's also smart to create a content marketing calendar. "[It will help you] plan, track and execute effectively and on schedule," she says. It's also smart to set aside time on a daily basis to go through your social media accounts and respond to questions and comments. "Immediate and consistent engagement is key," says Soltau. "It will turn potential clients from cold to warm to hot leads."
The Word on Websites
There's a good chance lash and brow aficionados will discover you on social media, but if you lack a website, they may never morph into paying clients. "Consumers are super savvy when researching services, and part of that is going to social media, which is where you build the relationship and provide value. But your website is where you close the sale," explains The Lashpreneur business coach Tara Walsh. If you think a booking site or shoddy website will suffice, think again. Not only will your professional image be questioned, but you'll also be solely evaluated on price, she says. Credibility isn't the only thing at stake. "If clients are comparing apples-to-apples (i.e., you and your competition), the person with the best website will win," she warns. Here, the ins and outs of how to create a well-designed, functional and successful website.
Content Essentials
First and foremost, your website must be client-centric. "You have to put the client first—her results, pain points, desires, transformation—and sell the dream of what life is like after she's had a service with you," says Walsh. The purpose of your site needs to be clear from the get-go. "It should state the 'who, what, where, when and why' right away so your site visitors understand what you're trying to achieve," says Madwire and Marketing 360 creative director Matt Timmons. When it comes to your aesthetic, it needs to be specific to the type of client you serve. "You have to think about what your ideal client will be drawn to," says Walsh. "For example, an older clientele with discretionary income won't relate to younger, chic, vogue imagery or words."
RELATED: How to Bump Up Your Lash Prices Successfully
Menu Musts
In this day and age of social media marketing, you may think that your name, contact information and general service information presented on a single webpage will be sufficient. Not so. Including these five pages on your site are imperative for client growth and engagement:
Homepage Leave prices off this page or it will be the first thing clients will judge you on, warns Walsh.
About This page shouldn't be focused on your journey, but rather on how you'll solve your clients' problems. "It has to be relevant to their life and tie back to the value [you can provide them]," says Walsh.
Service Menu Take the opportunity to sell and describe in detail the wondrousness of your services on this page.
Contact This is an essential page so clients can locate your business and easily book appointments.
Terms and Conditions and Privacy Policy Don't overlook this section. "It's legally required!" emphasizes Walsh.
RELATED: How to Educate Your Eyelash Clients About Preventative Care
Technical Know-How
Clients will likely peruse your site on their laptops, cell phones, tablets and desktops so it's crucial that it's viewable on every type of device. To boot: This also plays into your search engine optimization (SEO) score, says Timmons. Keep your site fresh with frequent updates and new and engaging content. "You want to make sure it grabs the attention of visitors so they stay on your site and continue to come back," says Timmons. It's also imperative that it be user-friendly. "Sites that are difficult to navigate will lead to increased bounce rates," he warns.
Hiring a Pro
Unless you're a computer genius, it's smart to outsource web creation and design, as DIY sites can cause major headaches. Think: broken links, a yard sale-type feed and wasted time trying to fix problems. "It should be one of the first things you invest in, because if you don't have an optimized website that converts clients, then you're leaving money on the table," says Walsh. Make sure you don't need the designer or a degree in coding to maintain it, reminds Walsh, who prefers easy-to-update platforms such as Wix and Squarespace. Choose a designer that knows more than just how to make a pretty site. "She should have a marketing mindset and understand it needs to constantly convert clients," says Walsh.
Since everything on your site— including color scheme, fonts, logos and layout—will be geared toward your brand and target audience, you must relay this to your designer before getting started, says Timmons. "A common misconception is letting the designer use her creative liberties to do what she thinks is right. This often leads to unnecessary revisions and billable hours and can prolong the project." To avoid communication mishaps, come to the table with examples and ideas of what you do and don't like. "Create a Pinterest board or bookmark sites you like," suggests Walsh.
SEO Pointers
Getting to the top of SEO results isn't as easy as it looks. There are two options: a long-term, organic strategy which requires you (or, more likely, an SEO expert) to consistently generate and update keyword-rich content on your site for Google to crawl; or a paid ad strategy where your business shows up with competitive keywords, explains Timmons. Ultimately, it's up to you how much time you can take away from your business to make this a priority or the amount of money you can dedicate to the cause. "It's not easily learned and it's very time- intensive," says Walsh. "I recommend a solo artist focus on social media instead or pay for ads to get the most bang for her buck."
At the end of the day, your site means nothing without marketing. "If you [have] a great looking site with intriguing content and calls-to-action, you need to make sure you're driving people to your site to engage with it," says Timmons.
[Image: Getty Images]