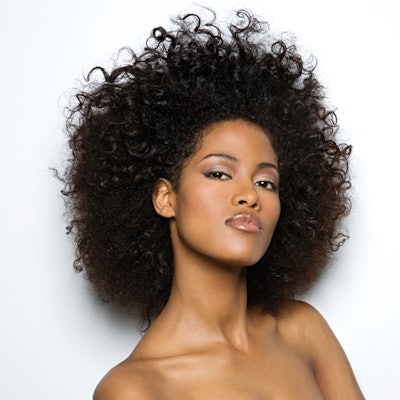 Understanding how to properly cut and style curly hair is an art, but it's important to know how to work with all variations of this hair type so you can attract—and keep—all kinds of clients. According to annual Texture Trends research from NaturallyCurly.com, an overwhelming number of females with curly hair cited the fact that many stylists don't know how to work with their natural texture as the reason why they stopped going to a salon. In order to prevent business from walking out the door, it's important that stylists are not only able to work with a variety of hair types, but also comprehend their clients' hair goals. There are many different techniques for working with tendrils, in addition to products that help a variety of mane concerns that curly clients face, such as frizz and dryness. Read on for the scoop on how to distinguish between the different types of curls along with the dos and don'ts of cutting and styling spirals.
"Whether they're softly spiraled or coily and voluminous, curls are undeniably beautiful—but not all curly hair is the same," says Jocelyn Smith, head of education for Ouidad. "Every texture behaves differently, and understanding your client's unique curl pattern is the first step to keeping his or her hair healthy and strong." All curly hair has natural arcs and angles that expose openings in the cuticle layer, allowing moisture and nutrients to escape. Unlike straight hair, scalp oils can't travel down the curly hair shaft, which leaves ringlets prone to dryness. As a result, curls need moisturizing products, and different tendril types need different care regimens to look their best. Here, Smith identifies the four curl types and their needs.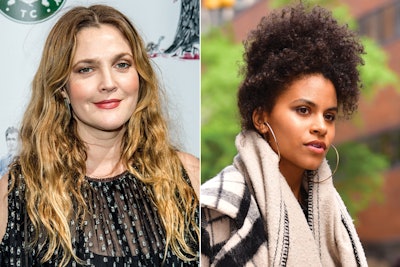 Loose Curls: A wavy, relaxed "S" shape pattern, this curl type may be nonuniform—straighter at the crown, wavy in the middle, and drier on the ends. Dehydration, damage and heavy styling products can "straighten" out these curls. Loose curls need lightweight, curl-amplifying moisture and hold.
RELATED: Celebrate Your Client's Natural Texture with These Curly 'Dos
Kinky Curls: An angular, "Z" type zigzag from roots to ends, this curl pattern is so tightly coiled that it can cause kinky curls to shrink up to 75 percent of the hair's actual length. Since this curl type is most often ne and delicate, it can be susceptible to breakage if not cared for properly. Kinky curls need major moisture.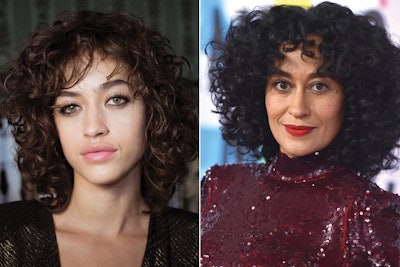 Classic Curls: A consistent and defined "S" shape pattern, this curl type tends to be uniform, with a coiling shape that extends from roots to ends. When dehydrated or damaged, these curls can become frizzy and lose definition. Classic curls need gentle care and balanced moisture. 
Tight Curls: A small, corkscrew-like curl pattern throughout the hair, these tight ringlets tend to be finer and lighter in weight. Without proper moisture, the hair shaft expands and can lose its shape, causing curls to appear dense and unmanageable. Tight curls need deep hydration for maximum softness and strength.
RELATED: Hair Professionals' Guide to Cutting Curly Hair
"Consultation is key," says Olivia Garden educator Ricardo Santiago. "Does your client prefer to wear their hair straight or curly? Their style preference will dictate the way you cut." When cutting curly hair, Santiago advises avoiding blunt, straight lines. Curly hair won't support straight lines well, which is why it's important to either point or slide cut so the curl maintains its integrity.
Be sure that you understand the shape you're trying to achieve with the layers—should you do round, triangle or square? Learn your client's face shape and natural texture
to decide which style will work best. Also of utmost importance are proper tools, which can make or break a haircut. "Dull shears can damage curly hair, so it's important to invest in quality shears!" adds Santiago. "Olivia Garden offers an incredible trade-in program, which entitles stylists to a new pair of shears every time they trade in an old, dull pair."
Working with, not against, hair's natural texture is key when styling a head of curls. "I have naturally curly hair," reveals Santiago. "Growing up, I made it a point to learn as much as I could about textured hair since I had such a hard time when I was younger." Here, the seasoned expert shares his go-to tips for styling and accentuating curly locks.
Learn the ins and outs of giving a proper cut to your curly haired clients courtesy of Corey Bakon, Andis company educator.
When cutting the shape into the hair, work with dry hair for more control and to see the results of the cut in real time.
For short and cropped looks, a clipper with a guard or blade like the Andis Cordless Envy Li Adjustable Blade Clipper is ideal to achieve the look while working with the direction of the hair's growth pattern.
For longer hair, expand the curl by combing it out dry, and use either a clipper or shears to create the desired shape and length.
If you choose to cut the curls while wet, make sure the finger tension and elevation is consistent throughout the haircut for a solid result.
RELATED: King of Curls at Thaddeus O'Neil
Condition
Curly hair needs moisture. When trying to nd a solid conditioner for this hair type, make sure the product will moisturize your client's hair and distribute evenly. I also recommend using Olivia Garden iDetangle brushes before applying conditioner to hair. These brushes will quickly and gently detangle wet or dry hair, and the collection features three different options based on the client's texture: ne, medium and thick hair.
Work From Roots to Ends
It's a misconception that you should dry curly hair to its natural state with a diffuser from ends to roots. It's important to build both the curl and volume at the base first, then bring the ends up to it.
Use Boar Bristles
If you decide to smooth out curls, your best bet is a boar bristle brush versus a conventional nylon bristle brush; it's designed to give more tension, promoting better product distribution and boosting shine.
Don't Overwork Curly Hair
Curly hair is the most fragile hair type, so be gentle with it.
Give curly tresses special treatment with these products that are uniquely designed to work on kinks and coils.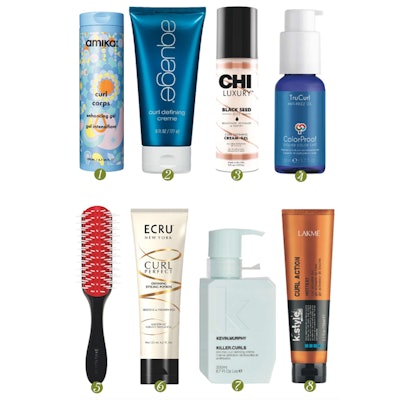 1) amika Curl Corps Enhancing Gel provides smooth, frizz-free control and bounce.
2) Aquage Curl Dening Creme moisturizes and defines with flexible polymers and light silicones that leave hair smooth and shiny.
3) CHI Luxury Black Seed Oil Curl Defining Cream-Gel halts frizz and helps to tame, shape and dene curls and waves, while nourishing black seed oil forties hair.
4) ColorProof Evolved Color Care TruCurl Anti-Frizz Oil provides lasting shine, UVA/UVB color and heat protection with proprietary IllumaCurl Complex, which features a unique blend of polymers, sugarcane and seaweed.
5) Denman D41 Freeow Brush gently detangles all curl types with smooth, wide-spaced nylon pins that separate and define.
6) ECRU Curl Perfect Defining Styling Potion shapes curls with a moisturizing blend of mango butter, avocado oil and glycerin.
7) Kevin.Murphy Killer.Curls is an anti- frizz curl cream that offers heat defense and moisture with ingredients such as watermelon extract, aloe vera leaf juice, Paraguay leaf extract, and baobab seed oil.
8) Lakmé k.style Curl Action adds bounce and hold while accompanied by the sweet aroma of blackberry and raspberry.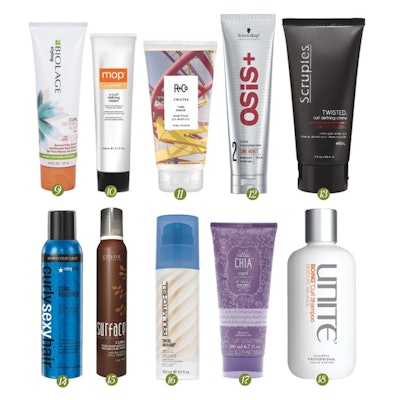 9) Matrix Biolage Styling Curl Defining Elixir delivers lasting curl control and frizz-free definition for beautiful, shiny tendrils.
10) MOP C-System C-Curl Defining Cream provides smooth definition, protects against frizz, and preserves color.
11) R+Co TWISTER Curl Primer acts as a foundation for other styling products and adds moisture while defining curls.
12) Schwarzkopf Professional OSiS+ Curl Honey taps dedicated styling polymers to enhance natural curls for a smooth, bouncy finish.
13) Scruples Twisted Curl Defining Creme combines conditioning and styling agents to protect, control and dene without leaving spirals stiff.
14) Curly Sexy Hair Curl Recover is specifically formulated to moisturize curls via cocoa butter and botanical oils, providing hold sans crunchiness.
15) Surface Curls Whip Mousse is a lightweight moisturizer that replenishes thirsty locks and protects against damage with certified organic cocoa butter, babassu oil and amaranth.
16) Paul Mitchell Twirl Around creates frizz-free, defined curls that are soft and touchable.
17) Trissola Chia Curl 5-in-1 Defining Cream defines loose or tight curls with medium hold while adding movement, moisture and sheen.
18) UNITE BOING Curl Shampoo gently cleanses and restores elasticity thanks to a moisturizing cream-to-foam formula that contains coconut extracts, vegetable proteins, chamomile and oats.
[Images: Getty Images; products courtesy of manufacturer]