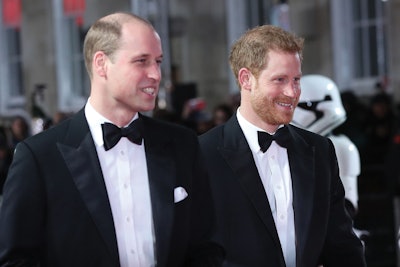 Men no longer have to grin and bare it—their exposed dome, that is. We showcase a plethora of hair loss prevention and thinning treatment options plus cutting techniques designed to make the most of what he's got.
Earlier this year, Prince William made headlines when he debuted a mostly shaved head. The follicularly-challenged heir to the throne has a sense of humor about his thinning crown, joking with stylist Taz Kabria late last year, "I don't have much hair. I can't give you much business." But is that statement really all that true? We think not. A slew of products available to men designed to help prevent or slow hair thinning, plus clever haircuts (that don't require a comb over) that maximize fullness and volume actually mean quite the opposite for barbers and stylists. Read on for advice on how to help your male clients make the most of what hair they have and keep it on their heads.
Just Causes
Fact: 40 percent of men will see some degree of hair loss by the age of 35. And yet, despite the fact that so many men experience hair loss and thinning, it is commonly misunderstood and often goes untreated. Just because a man is beginning to lose density doesn't mean that there's no recourse available to him, nor does it mean that there's only one cause behind it.
The most common form of hair loss is male pattern hair loss, or androgenic alopecia. It is sometimes mistakenly believed that dihydrotestosterone (DHT) causes hair loss, however that's not the case. In fact, male pattern hair loss is caused by a sensitivity to DHT. In other words, lower the DHT and keep more hair—but more on that later. Oh, and let's clear up another pervasive old wives' tale right now: Odds of hair loss do not depend solely on the genes inherited from mom's father. Sure, genes from mom do play a role, but there's dad to consider, too. After all, we inherit genes from both of our parents. According to Dr. Alan J. Baurman, founder of Bauman Medical in Boca Raton, FL, there are roughly 200 different genes that regulate hair growth, everyone's mix of genes is unique. This is why male pattern hair loss doesn't always present in siblings—just compare Prince William to his younger bro Prince Harry, as an example.
PHOTOS: Round Up Today's Top Tools for Men's Grooming
However, this is far from the only reason men experience hair loss— other causes include aging, reactions to medications, scalp infections, smoking, diet difficulties, lack of sleep and stress. It's important not to diagnose your client, so make sure you refer them to a doctor if they're experiencing any sudden or unexplained hair loss.
An Ounce of Prevention
There was a time not so long ago when young people—men, especially— weren't thinking about preventing hair loss or thinning while their manes were thick and luxurious. However, thanks to better education and the Internet, that's all changing. Talk to him about the plethora of products available to him that help reduce the amount of DHT his scalp accumulates, making his hair continue to grow thick and full.
Some men may ask questions about how to prevent possible hair loss, however you most likely will start the conversation. Set your consultations up for success by asking the right questions and getting to know your clients' needs and wants. "Get a clear understanding of your client's expectations," says David Conner, BaBylissPRO platform artist. "The consultation should include a prescription for a wash, rinse and treatment to densify the hair. Have a game plan for styling that includes suggestions and options."
RELATED: How to Consult Male Clients with Thinning Hair
During the consultation, it's also important to discover how your client is actually grooming. It's unrealistic to expect a man whose only grooming product is a 3-in-1 wash to suddenly start using treatments, a mélange of stylers and a hairspray. "The ideal consultation should address styling needs as well as haircut preferences," explains Linda Casillas, a Philadelphia-based Sport Clips coach and artistic team member. "Ask what products the client is currently using, how much time he spends on styling and which tools he currently uses." After all, you don't want to overwhelm him or set him up for failure.
Products to recommend are those that create the healthiest environment for the scalp so that hair is encouraged to grow thicker. For example, Bosley Professional Strength Bos.Renew Scalp Micro-Dermabrasion is an in-salon service that exfoliates the scalp, helping to uncover younger skin and unclogging follicles. Additionally, products that are imbued with Minoxidil are FDA-approved to regrow hair and prevent loss. The catch? The moment the product is stopped, so too do the benefits end and hair loss resumes.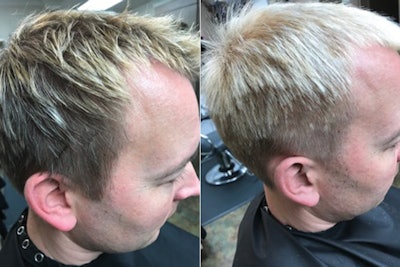 Making the Most of It
In addition to recommending top products for your men who are living in thin, you can also make the most of what hair he has with the haircut—and no, we're not talking comb overs here. "Having long hair hang over a deep recession to cover it is generally a no-no," laughs Conner. "Balance the weight distribution surrounding the thinning areas. This may require removing weight surrounding the less-dense area, which visually draws attention away from it."
Using a razor to cut hair can add volume and dimension to thinning hair, says Jatai spokesperson Ivan Zoot, who also advocates for shorter styles. "Length equals weight, and weight makes thin hair lay flat, so it looks even finer and thinner," he explains. "Simple razor layering techniques reduce weight and add texture, creating fuller-looking hair." 
RELATED: Providing Cover for Thinning Hair
And while short hair is best, try to avoid going too short. "There's a happy medium between cutting the hair too short—where the scalp becomes exposed—and leaving it too long, which can make hair look stringy," explains Jessica Zeinstra, Andis global education manager. She says the top should have sharp lines and shapes, while the front hairline should avoid exposing a deep recession. "It's important to keep the cut natural and blended on the outside," she says.
Unconventional Solutions
Men wearing "rugs" have long been the butt of many a joke— but nowadays toupees can be so good as to be virtually undetectable. Just ask Philip Ring, a stylist and influencer in Rhode Island who is helping to take the shame out of men's hairpieces. He has his Hairskeen USA hairpiece replaced every 4 weeks, and he now offers the service to his guests, as shown above.
Hair Loss Products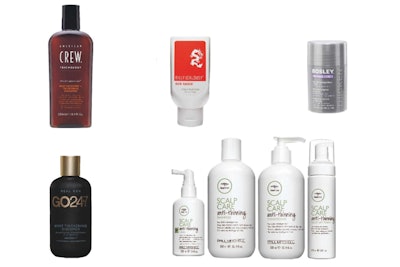 American Crew Hair Recovery + Thickening Shampoo Copper and zinc work to promote hair growth while pro-vitamin B5 adds moisture and volume.
Billy Jealousy Follicle Restorer Two DHT blockers, swertia and licorice extract, effectively block DHT buildup on the scalp, while methyl nicotinate increases blood flow to the scalp.
Bosley Professional Strength Hair Thickening Fibers Shake these natural keratin fibers where needed; they'll stick to existing hair through humidity, wind and sweat, while covering up thin areas instantly.
GO24.7 Mint Thickening Shampoo This invigorating shampoo utilizes honey to encourage cell rejuvenation while menthol helps stimulate circulation.
Paul Mitchell Tea Tree Scalp Care Claiming an 85-percent increase in hair volume and strength after 8 weeks' use, this anti- thinning system slows hair follicle shrinkage while expanding the follicle and strengthening the hair shaft.