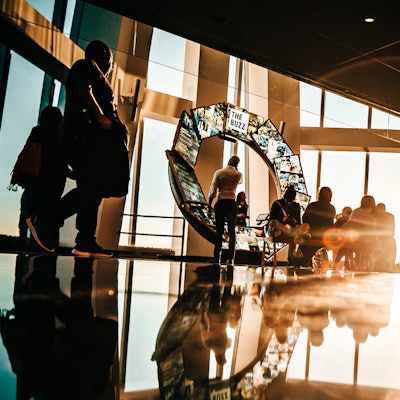 Trade shows can be a boon for your business: They clue you in to new trends and products; afford you the opportunity to network; expand your education; and give you the chance to try before you buy. But the cost of going to a trade show—admission, flights, hotels, food, products, etc.—can stop even the most excited beauty pro from attending. Before you throw in the towel, Jill Kreppein, marketing and operations coordinator at Premiere Show Group, has these money-saving tips.
1) Register Early Believe it or not, early bird savings (think: $20 off the ticket price) can go a long way.
2) Plan Ahead "Make sure you're on the show's mailing list to receive a show preview and then plan what education you want to see," says Kreppein. "By taking advantage of the complimentary education that's included with your show pass, you'll quickly notice how much money you can save because you're busy in the classroom learning and not out spending!"
RELATED: Lash Pros on How to Prepare for Lash Competitions
3) Get Your Team Involved Split some of the costs with your team, such as hotel rooms and cabs.
4) Save Your Tips "Within a few months, the $20 a week in tips you set aside becomes several hundred dollars that you can use for your trade show fund," she says.
5) Come to the Show with Cash Ditch your credit and debit cards in favor of cash—and only bring the amount you've allotted yourself to spend. "Premiere Shows are big cash-and-carry shows so it's easy to get overexcited and spend more than you intended," reasons Kreppein.
6) Purchase Post-Show ... and Ask for the Show Price Write down products you want, and then purchase them once you're back home and have had time to think through the expenditure. But, be sure to ask the brand representatives at the booth for a business card and give them one of yours; "this way you can follow up with them and ask if they'll honor the 'show price' that's often discounted," Kreppein says.
RELATED: Lash Experts Share Advice for Posting Photos on Social Media
7) Stay at a Partnered Hotel Many trade show groups negotiate reduced rates with local hotels, providing the lowest available rate at these locations if you book through the show's housing partner. "These hotels are also the closest to the convention center. ... Stay close enough and you can save gas, cab fares and parking fees," says Kreppein.
8) Consider Regional Shows Yes, the exciting, larger shows may be clear across the country from you, but many local shows worth your time pop up as well. "These shows provide a more intimate experience. If it's your first trade show, they could be a wonderful way to get your feet wet," she says. Visit premiereshows.com for future show dates near you.