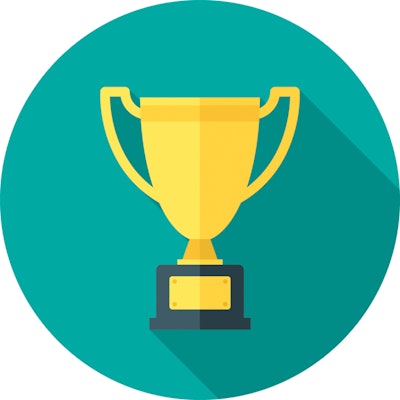 The whistle blows. The gun fires. The flag waves. The timer buzzes. The battle begins! No matter if you're an Olympic athlete, a jockey or a lash artist, you've got to be in your competition to win it. "Go into the lash competition like a gladiator, be a titan and compete like a champion," says judge, certified Fascinate coach and mentor, and Lash FX owner Jill Heijligers-Peloquin. The reason? "When you fully commit, the benefits are tenfold," she says. Not only can you score trophies, generous prizes and industry recognition, but also, win or lose, you'll make meaningful connections, network with renowned judges and learn from their critiques, boost your sense of self-pride, push your boundaries, and increase your skill level. When you put maximum effort in "you'll come out on the other side of a competition a better lash artist than before you went in," adds judge and Sugarlash PRO founder and CEO Courtney Buhler. With so many benefits, there's no reason not to take the competition plunge. Here, we tapped top- tier judges to get the nitty-gritty details on competitions and their advice for how you can bring your A-game into the arena.
Search and Seize the Day
Let's face it: You can't reap any rewards unless you enter. The first order of business: Do some sleuthing to find a competition. If you're starting from ground zero, research competition-related hashtags or, better yet, follow top lash brands, educators and stylists on social media. "These will be the people judging the competitions," explains Buhler. "By being on their page and plugged in, you'll be in the loop."
RELATED: Lash Experts Share Advice for Posting Photos on Social Media
Number two on your to-do list: Figure out if the competition is reputable. "If it's been around for a while you'll know the competition is thriving," says judge and NovaLash product and project development manager Vanessa Max. Peruse the competition's website and scan through everything outlined. If entering is easy and the organizers have clearly published the rules, categories and competing levels, that's a good sign professionals are running the competition, says judge and UK Lash Institute CEO Miranda Tarpey. If, on the other hand, they take until Doomsday to respond to your questions, you may want to steer clear. "The organizer should be able to answer you professionally and promptly," stresses Heijligers-Peloquin. Another big credibility clue: the reputation of the judges. "You want to make sure you can trust them and that they know what they're doing so they can judge fairly," explains Buhler. At the end of the day, you shouldn't make excuses not to participate. "You only win [by competing]—an amazing experience and new industry friends, as well as improving your work. Plus you'll get inspired and motivated," says judge and London Lash master trainer Veronica Rich. Agrees Buhler: "Even if it wasn't the best competition but you win a trophy or certificate, your clients will still appreciate that!"
Live Versus Online Competitions
The next order of the day: deciding whether to enter in-person or online competitions. "If you get panic attacks, think twice about live competitions—even the best artists can fail under pressure," warns Loreta Jasilionyte, judge and founder of Flawless Lashes by Loreta. "It's not only artistry on the line, there's also time constraints, the floor judge's eyes on you, a crowded environment, and humidity and temperature challenges." For some competitors, being outside of their comfort zone might help them excel. "You're in the center of fire, living in the moment and excited and stressed at the same time. Seeing the other lash artists around you pushes you to do the best you can," explains Rich. Other perks to keep in mind: It's an even playing field and you'll gain priceless personal connections and a newfound sense of confidence. "When you go back to that comfortable space at home, it's so much easier to create a lash set because you've overcome obstacles [in the arena] and come so far," says Buhler.
All of that said, online competitions also have their own advantages. "They're a great opportunity to show your talents in complete tranquility," says judge and London Lash pro trainer Darja Striletskaja. "The work can be done in 10 hours if you need." While you might be able to whip up a set of competition lashes in no time in front of peers and judges, a lack of travel funds for you and your model or a busy schedule could make online competitions your best option. "You can work at a time that's best for you versus having to make time for the competition," explains Max, who notes a lower cost also means you may be able to enter multiple competitions. "The more competitions you enter, the more feedback you get," she adds. You'll also want to take into account photo quality and think about hiring a professional photographer or videographer for online competing. "Poor photography skills could let you down," says Tarpey. "If your photo doesn't come across great, the judges can't clearly see your detailed work." Another pro tip: Upload your submission early. "Technical difficulties do happen so don't wait until the last minute!" suggests Max.
RELATED: Yelp Marketing 101 for Salon Owners
Choose Your Model Wisely
Once you've nailed down your preferred competition, get straight to work and pick your model. For starters, while looks don't win you a trophy, it's certainly a bonus if she's easy on the eyes. "Judges always love pretty models," says Jasilionyte. "It really helps for overall look criteria." Be sure to cast a model who suits the category you're entering. Tarpey points to this example: "If you're going for a dramatic style, don't choose a model who has tiny, delicate, fair features as this type of look would be too harsh on her." A no- brainer: Your model should make your job as easy as possible. Think: smooth, fresh-faced skin; well-groomed brows; healthy medium-length-and-density natural lashes that aren't sparse or overly curly and don't grow downward; symmetrical medium-set, almond- shaped eyes that aren't hooded or droopy; and someone who you can trust with directions and to lay still for hours at a time. "The model is 50 percent of your success," says Rich. "In competition you need to show how good you are, not how you struggle with difficult lashes."
Practice What They Preach
With your model selected, it's time to practice. The No.1 rule: Always make sure to read and reread your competition's criteria. "Many people prioritize the wrong things," says Buhler. "Knowing how [the criteria] is laid out is important so you can practice properly." If you think you can breeze through the competition solely on your strengths, think again. "It's like leaving money on the table," says Heijligers-Peloquin. "You can't leave any points undiscovered or you won't place, win or grow." The best modus operandi: Go through the criteria step-by-step, mark your work and go for maximum points in each criteria.
RELATED: Tonje Fjeldberg Elshaug Named LASHoff Artist of the Year
As you go through your practice rounds, document your progress in photos. "This will allow you to see any areas that need improvement," says Tarpey. To figure out judges' style preferences, don't hesitate to look at their Instagram feeds or even reach out to them. "It's not cheating; it's just being smart!" says Buhler. If you find you're struggling in any one area or need an extra set of eyes, enroll in a pre- competition workshop or enlist the help of a mentor or coach. "In competitions you're under a microscope; it's a whole different scenario than your day-to-day work," says Heijligers-Peloquin. "Coaches and mentors have more of an [outside] view of what you're doing." Creating a video for an online competition? Take the time to perfect your submission and always check out past winners' work. "You want to present something different that makes you stand out, so look at the winning videos and see how you can beat them," advises Max.
Pack Wisely
When you pack your kit, put everything you would normally use in it—if you can. "You should feel comfortable at your work space," advises Jasilionyte. But if certain items are taboo in the rules, leave them at home. "The floor judges might look at your kit and wonder if you're trying to pull one over on them," warns Heijligers-Peloquin. Always check what the organizers supply, but you can't go wrong by packing the following: a mask, hand and tool sanitizers, high and low humidity adhesives, multiple sets of tweezers, lashes, tape, tissues, mirrors, and pillows and blankets for your model. Remember, it's not only lashes that need to impress—your overall presentation counts, too. "If someone else goes above and beyond to present a professional competitor picture—a uniform, hair pulled back, a headband to protect her model's skin, a disposable trash bag—you're up against that person," says Heijligers-Peloquin. "You have to do everything you possibly can to put your best image forward."
The Future of Competition Lashes
You're not the only ones in the hot seat anymore. Today, more than ever, competitions must vie against one another to get lash artists in their doors. "Since there are so many competitions from which to choose ... they're literally competing to get entries!" says Heijligers-Peloquin. What does that mean for you? While Classic, Volume and Fantasy will continue to be mainstays, an uptick in unique contest categories this past year are not only meant to woo you, but also encourage you to flex new lashing muscles.
One of the biggest categories on the rise: Nude Look (aka Male Extensions). "It's an invisible style where the extensions look even more natural than the natural lashes," explains Rich. "It takes the eye of an artist ... and practice!" Looking to express yourself but don't enjoy the large-scale theatrics of Fantasy? Color Play reigns in the drama yet still demands hue-tiful artistry using vivid colored lashes, accents or blocks, or black-and-brown ombré designs. "It has to be a wearable look," notes Heijligers-Peloquin. "You need
to understand what color tones will work best with [your model's] skin tone and eye color." Not surprisingly, Lash Lifting/Lamination found its way on the competition docket with the service's recent rise in popularity. Another given that's making competition strides: the "Kim K" look. "It's very popular at the moment, [hence] why it's a competition nomination," explains Striletskaja.
Another newbie to hit—or rather, disrupt—the competition circuit: a web application that streamlines the judging process. Created by judge and Larucil founder Kristin von Kietzell, the application aims to eliminate the chance for human errors, ensures no review point is forgotten, fixes ratings so there's no possibility for organizers or judges to change scores, and presents the results for participants clearly and securely on a website. "This [application] brings the security of a fair evaluation for participants to a new level," says von Kietzell. "This simple, quick, modern way of evaluating has inspired everyone—we've arrived in the 21st Century!"
Tournament Lowdown
We quizzed our pros to find out some of the top competitions, including ones they're organizing themselves! Read on to find out which you should keep on your radar.
Lash Battle, United Kingdom From Nude Look to Dramatic Volume (5D+), all five nominations get judged on aesthetics as well as how clean and, therefore, healthy the work is for the model. "It's very well-organized and the last time it was held more than 120 participants from around the world participated!" adds Striletskaja.
Olympia Beauty's The Lash Games, London With four skill- set levels across four categories (Classic Look, Salon Lashes, 2D/3D Volume and 2D-6D Mixed Volume), anyone from novice to experts can compete. Bonus: It's held in a beautiful venue during a huge tradeshow and attracts judges from all over the world, says Buhler.
Lash World Cup, Amsterdam Not only does this competition offer newbie categories Nude Look and Lash Lift/Lamination, entrants can also duke it out for their countries. "It feels like FIFA or the Olympics because you're putting your national pride on the stage, too," says Heijligers-Peloquin.
Royal Canadian Lash Competitions, Vancouver, British Columbia, Canada Putting North America on the competition map, this first-time competition will award 16 finalists out of its four categories, which include Classic Look, 3-4D Salon Style Volume, 6-10D Competition Style Volume, and Lash Lift and Tint!
Lash Artists International, Arizona Organized by Heijligers- Peloquin, the tournament's brand-new categories, Creative Classic and Open Volume, allow you to show off your dimensional lashing skills. "It's an Americanized version of the categories as American clients want a purposefully mussed-up look," explains Heijligers-Peloquin.
NovaLash LASHoff, online In this five-minute video competition, you'll not only show off your application process and lashes, but also your personality. "When we crown a winner, we invest in her, she becomes part of our team and she's awarded many [PR and travel] opportunities," says Max. "So we want to get to know more about you!"
Lash Events, online In addition to Volume, Classic and Male Lashes, Tarpey felt the need to add newcomer 2D/3D Brown Lashes to the lineup. "Black lashes can be quite harsh on clients with fair skin and light complexions, so by using a blend of brown we can enhance the lashes without them looking unnatural," she says. "It's a great technique to master for redheads, too!"
[Image: Getty Images]