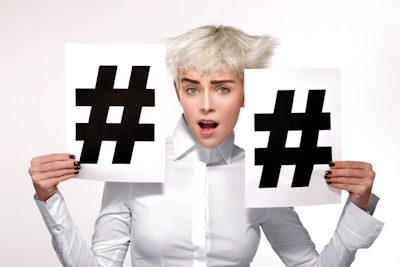 Rev up your hashtag game to build your brand and score clients!
When it comes to marketing, it's no secret that social media rules. One of the key factors to boosting your posts: hashtags. "Hashtags reinforce your brand's identity ... and help potential dream clients discover you and your brand," explains Nicole Soltau, marketing manager at Ohh! Lashes in Coral Gables, Florida. With client captivation on the line, it's imperative to use the right hashtags correctly and to not overload your followers. Here, the inside scoop from beauty marketing pros for how to optimize hashtags.
Formatting Fundamentals
Steer clear of jamming your comments with hashtags and instead place them after your final sentence. "Too many hashtags make text difficult to read and generally turns people off," says Kierna Terrisse, creative director of California-based BeautyMark Marketing. Be wary of spacing: Place a space—not a comma— between each hashtag, but nix spaces in the hashtag itself. "A space is essentially a break in your link, [which] loses its search-ability factor," warns Terrise.
RELATED: Photo-Sharing Best Practices for Lash Artists
Clutter Guidelines
All social media channels aren't created equal. "For Instagram, the more [hashtags] you use, the higher the engagement, but for Facebook and Twitter if you use over two, the engagement will be lower," explains Soltau. Though Instagram allows users to post up to 30 hashtags, don't go to the max. "A good practice is to use 10. Any more than that will appear spammy," she says.
Exploring Hashtags
Do your research! Not only should you vet hashtags to double-check that you're comfortable aligning your brand with them, but also you should scour hashtags with under 300,000 posts. "Hashtags with less than 300,000 will give your post more exposure," explains Terrisse. The more specific you can get in your wording, the better. "If you're using general industry hashtags such as #eyelashes (4.7 million tags) and #eyelashextensions (2.4 million tags), be sure to include additional hashtags, such as #sandiegoeyelashextensions (4,815 tags), which will help with visibility," suggests Soltau.
RELATED: 8 Ways to Build Positive Word of Mouth for Your Business
Crucial Keywords
A general rule of thumb: Always include location hashtags. "State, city and regional hashtags connect you with potential clients searching for services in your area," explains Terrisse, who notes hashtags that describe your services and specialties, retail products, the personality of your studio, and inspirational trends will also help clients find you. Don't be afraid to think outside the box and search deeper into your clients' passions. "Create your dream client avatar, list her interests and then include those interest-relevant hashtags," says Soltau. "Eyelash and brow extensions are lifestyle beauty trends, [so hashtags] like #makeup and #Mondaymakeup will broaden your audience." Plan a calendar of conversations your studio wants to participate in. Think: #nationalpuppyday, #nationalselfieday and #nationalbestfriendsday, suggests Soltau. "It's important to connect with your followers through their interests."
Shorter Is Better
Keep hashtags short and sweet. "#ilovemylashesmorethannutella is cute but no one is searching for that," says Soltau, who notes you can set yourself apart from the competition by including consistent, daily, themed hashtags. "It's much easier to curate content if each day has a specific theme ... such as #LashTips or #SaturdaySwag ... that your followers can get accustomed to," she says. "It builds and strengthens the relationship between your brand and your followers." 
[Image: Getty Images]