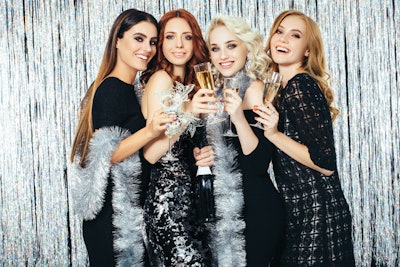 When the holidays roll around, 'tis truly the season to show those on your "nice" list how much you appreciate them. After all, when your clients and staff know you're grateful for their business and hard work, that perceived gratitude goes a long way. "Giving gifts ... can increase client loyalty, create goodwill among the team and deepen your relationships with [both clients and staff]," says Erika Gallagher, founder and master lash artist at Lashology in Denver. So put aside any Scrooge tendencies and use this time of the year to pamper those who make your business thrive year-round. Here, we tapped pros in the know for gift ideas that leave lasting impressions. 
For Clients
Goodie Bags: Fill festively-decorated organza bags or boxes with treats your clients will adore. Think: mini lash brushes, brow scrubs, bath bombs, cosmetic bags, nail polishes or champagne bottles. "I like sample [sizes] because hopefully the client will like something that could turn into a retail item they'll buy later," says New York-based Elke Von Freudenberg Salon owner Elke Von Freudenberg, who also gives her loyal clients a gift card and limited-edition product from her namesake line. To further brand recognition, stuff your bag with aftercare items like mascara wands, brow brushes or lash cleansers stamped with your logo, but steer clear of putting in branded gizmos like pens, T-shirts or stickers. "This doesn't feel like a gift and equates to junk for a lot of people," says Gallagher.
For her long-term clients, Gallagher looks to her shops' retail shelves for more substantial gifts. "We use this type of gift-giving as a way to clear the inventory out that hasn't moved," she explains. She adds this icing on the cake: Always include a personalized note with any client gift. "When you deliver an authentic gift with a note, the gift gives such a warm feeling, and people remember how you make them feel," says Gallagher. "Write something specific to them; it shows you listen to them and care." 
RELATED: Photo-Sharing Best Practices for Lash Artists
Custom Made Treats: Heartfelt handmade gifts will surely give your clients the warm and fuzzies. Bestow a personal touch on these presents by hand-stenciling your regulars' initials on mugs or ornaments, or design mascara wands with their names in lieu of a company logo. "A handmade personalized gift can make clients feel special, knowing that you went out of your way to put their name on something. It shows them how much their loyalty means to you," says Alexis Sargo, studio manager at FACES Lash Studio in Hilton Head, South Carolina. 
Clever Freebies: It might not be practical to give everyone who walks through your bustling studio doors a physical gift. Simply offering a free gift with purchase will still make them feel like they're getting something special and has the potential to bring new clients your way. Case in point: Von Freudenberg includes gratis $25 gift
cards sealed in festive red envelopes to anyone who buys a service or product totaling more than $50 during the holidays. "They can use it [as a gift to themselves] for their next service or can give it as a free gift to someone else," she reasons.
An easy, affordable way to show you care: complimentary service add- ons. From Thanksgiving to New Year's, Von Freudenberg treats clients to free brow makeup or tints with every brow shaping. "[We'll even offer] sparkly, glittery brow shadows and highlights that are great for a night out or holiday party," she says.
During a lash lift or tint downtime, amp up the "Clients are stressed during the holidays and adding something that makes them feel good imprints on their memory," explains Gallagher. 
Business Switch-a-Roo: ry this win-win: Swap small gift cards with your local business alliances for anything from massages to manicures. "This costs businesses virtually nothing and brings [in] new clients from those alliances," says Gallagher. "Clients will love it because they're getting something extra and [being] introduced to a business you endorse." Make sure you present it as a gift card and not a coupon. "[Coupons] feel like another business is looking to get in [their]
wallet in an inauthentic way," she warns.
RELATED: Marketing Tips to Help Your Salon During the Holidays
Don't simply focus on beauty services as being swap-worthy; look to your local community for unique gift ideas to trade. Got a bakery next door? Send your clients for a free cupcake and they can send theirs for a gratis lip wax. "This approach builds business and clients would think it's special!" says Malynda "Boom Boom" Vigliotti, owner of Boom Boom Brow Bar in New York City, New York. 
Day of Merrymaking: Get your clients in on the holiday cheer with an interactive day that celebrates beauty and their business. Think: delectable appetizers and desserts; freebie swag bags and nail art; cool threading, lash and brow makeup demos; discounts and free gifts with purchases; and a lively holiday elf-on-the-shelf scavenger hunt that culminates in a raffle with major prizes to your studio. "People ook forward to it every year," says Sargo of FACES Lash Studio's annual holiday open house. "It's
fun for everyone and creates a lasting memory!" Tip: To create the elf-on-the-shelf game, place beauty-related hashtags on adorable elf balloons throughout your studio or parking lot and whomever finds all can drop their name into a box decorated as a present at the end of the hunt! 
For the Team
Party It Up: With the hustle and bustle of the holidays in full swing, your team likely needs to let its hair down. "It's essential to have a holiday party," says Vigliotti. "By the time [Christmas rolls around], we've done almost every brow in NYC, and we're exhausted and ready to let loose and celebrate!" While Vigliotti opts to treat her team to a swanky dinner out, catering eats in your studio or holding a potluck also does the trick. "You can make it affordable and fun!" Vigliotti says. "As long as your staff members feel you set aside time for them ... they'll feel special."
Think outside the box and throw a celebration to remember. "We've had a 'sparkle' bowling party where everyone wore sparkles and we handed out prizes for best dressed and silly awards for things like 'Most likely to eat fries for lunch,'" says Sargo, who flexed her creativity by hand-making bowling pin awards out of beer bottles.
"It was hilarious!" she shares. 
RELATED: 8 Ways to Build Positive Word of Mouth for Your Business
Secret Swap: If money's tight during the holidays, don't feel the need to break the bank and purchase a gift for every coworker. Set a max price and some gifting ground rules and let everyone pick a name out of a hat for a Secret Santa exchange. Or, encourage gag gifts for a White Elephant swap where anything goes—including stealing your coworkers' presents! "This is sure to elicit a lot of laughs and memories for your team," says lash artist and The Lashprenuer business coach Tara Walsh. 
Make it Rain: Everyone can use a little extra dough in their pocket, making cash and bonuses a welcome gift. "Cash can bring your team some [financial] relief," explains Vigliotti, who chooses to pay her staff for all holiday days off as their bonus. "This [ensures] they're equally compensated and that they can pick what they want to use the money for—maybe paying off a credit card that's haunting them." If there's a possible issue of year-to- year consistency due to your business' success, proceed with caution. "Cash gifts and bonuses can create a culture of entitlement and ... expectation," warns Gallagher. Opt for year-end, goal-oriented bonuses to create friendly competition and a fixed amount. "If there's a set of standards and goals in place your team works toward all year, then it can be a great reward because they've earned it," says Walsh. 
Giving Back: One of the most rewarding gifts you can give: helping the needy. When gifting to charities on behalf of your staff or coworkers, ask for their input as not everyone may support the organization you choose, says Dr. Ulrica Jones, president of Eventual Success and chair of Score Middle Georgia. If you're a close-knit group, think of others' passions. "The more personal to the person, the more meaningful," says Gallagher.
If you want to give back as a group, take the entire crew to volunteer at a soup kitchen or a battered women's shelter where you can donate your beauty services as a team. "Have a group lunch after," suggests Walsh. "It can bring out a new bond amongst your team as members share their thoughts and reflect on the experience." 
Lifelong Learning: Continuing education will always pay itself forward, making it a gift that truly keeps on giving. "There are so many new techniques [to learn]," says Jones. "It's a great gift because [it will give staff] more opportunity to further expand business." Recognize that this gift takes not only a monetary investment from the gift-giver, but also a time investment from staff—and that's something shop owners need to be comfortable with as well. "With work- related trainings you [may be expected to] pay employees for their time to attend the training in addition to the training itself," explains Walsh. 
Rest and Relaxation: Staff vacation ramps up during this time of year, so why not convert some of this much-needed time away from work into a gift? "Paid time off beyond the regular holidays is a great gift," says Jones. "The time off is a value in itself."
For peers, gifting relaxation to coworkers works wonders for good will. After all: "As service providers, we want to look good during the holidays, too, but tend to put ourselves last," says Gallagher. Giving a gift card? Put some thought behind it. "Think of a way to personalize the card," suggests Jones. FACES Lash Studio gives its staff not only a card to its spa so they can pamper themselves or re-gift to a friend, but also hands out gift cards for a night out to dinner and a movie. "We usually end up going together!" says Sargo. "Sometimes we get too busy to know what's going on in each other's lives, so to go out, have some wine and be able to talk about what's going on is an amazing gift in and of itself." 
When you're working, you're working—there's little time to socialize and build bonds. Yet, a healthy work culture makes your job more enjoyable—and that benefits everyone, from managers to peers and especially clients. Utilize the holiday season as a time to gift experiences that bond the whole team together, such as escape rooms, citywide scavenger hunts and murder mystery dinners. These events build camaraderie and encourage everyone to work together in playful ways. "Team-building activities ... will remind your staff that the business runs as a whole and there is a teamwork aspect to keeping the doors open," says Walsh. "They also might relish the chance to get away from the [busy] holiday season to enjoy some time to connect with coworkers."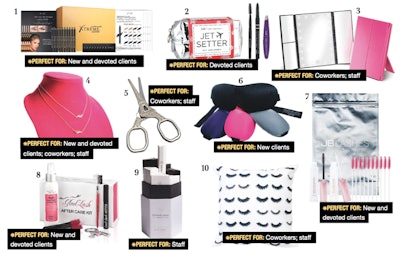 Perfect presents for your clients and everyone else on your list!
1 Xtreme Lashes by Jo Mousselli GlideLiner Sample Kit The GlideLiner Mini Sample Kit contains enough products for you to create 10 sample gifts for your favorite clients! 
2 Billion Dollar Brows Jetsetter Kit This compact metallic cosmetic bag houses a travel-size spoolie brush, tweezer and universal brow pencil. 
3 Qosmedix Three Panel LED Lighted Table Top Cosmetic Mirror This easily transportable 21-LED-light mirror features 2x to 3x magnification and a touch sensor to turn lights on or off. 
4 LashWrap Necklace This adorable brushed gold and silver eyelash necklace with adjustable chain will have the eyelash obsessive swooning. 
5 Lash Affair by J. Paris Eiffel Tower Scissors These cute-as- a-button gold-brushed stainless steel scissors will have users daydreaming of Paris while they nip lashes and gel pads with the 3-inch blade.  
6 PremierLash Protective Sleep Mask This dome-shaped, eyelash extension-friendly sleep mask eliminates lash snags and friction.  
7 JB Lashes Protect + Perfect Set This giftable duo's sealer safeguards lashes from oil, makeup and debris while the water-washable mascara lends lashes a little extra oomph. 
8 Glad Lash After Care Kit This smart kit keeps lashes in tip-top shape and includes a reminder card so clients won't forget appointments! 
9 SugarLash Pro CurlPerfect Lash Lift Course and Kit This pay-it-forward gift provides access to a full- service online training course where staff can learn all things lash lifting, plus a kit.  
10 Lash + Love Apparel Lashes Pillow Cover This cute 15-inch by 15-inch pillow case is a wink-worthy centerpiece at any lash station.