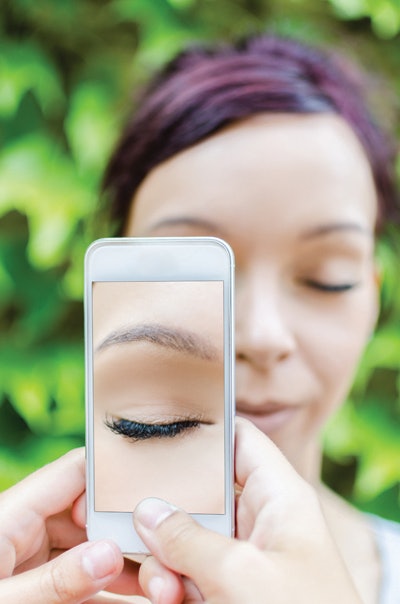 You just created the most beautiful set of lashes in your entire career, and you're itching to share this masterpiece on social media. But before you snap and post, consider this: Your client may not want her face plastered all over your social media. So what do you do now? Enact a simple protocol to ensure client bliss. But to start, "you should always ask your client [before snapping]," says Bianca Martinez, NovaLash brand ambassador and owner of Lashes by Bianca in Yuma, Arizona. In addition to that, these tips on sharing photos responsibly will keep you tops in clients' eyes. 
RELATED: Marketing Tips to Help Your Salon During the Holidays
Include a Model Release - Get your clients' consent in writing. "Attach a model release form to your contract/ consent for service form. [A model release form] gives you the right to use photos in all forms, all media platforms, contests and publications without any restrictions," Martinez says. A quick Google search will turn up several templates that you can use. And, if your client won't sign it, you know not to ask to snap a picture.
Respect Their Wishes - Again, if a client opts out of a consent form/model release, don't push it. "If she opts out, I don't ever take any photos so I don't get confused and post by mistake," says Talya Corsetti, NovaLash global brand ambassador and lash artist at As You Wish Salon in Portland, Maine. Additionally, if your client does opt in, but doesn't like her photos, give her assurance that you won't post them. "I let all my clients know that I never post unflattering pictures," Corsetti explains.
RELATED: 8 Ways to Build Positive Word of Mouth for Your Business
Keep Your Framing Tight - These images are about lash artistry first and foremost, so including the full face isn't necessary. "Pictures I post tend to be focused solely on the eyes and often crop out the face," says Martinez.
Ask, But Don't Expect "I don't tag clients, but do ask that if they would like to comment on the post, it would be greatly appreciated," Martinez says. "I also welcome and encourage clients to repost or share the link of their images."