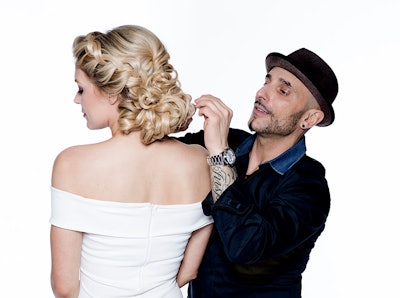 During Farouk Systems' Global Conference in Cancún, Mexico this past August there were a lot of moments that were exciting, but if there was one particular moment stole the crown it would be the announcement of Royal Treatment (sorry, Nelly). This is a line that's unlike any other and it becomes very clear to both the professional and the consumer once they are able to try it. Royal Treatment is exclusive, luxurious, exotic and provides exceptional benefits to the hair.
What makes Royal Treatment far more superior than any other line is the white truffle and pearl that is infused into every single product. This line's key ingredients are some of the rarest in the world and make it highly exclusive. White truffle is a rich source for Vitamin B, amino acids and proteins. Its unique lightweight conditioning agents replenish moisture and manageability to dry, damaged strands and helps reduce and seal split ends while protecting hair against brittleness and breakage. The other main component, pearls, naturally protects the hair from UV damage and helps to prevent color fading. This is a major benefit that helps keep hair vibrant, shiny and healthy. Another added benefit of the pearls is that they are able to help lock-in moisture, leaving hair smooth and frizz-free.
In addition to the ingredients, what I really love about this product is the workability. This product has incredible style memory, yet is so soft and brushable. This allows me to mold the hair and really be artistic with my styles. It also allows me to have cleaner transitions for session styling, photoshoots or weddings when I am transitioning styles without damaging the hair.
If you're a professional that is looking for a high-end line with an alluring fragrance and fine ingredients that will nourish the hair while giving you the freedom to express your creative vision, this is the one.
Watch the video below to catch Farouk Systems' Global Artist Rocky Vitelli create a beautiful up do using Royal Treatment.