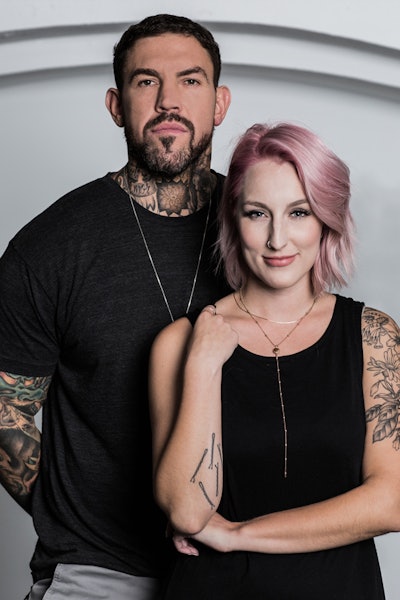 Luxury Brand Partners is launching its first online education class—Social Media Magic. The class gives each student the tools he or she needs to create a strong social media presence to adapt to the ever-changing nature of the salon industry.
Two of the hair industry's own—hairstylist and owner of Pin and Plait Studio, Jamie Dana, and founding curator of Pulp Riot Hair and owner of The Bespoke Salon, Jay Wesley Olson—teach the in-person class and will also be featured in the online version. In addition to providing tips on how to expand a professional network and grow clientele, the inspiring mentors will encourage student stylists to look beyond the "likes" and concentrate on building a genuine brand.
"We're going to teach our students how to create a community of followers they are highly connected to," said Jamie. "Social Media Magic is for any hairstylist or salon owner who has struggled with social media and wants to see his or her business grow and flourish."
The class will be available online as of Monday, September 25, for $269. The purchase comes with all-access to eight chapter videos for one year, which can be played an unlimited amount of times. The student also receives a downloadable workbook and admittance to a private Facebook group where he or she can ask questions.
"Luxury Brand Partners is thrilled to expand the offerings of its highly touted business education to include a new-user experience via digital education," said Tom Seeberger, Dean of the School. "Digital learning has been proven to be more successful for many students, and the online launch of Social Media Magic will broaden our reach and expose many in our industry to the new standards necessary to succeed and thrive in the world of social media."
Registration is available at http://www.lbponlinelearning.com/.
About Luxury Brand Partners: Luxury Brand Partners develops and nurtures prestige artist-driven beauty brands, with a focus on innovation and a passion for the creative mind. With offices in Miami and New York City, our portfolio of companies offers high-performance products and top-of-the-line education informed by both an artistic and a business perspective. The management team has a long history of building iconic brands.
[Image courtesy of Luxury Brand Partners]