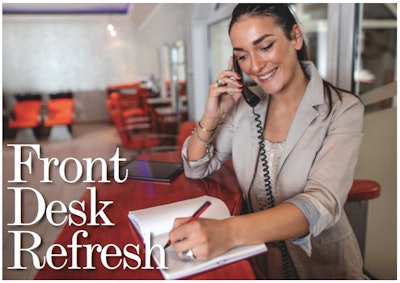 Ensure your front desk staff puts the salon's best face forward for clients with these expert tips. —TRACY MORIN
Owners, managers and stylists alike deserve plenty of credit for keeping any salon running in tip-top shape, but the fact remains: Front desk employees are often the first and last point of contact for clients. Kristi Valenzuela, director of product and sales division and co-owner of Summit Salon Business Center, offers the following advice to ensure they're making (and leaving) the right impression.
Hire the right candidate.
The front desk is not only a customer care center, but also a frontline for sales—so make sure employees have skills in both. The ideal hire is equally comfortable interacting with clients and encouraging retail promos or upselling.
Use scripts and nix too-casual conversation.
The front desk should employ polished language, sans slang. Replace "no problem" with "you're welcome" or "my pleasure."
Get your goals on.
Owners and managers should set goals for front desk personnel—think boosting retail sales, rebooking, upselling/adding extra services, and referring friends and family. Once met, reward with bonuses or pay increases.
Wow casual callers.
When a new or on-the-fence client calls to inquire about an appointment, start with, "Thank you for calling us, we're so glad to hear from you. Can you tell me about your hair type so I can match you with the perfect service provider?" Collect info with a few questions—is she seeking cut or color, is her hair curly or straight—to show the customer you care.
Hone client-recovery skills.
When fielding a complaint, listen until she's done. Use open body language and walk to an appropriate place to talk, and appreciate rather than apologize ("Thanks for bringing that up to us, we have a system for recording any issues and an owner or manager can follow up with you regarding this.") After the client's appointment, offer an appropriate "appreciation gift" (e.g., a $10-off-next-visit voucher).