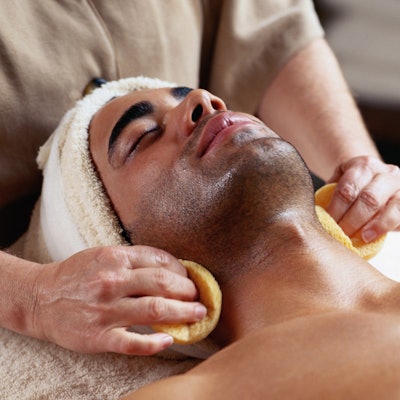 Four spa pros illuminate on their male-centric havens and the treatments that keep guys coming back for more.
What are some common skincare issues that men want to address?
Garrett BellRios, cofounder and chief operating officer of Rehab Wellness in West Hollywood, California: Men typically shave regularly and most likely experience irritation, ingrown hairs and/or razor burn. For this reason, many of our skincare treatments integrate products and formulas to soothe and moisturize the skin.
Gabriele Gavrielidis, head of marketing and branding for Lanphier Spa & Salon in Darrien, Connecticut: Male skin is usually thicker, oilier and warmer than female skin. So, men need treatments and products that absorb more readily into the skin, but also take its oily nature into consideration.
RELATED: Stylists Share Top Men's Styles to Look for in 2017
Catherine Warren, spa and leisure director of EAU Spa in Manalapan, Florida: Because men shave their facial hair so frequently, regular exfoliation is key, as dead skin cells that accumulate on the skin's surface can just perpetuate irritation. We often incorporate added exfoliation tools— such as a facial cleansing device—to provide a deeper, more intense cleanse. We make sure to target the neck, chin and jawline as those are the regions that see the most stress from shaving.
Aharon Trottier, manager and head esthetician of Bodé Spa for Men in Toronto and Ottawa, Canada: I find that men are pretty concerned with hair removal. Back hair is much more visible and prominent in men, and is not an area easily reached with an at-home shave.
RELATED: Modern Vintage-Style at Junior & Hatter Gents
What are some of your most popular men's treatments?
Trottier: Our manscaping services— particularly the Back Waxing/Sugaring ($35-$50) and Butt/Brief Waxing/Sugaring ($50)—are our most popular. In addition to grooming hard-to-reach areas, the services also include education, which our clients truly appreciate. We set aside 10 minutes to talk to them about the ins and outs of hair growth, post-wax care, etc. We do this in our other treatments as well, including facials, to make sure male clients are aware of how and why they should care for their skin, as well as how to groom themselves properly. It helps us build trust and repeat clientele.
Warren: Our Black Tie Facial (60 min./$165) is very popular, as it includes a customized exfoliation treatment and mask that help refine and smooth rough skin.
BellRios: We have a new Men's Caviar Facial (60 min./$150) that features Pevonia's For Him skincare line. The service incorporates a Myoxy-Caviar enzyme powder mask, which helps remove superficial skin impurities, sebum, dead cells and blackheads. It also includes a plant-stem-cell-based freeze-dried treatment that repairs the skin, relaxes wrinkles and increases hydration. This combination is incredibly effective in revealing healthy, more purified skin.
Gavrielidis: One of our most sought-after men's treatments is The Man's Facial (60 min./$150), the ultimate service for detoxifying, rebalancing and deep cleaning. It includes a relaxing 10-minute back massage and invigorating facial mask with clove, eucalyptus and peppermint oils.
Read the full article at Dayspa.com
–by Angela Melero
[Image: Getty Images]