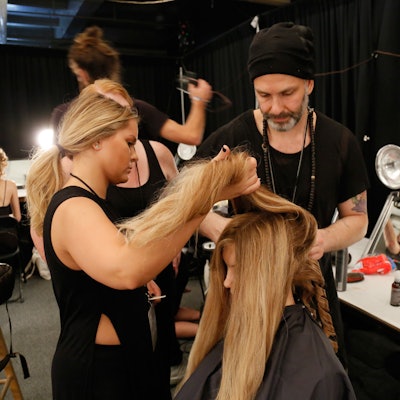 Working backstage at Fashion Week can be a major career boost for stylists — not only do you get the opportunity to experience fast-paced, fashion-focused runway styling, but you also have a chance to work with some of the industry's top hairdressers and designers. If you've ever dreamed of becoming a Fashion Week hairstylist, Jon Reyman Pro's Virtual Runway Styling Program is the opportunity you can't miss.
Entering its second season, this intensive online learning program offers stylists a chance to head backstage at New York and/or London Fashion Week and work under the guidance of program founder and master hairstylist, Jon Reyman. The 5-week course, which starts January 6, 2017, provides invaluable lessons, insights and technical expertise from Reyman, as well as interactive webinars that train participants in runway styling, building a proper backstage kit, Fashion Week terminology, etiquette and more.
"There's nothing like the amazing energy and camaraderie that you experience working backstage at Fashion Week," says Reyman. "Fashion Week can be elitist — you have to be in the right place at the right time with the right people to work backstage. I wanted to make this amazing experience accessible to any stylist that wants it, and that's what this program does."
Students are able to complete the training in the comfort of their own home and are guaranteed to work backstage at a minimum of one show. Last February, the program had 17 stylists from all over (from Iowa to Italy!) participate. Those who took part in NY Fashion week played a part in crafting runway hair for shows including Concept Korea, Chromat, Leanne Marshall, Chiara Boni and more. In London, students collaborated with designers like Steven Tai, Osman, Xu Zhi, Cimone and Barbara Casasola.
"Fashion and hair are my passion," says Abby Benewith, an Aveda Institute Phoenix student and participant in last season's JRP Virtual Runway Styling course. "Working on runway models at Fashion Week has always been a dream. Getting that access and experience through this course was an amazing and exhilarating experience that I'll never forget."
Enrollment begins Tuesday, November 1, 2016. Pre-course work starts December 28th with webinars running weekly from January 6th to February 2nd.
Program tuition for new students is $2,000 and does not include the cost of travel or the required tools to create a backstage kit. Returning students pay $1,000 to participate, and for students looking to work a New York and London Fashion Week show, the cost is $3,000. To sign up for the Jon Reyman Pro Virtual Runway Styling Program, click HERE.
For more information, please visit JonReymanPro.com.