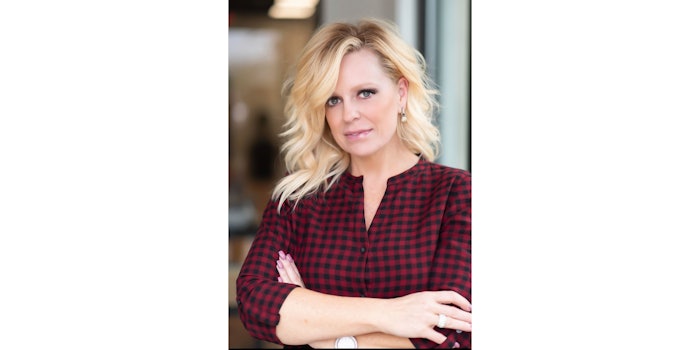 Wella Professionals announces balayage expert, stylist educator and salon owner Amy McManus as the brand's newest ambassador.
"As an industry leader and innovator, it's a blessing in my career to get the chance to work with Wella Professionals artists, educators and industry professionals who inspire me," says McManus.
McManus brings 30 years of experience to Wella Professionals' team of brand ambassadors, with a special focus on balayage technique education.
"We're delighted to welcome another powerful and dynamic female artist and industry leader to our impressive roster of brand ambassadors," says Carole Protat, senior director of education. "Amy is a perfect fit for our Wella family, as she brings a combination of industry experience, fresh perspective and love for education to our team. We look forward to collaborating with Amy and continuing to elevate the craft together!"
"I've been using Wella Professionals Blondor and Freelights for three years, and have loved how much it has changed my work behind the chair," enthuses McManus.
Our own Alyson Osterman, managing editor, chatted with Amy McManus to discuss her new role:
Alyson Osterman: What drew you to Wella Professionals products and their philosophy as a brand?
Amy McManus: I found Wella Professionals a few years back when looking for and playing with every clay lightener I could get my hands on while learning about balayage. I discovered Wella Professionals Freelights and Blondor and immediately fell in love. At that time, I wasn't super familiar with the brand as I had never been exposed to it. I started following the Wella social media pages and loved how much they focused on educating their audience. I never dreamed I'd have the chance to represent them.
Alyson Osterman: What are you most looking forward to in your work with Wella Professionals?
Amy McManus: I'm looking forward to learning all the ins and outs of Wella Professionals' products, and finding my favorites and sharing them on my platform. I find when I start working with a new line of color I learn or see things in a different way; this helps push me into that next level of performance and education to make me a better stylist.
Alyson Osterman: How is Wella Professionals supporting beauty pros?
Amy McManus: I see Wella Professionals exceeding at helping beauty professionals in several ways. First their app for instant education and support for their color. Second, through Hairdressers at Heart (HAH), which is a community founded by Wella Company's commitment to support and celebrate hairdressers at every stage of their career with scholarship programs. The Fabio ICAN Scholarship will select six salon pros to receive $1,000 to continue with their education. The winners are selected from a questionnaire on the HAH website. Lastly, Wella has partnered with Milady Education to develop a free course for stylists on how to recognize the signs of human trafficking and how to help. I'm so proud to become a part of an organization that is this involved in so many aspects to support our community.
Alyson Osterman: What perspective are you going to bring to the Wella Professionals team? What is your unique vision?
Amy McManus: I hope to offer a unique perspective to the Wella Professionals community. I have a passion for education and am excited to share my journey with my followers on real-life trials and triumphs of working with a new line in the salon. I do my best to take the fear out of trying new things and new techniques, and convey that when I teach. I don't believe in pretending that I don't run into challenges. My followers respond with great enthusiasm to the raw, authentic feeling of my posts. I believe my genuineness is what attracts others to my page and I think it makes me less intimidating than other artists.